Cradle stamper Cat's
Cradle Stamper Cat's
This little pink toy by Fillworks is a lot less innocent than it looks! The special internal structure makes this a toy unlike any other.
Packaging
The Cradle Stamper Cat's Onahole comes in a nice glossy box with art on all sides. The front features beautiful art of a blushing girl in a kimono-like dress.
The Onahole
The onahole itself looks rather simple: it's quite a short toy, made out of flexible pink material. It has some well-shaped labia as well as a groove to keep the lubricant from leaking out. Two more deep grooves make the Cradle Stamper Cat's easy to hold.
The real fun of this onahole is on the inside, though! In addition to the regular tunnel, this masturbator has three separate strands of TPE running from the entrance of the tunnel to the very back. These strands can move around and slide over your cock, giving you a completely novel sensation. Each of the three strands is textured differently: one has smooth ridges, the second closely spaced small nubs, and the third has larger bumps. You can turn it while stroking to alternate sensations, or find your favourite angle and keep it that way.
To add even more pleasure, you can even tie knots in the stretchy strands!
Easy to bend, twist and stretch
Whether thin walls or thick ones are preferable is up for debate. Thick walls feel more real, pushing back against you as you thrust inside and keeping you from feeling your own hand. Thinner walls, however, make a toy much stretchier and easier to manipulate. Exert pressure where you want it, and turn the toy just right.
With a design like the Cradle Stamper Cat's the thin walls mean that you can rub the strands of textured TPE over your cock with each thrust, just the way you like it. Of course, the small amount of material used also means this toy is very affordable!
The Cradle Stamper Cat's Onahole is 12.4 cm long, with the tunnel running almost all the way to the back. That's a little shorter than most onaholes, but thanks to the stretchy material the onahole will accommodate you even if you're on the longer side.
Cleaning
Of course you'll get the most out of your onahole if you take good care of her. To clean the tunnel, rinse it out under the tap after use until it's clean. Squeeze out as much water as you can, and push an absorbent cloth inside to absorb the last bits of moisture. You may want to dust the onahole with some cornstarch, talcum powder, or special maintenance powder to keep it in optimal condition!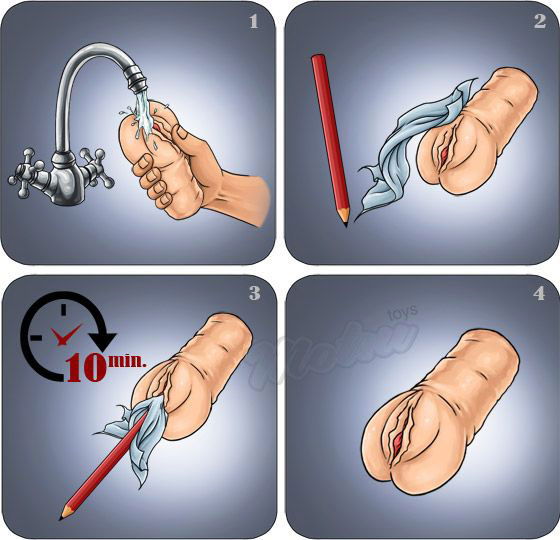 In short, this sweet little onahole has a fun internal structure that feels great around your cock! If you want to try something exciting and different, consider adding this to your order.

Total length: 12.4 cm
Total tunnel length: 10.5 cm
Total width: 6.6 cm
Weight: 220 grams
Material: TPE
Made in Japan by Fillworks
Interesting design. Review by Andy

Its quite a neat little toy for the price. If you're big however, i'd give it a hard pass as its quite a lot smaller than your average onas. Feels great to use though! (Posted on 12/28/2019)
You may also be interested in the following product(s):