Gokusai She's Wearing a White Shirt
Gokusai She's Wearing a White Shirt
The 'Gokusai She's Wearing a White Shirt' from Magic Eyes, is another very nice product.
There is so much attention put into the packaging that it would be a waste to throw it away.
On the right side there is a Japanese comic and when you open the cover, you see an inspection report from the Japanese Food Research laboratory that tested the material of the 'Gokusai She's Wearing a White Shirt' and declared it very safe.
Wet t-shirt
You must have heard of a wet t-shirt contest. This is a contest where ladies wear white clothing, without bras, then the ladies get sprayed wet, so the shirt or t-shirt becomes see through.
The cold water makes her nipples even more visible through the wet fabric.Gokusai She's Wearing a White Shirt

Wet T-shirt is the theme of this onahole. The 'Gokusai She's Wearing a White Shirt' without the shirt weighs 440 grams, with the shirt she weighs about 50% more, 660 grams. The white shirt is melted around the onahole, is made of the same material as the onahole and is not removable.
With 17,5cm this is a pretty long onahole. As you can see on the images she is pretty stretchable, so it is also suited for larger penises.
Tunnel Gokusai She's Wearing a White Shirt
The onahole has beautiful breasts and nipples, she feels soft to the touch and is double layered. The wall on the inside is made of a bit more stimulating material and is pink of colour.
The tunnel feels amazing, she gives a lot of stimulation and the big G-spot is very noticeable. This huge bulge is located on the top side of the tunnel. As shown below, you can see it on the left image.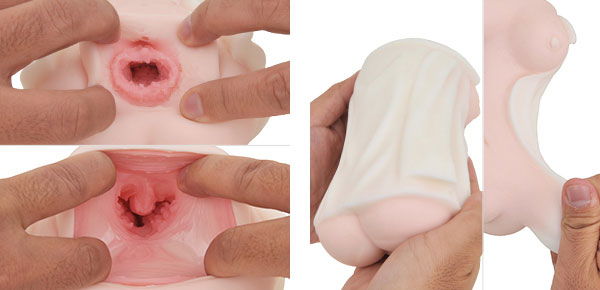 The tunnel curves a bit upwards, which makes the wall feel a little bit thin at the end of the tunnel. The rest of the Onahole has thicker walls, which is due to the shirt around it. You won't be bothered by it when you turn the 'Gokusai She's Wearing a White Shirt' around and take her 'doggy style'.
The tunnel is stimulating and is covered with ridges and nubs. At the end there is a second bulge that is located on the bottom side of the tunnel.
If you are not yet familiar with the delicious winding tunnels in Magic Eyes products, the 'Gokusai She's Wearing a White Shirt' is an absolute must.
If you are already fan of Magic Eyes, then this onahole is an expansion of your collection that you don't want to skip.
Product weight (without the packaging): Around 660 Grams
Dimensions: Approx. 175x115mm
Additional Information
| | |
| --- | --- |
| Brand | Magic Eyes |
| Number of holes | 1 |
| Number of layers | 2 |
| Open/Closed | Closed |
| Reusable | Is reusable |
| Bone structure | No |
| Theme | Anime |
| Tunnel length | 140mm |
| Product weight | 440gram |
Intense climax Review by Kimi

Feels like a real pussy, too bad that the material isn't as durable... the onahole split in half after 3 uses. I'm a big man (Posted on 12/5/2019)