Hakoiri souseikatu Shino-Ayaka
Hakoiri souseikatu Shino-Ayaka
What's better than one onahole? Two onaholes!
Do you ever dream about having sex with two girls at once? Fillworks plays into that fantasy with this amazing masturbator combining two hips with two distinctly different tunnels. This "Hakoiri souseikatu Shino-Ayaka" onahip weighs 1350 gram and has a great size that allows you to grab both asses.
Two very different tunnels
Fillworks succeeded at making two completely different tunnels: it's not just the outsides that look different, the tunnels on the inside feel completely different as well.
Shino, the younger girl, has round "cameltoe" labia, where the inner labia are hidden by the outer labia. Her entrance is quite tight, and after that you'll find a slightly wavy tunnel that's covered in gentle ribs. When you're almost all the way inside you'll feel her getting tighter again, which is the final hurdle before you reach her end chamber. This chamber contains small nubs which rub over the top of your cock.
Ayaka, the more experienced girl, has an inviting entrance with slightly larger inner labia. If you pry these apart you will see that she's pink on the inside. This tunnel has a double-layer design, with a firmer inner layer which gives a good amount of stimulation. She has a tight entrance to ensure a good vacuum and keep the lube from leaking out. After that you will enter a tunnel with quite well-defined ribs and nubs which gives more stimulation than her younger counterparts'. At the very end Ayaka has a "uterus" chamber with a tight entrance. Thanks to this chamber she has a great vacuum; just squeeze out the air before you penetrate her and you'll feel this onahole suck your member!
Cleaning
To clean this onahole simply rinse it out under the tap with some water. Let the water drip out and push an absorbing cloth inside to absorb the last bits of moisture.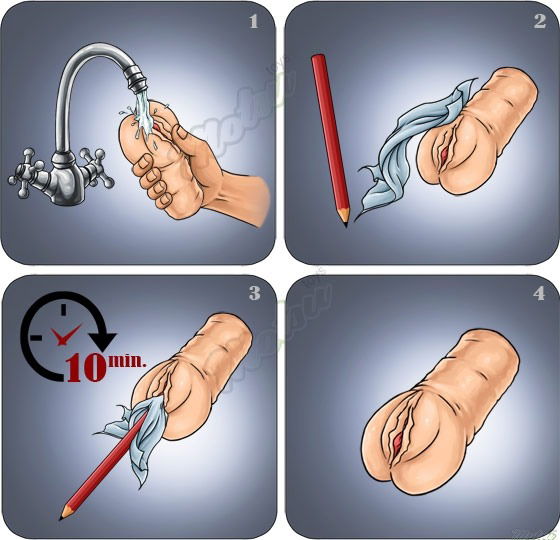 Using the Hakoiri Souseikatu Shino-Ayaka
The two tunnels allow you to use this onahole in a variety of ways. Of course you can switch between the two tunnels: bring yourself to the edge of a climax in the intense Ayaka tunnel, then cool down in the milder Shino tunnel. For how long can you keep going?
You can also put a small vibrator in one of the tunnels while using the other one for a completely different feeling.
If you're looking for an onahip with a lot of variety, be sure to check Hakoiri Souseikatu Shino-Ayaka out!
Properties
Total length: 13 cm
Total width: 19 cm
Tunnel length: 11 cm
Weight: 1350 gr
Material: TPE
Made in Japan by Fillworks
You may also be interested in the following product(s):