Ju-C Petite 3
Ju-C Petite 3

Don't let this onahole's diminuitive size and simple shape deceive you! The momochi material and effective internal design will make you want to use this onahole time and time again!
Packaging
This onahole is the third in the Ju-C Petite series and as such we already know what to expect: A short girl with an innocent face and a Juicy body. G-Project's artists have outdone themselves this time. Her sizeable chest is close to bursting out and the wind lifts up her skirt, revealing the top of her thigh-high stockings. Who could resist that?
Momochi Material
Too often there is a trade-off between the quality of the material and the price. G-Project is changing the market by producing onaholes in this affordable price class with a material this good! The special "Momochi" material is not sticky, doesn't have a strong smell and is quite durable and stretchy.
As the name says, this is a "petite" onahole. It weighs about 140 grams and the total length is almost 14 centimeters. This may not sound like much, but thanks to the stretchy material the Ju-C Petite 3 will stretch to accommodate many different sizes.
Triple chamber design
There is not much to be said about the outside (sleek, smooth and soft), so let's skip to the inside right away. The onahole has an easy-entrance opening which will allow you to slide in easily, even if you're not yet rock-hard. The first part of the tunnel is narrow but not constrictive, which means that it will form a seal around you and keep lube from leaking out.
After this, the real tunnel starts. It consists of three separate chambers which are connected by slightly narrower passages. The tunnels themselves are lined with a structure which looks a little like suction cups, as well as soft, round nubs. The combination of these two causes a sensation that is stimulating but not too intense. The areas in between the chambers are filled with organic ridges, bumps and nubs.
When you slide inside, the alternation of tighter and wider areas already feels great, but you can enhance it even further because the walls of this onahole are fairly thin. By squeezing and twisting in the right places you can customize the experience to your liking. Squeeze it tightly at the base, rub the head, whatever you like!
Cleaning
Cleaning the Ju-C 3 Petite is incredibly easy because it has such an uncomplicated tunnel design and stretchy material. Rinse it out thoroughly under the tap first, and then dry it well, especially the inside. The inside is most easily dried by pushing a soft absorbent cloth inside and leaving it there for a couple of minutes to absorb the moisture. You can also use a special drying stick. It is possible to turn this onahole inside-out to clean and dry it, but this may eventually damage the material, so it's not recommended.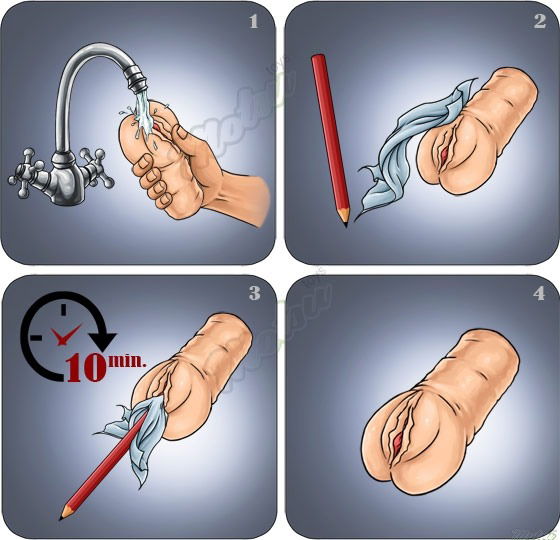 In short
The Ju-C Petite 3 is a super affordable onahole made out of excellent material. Whether you're trying an onahole for the first time and don't want to spend too much, or are looking for something small and discreet to add to a larger order, it's a great choice!

Properties
Box size: 17.5 x 6 x 6 cm
Onahole length: 13.8 cm
Onahole width: 4.5 cm
Onahole weight: 138 grams
Includes free lube sample
You may also be interested in the following product(s):