JU-C 5 Super Soft
Ju-C 5 Super Soft
Are you looking for something that's soft and gently but not boring? G-project brought out another excellent onahole in the Ju-C series, and this is the softest one yet!
Juicy material
When an onahole has a double-layered design, it is often a skin-like soft outer layer with a more firm, stimulating inside. The Ju-C 5 has a soft, skin-like outer layer…. And an even softer interior! The material stretches and bounces easily, and when you feel it you'll definitely be reminded of grabbing a soft, curvy woman.
The Ju-C 5 is among the very softests of onaholes on the market, which is great if you are very sensitive or want to last longer before reaching your climax.
Simple exterior
The Ju-C 5's exterior is smooth and stylish. The large, rounded cylinder with a thick ring around one side is easy to grab and doesn't have any dainty folds or creases which can get damaged or trap dirt. Weighing in at around 330 grams this is an onahole that's easily light enough to use one-handed for a long time, but also big enough that you won't tear through the side or feel your own fingers. There's an indent around the entrance which makes it very easy to slide inside.
Exciting tunnel
With material this soft and gentle you might expect a smooth tunnel, but this is not the case. The Ju-C 5 has a great tunnel design with several well-defined textures. Because the material is so soft they opted for larger bumps and ridges, to avoid ending up with a tunnel which feels like nothing at all.
When you slide inside this onahole the entrance will make a gentle seal around you, keeping lube from leaking out. What follows is a series of horizontal ribs which function like gates and will rub over you with every thrust. The tunnel keeps tightening around you, and the next part is lined with medium-sized round nubs. At the narrowest part these nubs turn into a spiral, guiding you further inside. Finally, the tunnel opens up into the end chamber. This wider area is filled with several large round nubs to rub the head of your cock. Usually nubs of this type can be quite harsh, but thanks to the ultrasoft material these aren't overwhelming.

Lot of control
Because the material is very stretchy it will stretch to the perfect size to accommodate you. You can use external pressure from your hands to squeeze the Ju-C 5 and increase the stimulation in a specific area. You can also twist and stretch the onahole to experience different kinds of enjoyment.
Cleaning
Because this onahole doesn't have any really deep crevices it's fairly easy to clean. Rinse it out under the tap with cold or lukewarm water until everything has been flushed out. Then, dry it well. You can do this by inserting a clean absorbent cloth or drying stick. Repeat this until the inside it completely dry. If you want to keep the onahole in optimal condition dust the outside with maintenance powder. This will restore the skin-like softness of the outer layer and keep dirt from sticking to the Ju-C 5. Store the onahole in the free ziplock pouch to keep it safe!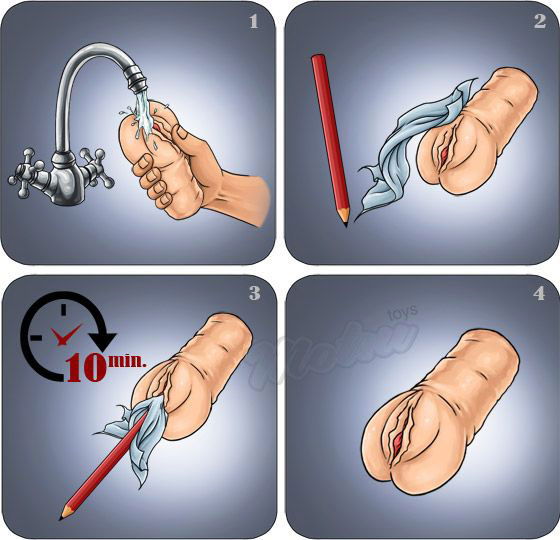 Properties
Total length: 16 cm
Total width: 5.5 cm
Total weight: 330 grams
Includes free lube sample
Includes free storage bag
Very good everyday product Review by sammy

This is a very good onahole to use everyday. The design keeps the lube very well inside and thus using this is very clean and easy. Definitely one of the best onaholes I've used for a long time. And comes with a dedicated pouch to store it. Material is very soft and is good for a bit longer sessions. Only minuses are that the onahole's material is a bit oily and has a bit of a "chemical" scent. But use onahole powder and both of these problems are solved. Also price is good. (Posted on 4/8/2019)

Soft, gentle and does not make a mess. Review by noname

The sensation is very consistently gentle along the entire length, except for the large bumps in the tip which don't seem to do much, I wasn't even sure if I was reaching them until I checked. It's soft, but doesn't feel as soft as the pink part of the Fuwa Cyun Triple. Overall very pleasant, but you can't really finish quickly with it.

The material is thinner than expected after the Triple, it feels like it should have the same diameter, but it collapses a lot after you push the air out. The construction seems to have a thin weak point where the tip and sides meet, but only time will tell if it's a real problem. Don't forget to use powder on it because these softer materials can get very sticky.

I find the simple colorful look preferable over more realistic designs.

This is the least messy one I have used so far, the opening does a really good job of keeping most of the lube inside. (Posted on 2/23/2019)
You may also be interested in the following product(s):