Ju-C Petite
Ju-C Petite

The Ju-C petite, also known as the Juicy Puti, is a great onahole that produces premium stimulation at a budget price. With its non-sticky, non-smelly material and a fairly strong vacuum this onahole will be able to please you time and time again.
Packaging
Most onaholes come in a cardboard box, but the Ju-c Petite comes in a beautiful glossy plastic box. This not only lets the vibrant colours of the illustration shine, it also means that you can continue to use the box for storage, since the plastic material won't get stained like cardboard does.
Momochi material
The Ju-C Petit is made out of G-Project's excellent "Momochi" material. Cheaper onaholes are often smelly or sticky, but this onahole is neither. The material is firm enough to keep its shape, but at the same time stretchy enough to accommodate nearly everyone.
As the name suggests, this onahole is fairly small and weighs in at only 140 grams. It has a really simple design, with no delicate details or crevices to trap dirt. The total length is 13 cms, with the tunnel running almost to the end, but it can be stretched to about 20 centimeters.
Intense and mild
This onahole's tunnel might not look like much at first, but things don't always have to be complicated to be good!
Sliding in is easy thanks to the way the opening is shaped, and the entrance will form a seal around you to keep lube from leaking out. The first thing you'll feel is a room lined with round nubs, sliding over you on every side. Then, a smoother part follows, another room with nubs, another smoother part, and finally another room with nubs. G-Project definitely didn't overcomplicate things! The smoother parts of the tunnel allow you to pace yourself and postpone the orgasm by switching to a less stimulating area when you get close to climax. If you tease yourself like this for a while the final climax is sure to be amazing!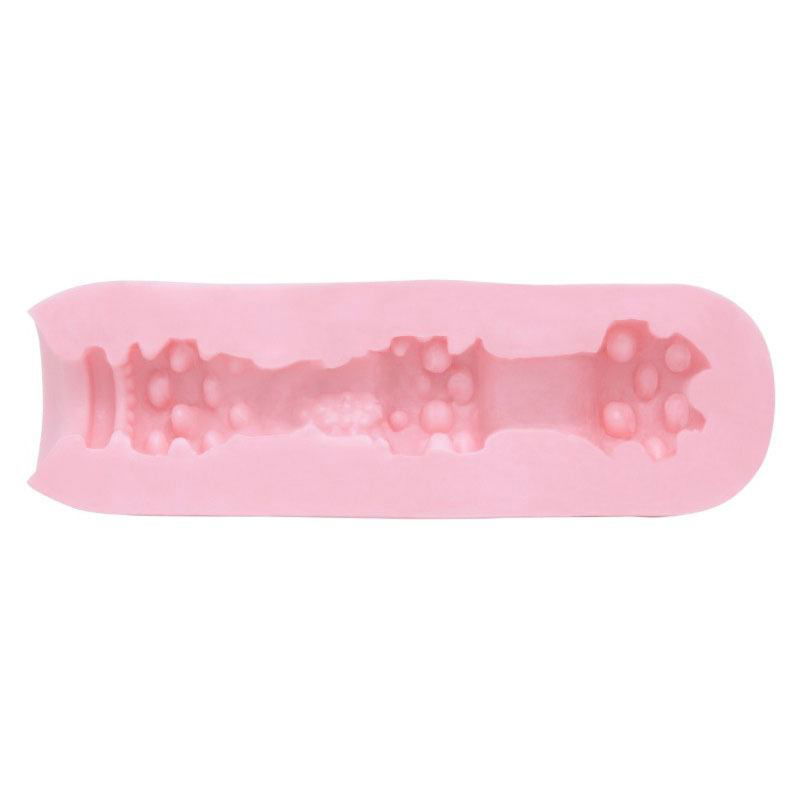 She will suck you in
Want to make it even more enjoyable? If you squeeze out the air before penetrating her the Ju-C petite will form a vacuum. The sucking sensation this generates feels great! Usually small toys don't form a good vacuum, but the springy momochi material enables this toy to suck you in despite the relatively small amount of material.
Cleaning
The Ju-C's tunnel is very easy to clean as the internal structures aren't overly complex and you can easily stretch the toy to reach inside. Simply rinse it out under the tap and then dry it thoroughly. Drying the inside is important, as moisture that remains trapped there can allow bacteria or mold to grow. Pushing an absorbent cloth inside and leaving it there for a couple of minutes will help remove the last drops of water.
Optionally, dust the outside with some maintenance powder and store the onahole in a cleaning pouch or bag.
Properties
Total length: 13 cms
Total weight: 140 grams
Material: TPE thermoplastic elastomer
Made by G-Project
Includes free lube sample
Additional Information
| | |
| --- | --- |
| Brand | G PROJECT |
| Number of holes | 1 |
| Number of layers | 1 |
| Open/Closed | Closed |
| Reusable | Is reusable |
| Bone structure | No |
| Theme | Anime |
| Tunnel length | 120mm |
| Product weight | 140gram |
Hey, that's pretty good Review by J

Ok, so this is my first onahole. I was a bit afraid of being disappointed, but was I wrong. As a first time user I might be a bit biased, but compared to the other onahole I bought this one is really good. It looks simple, but maybe simple is better. It's really firm and easy to clean. I think the stimulation might be a bit too strong for some people, but I like it. (Posted on 5/26/2020)

Not Bad Review by Walaf

A little small but with a great suction power. This onahole is my first in single layer and I can say one thing, It's super easy to clean compared to my previous onaholes.
Some more material on the tip would be better as it come really thin when you thrust it to the end.
+Compact
+Easy to clean
+Cheap
-Need a little more material
(Posted on 2/23/2019)

Not bad but could be better Review by S

I guess since its on the cheaper side it won't be as good as other but he material is firm but its also thin which makes it some what less enjoyable but its not bad and feels nice especially after a couple of uses. The Ju-C petite 2 (blue version) could be better than this one as it has ridges rather than bumps. It can also be loud at times with the suction which is really good but if it had more weight to it it would be a lot better. (Posted on 10/26/2018)

Intro onahole Review by zz

It's pretty small but a good intro to onaholes (Posted on 10/25/2018)