If you see anything interesting that we don't stock yet, feel free to contact us and we'll take a look at it!
New sex toys for men, driven by innovation
The Onahole market has become more and more competitive over the years: while at first a simple pocket pussy with some cute art on the box was enough to stand out, now companies need to look for new ways to get and keep their customers' interest.
New designs
One way to stand out is with new designs. Sometimes developments in mold-making or casting make new shapes possible, and sometimes someone has a brilliant idea that simply hasn't been tried before. The easy to clean fold-open designs of the Tenga Fliphole series were a huge innovation at the time which got more people into onaholes. Sometimes, innovation is simpler than that: the micro-ridge structure, for example, feels much better than it looks and has become more widely used after Ride Japan made the Virgin Loop onaholes.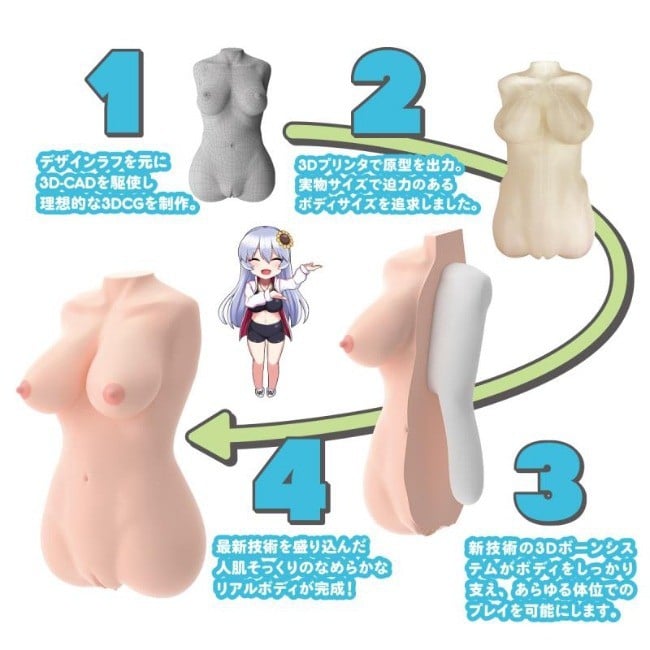 New materials 
Another way to make new sex toys for men is to create new materials or combine them in innovative ways. Materials can make a huge difference in how sex toys for men feel: a softer material will be much less timulating than a firm one. Brands like Tomax even allow you to get your favourite onahole in different levels of hardness. Another innovation when it comes to the use of materials was the introduction of an internal skeleton in the largest sex toys for men, to increase realism and keep them from flopping about like a pudding.
New methods
Traditionally, an onahole design is made with clay: a design is made for the outside, and another is made for the sex toy's tunnel. By working with very fine clay and a lot of patience, beautiful designs with a very smooth surface can be made this way. When the clay pieces are done a mold is taken from them, and the two are combined to produce the final sex toy. 
A method which is more and more popular is digital 3D design: the parts are no longer made in clay, but with special design software. This makes it much easier to create detailed designs like the intricate textures you see in some onaholes. A designer can also easily make several versions of a single design: perhaps make the boobs a little rounder, change the labia a bit, or make the whole toy 10% larger. In clay, these changes mean carefully adding or removing layers of clay and waiting for it to dry, and you can't easily revert to a previous version. Once they are happy with the design, a 3D printer is used to create a physical version.
New sex toys for men: novelty or genuine improvement?
In their constant race to develop more new sex toys for men companies sometimes release some odd-looking designs customers often ask us "does this actually feel good, or is it just for novelty?" That question is hard to answer, since what feels good is so subjective, but it's true that some designs end up being more popular than others. We can't blame the manufacturers, though: sometimes you just have to throw things at the wall and see what sticks!
Want to keep track of the newest sex toys for men? Keep an eye on this page, and don't forget to subscribe to our newsletter!