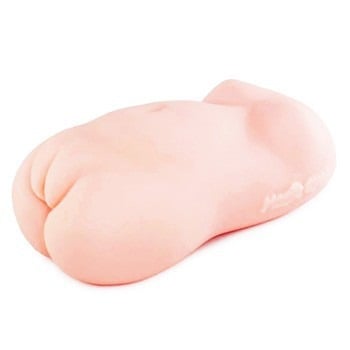 Benefits of large onahole sex toys for men
They say size doesn't matter, but sometimes it does. There are some things that large sex toys do that are only possible due to their size.
➤ More realistic 
With smaller onahole you can sometimes feel the grip of your hand through the sides. With toys this size, that won't be a problem!
The thickness of the walls has another benefit: they squeeze you when you slide in. Thick walls feel much more like entering a real woman, as they simulate the muscle that would be there.
➤ More ways to use it
A regular onahole is usually tube-shaped, and there's only so much you can do with them. With beautifully designed large sex toys you can really make your fantasies come true, trying different positions.
➤ More detailed designs
Thanks to the bigger size, there's more room to incorporate extra layers or other features, like tightness rings. There's also more room to let the tunnel turn and twist, creating a stimulating design with multiple pressure points.
Use with one hand… Or both
This in-between size lends itself perfectly to versatility. They are small enough to use with one hand, keeping your other hand free to do other things, like browse porn or play with your favourite tit masturbators. But if you want to, you can also use both hands to move, roll, twist and massage these onahole, taking maximum advantage of their designs.
To get the most out of your onahole, make sure to use a good personal lubricant with it. While there's no clear line between personal lubricants used for sex and those for masturbation, the thicker, gel-like personal lubes like TYO are perfect to use with pocket pussies. They stay wet and slippery for a very long time, and due to their water-based formula they are 100% safe for your toys.
Cleaning a large onahole
Like any sex toy, these onahole need to be cleaned after every use. Doing this well ensures that you can use them again and again!
First, rinse your onahole thoroughly with some cold or lukewarm water, making sure to flush out all the lube and fluids. Use some toy cleaner if necessary. Then, dry it thoroughly inside and out: a moist environment is the perfect breeding ground for bacteria and you don't want that. For more elaborate information on how to clean your onahole, as well as incredibly useful products, check out our pocket pussy cleaning page.
Anime and Hentai Sex Toys
You'll see that a lot of the sex toys in our shop are anime or hentai themed, and you might wonder why. There's an important reason for this (other than that they look cute): Japanese sex toys for men are the best around. In japan, sex toys for men are very much a normal part of life, and because of this lack of taboo a lot of effort has gone into perfecting them. Many of the material and design innovations have their roots in Japan.
While not all Japanese sex toys have anime or hentai art on them, a sizable portion of them do. If you have a strong preference for onahole with hentai art, real porn (AV stars) or a neutral theme, you can use the filters on the left to display only those.
Ingredients of a Japanese Sex Toy 
So what goes into making a pocket pussy or onahole?
The first step of the process is the design, which can be split into two parts: inside and outside. Both can be made either with a digital model, or manually, with materials like clay. Onahole makers have to keep many things in mind for this step, like the softness of the material that will be used.
Next, a mold is made. Again, there are often separate molds for inside and outside. This allows the company to re-release a toy with a new outside while keeping the interior design or vice versa.
The separate parts of the molds are combined into one, and a test run is made: molten TPE (ThermoPlastic Elastomer) is poured in and left to solidify. This TPE material can be made hundreds of different ways, and onahole makers often have their own, secret recipes. Some onaholes even use multiple materials: not only layered over one another, but also special inserts like tightness rings, or teeth for blow job sex toys.
After this step, the design is evaluated and remade until all its parts are perfect and the inside, outside and material are in perfect harmony.
A large onahole, not for you?
If you have any questions about our onahole or other toy feel free to check out our FAQ or send us a message.