We like big butts and we cannot lie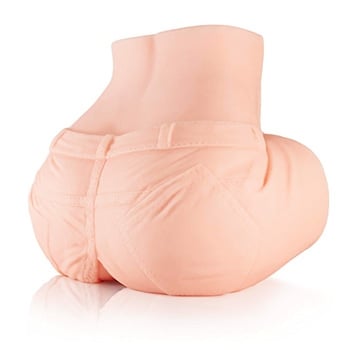 Ranging in weight from around 2 kilograms to well over 7, these sex toys for men still vary quite a lot in size. But they all have one thing in common: they have something to hold onto! Being able to grab or slap a nice round ass absolutely adds to the experience. Thanks to the soft and jiggly material all of our onahips feel extremely lifelike.
Onahip sex toys: perfect for doggy style or cowboy
Small onaholes can be grabbed with one hand and used pretty much wherever you like them, but that isn't quite the same as being able to feel the right size and weight underneath you - or on top of you!
Some onahips have a flat underside. This makes them perfectly suited to fucking in bed: the flat bottom will keep them stable. But that isn't all: you can also place them on top of a desk or table and fuck them standing up.
Other onahips have a 360 degree shape, meaning that all sides have been formed realistically. While this is less stable, it does look and feel the most realistic. Sex toys like this are also perfect to fuck cowgirl style, or to bounce up and down in your lap while you sit in a chair.
Big sex toys: more realistic outside… And inside!
At first you might think that the way a onahip's tunnel feels won't differ much from the way a compact onahole feels… But you would be wrong. Even if the exact same structure is used for the tunnel a bigger sex toy will feel more realistic. This is because the extra material adds some pressure and stretches less easily, simulating the feeling of a real woman's pussy or ass. It feels as if the onahip squeezes down on you!
Of course because of onahips' bigger size these mega masturbators often have enough room to accommodate two tunnels for double the fun. Many onahips feature a full-sized pussy and anus, each with their own structure and tightness. With two tunnels you can pick one depending on your mood, but you can also switch between the two: start in the more intense tunnel, switch to the gentler one to cool down when you're about to reach your climax… See how long you can last, it's great stamina training!
Want to get a better idea of what an onahip looks like? The video below shows an onahip form all sides:
An onahip as an alternative to expensive sex dolls
If you've been hemming and hawing about shelling out the money for a full-sized sex doll or mini sex doll we highly recommend trying a big onahip first. This way you can experience whether added size makes a big difference to you, and whether a bigger, heavier toy is something you enjoy. Of course you can also get started with one of our sex doll torso's or mini sex dolls!
Everything you should know about layers, skeletons and more
Large sex toys for men often consist of more than one material, either for looks, feeling, or structural integrity. If you're having a hard time keeping track of all the options, here's a list to get you started:


⮞ 

Single-Layer onahip

The same material through and through, these onahips are comparatively durable. There are few weak points, since there is no seam between materials where things might split apart.
⮞ 

Dual-Layer onahip

Many manufacturers choose to add an extra layer to their sex toys. Often this layer has a pink colour, making the toy look more realistic. Furthermore, the outside material can be optimized to feel just like skin, while the inside material can be designed to deliver the optimal amount of stimulation.
⮞ 

Internal skeleton structures

The larger the toy, the more unwieldy it becomes. An internal skeleton structure, usually made of hard plastic, gives it some extra stability. Of course being able to feel "bone"under the skin also adds to the realism.
⮞ 

Jiggly implants

While not super common, there are several mega masturbators that have implants in the breasts or even ass to make it extra realistic and jiggly.
Caring for your onahip
Of course you want to be able to use your onahip as many times as possible. In order to prolong their lifespan proper care is necessary: that means cleaning, but also storage.
Cleaning large sex toys for men
When cleaning sex toys for men there are a couple of things to keep in mind. Firstly, do not use harsh soaps or cleansers: these pull the oil out of the toy, making it less soft and resilient. Rinsing it thoroughly with plenty of water and a little sex toycleaner is enough. large sex toys can be tricky to clean under the tap, so consider grabbing an onahole shower to make the process quicker and easier. Another important thing is to dry it well after washing, as moisture can allow bacteria and mold to grow. A maintenance powder can help to keep your onahip soft and dust-free. Check out our pocket pussy cleaning category for more information and some products that will make your life easier.
Storing an onahip (or another large sex toy) 
When it comes to storage, there are three important things. UV light can damage your onahip's material, so keep it away from sunlight. The same goes for heat, so a dark, cool place is ideal for storage. Thirdly, storing your toys in the right toy sack will help keep them as new, thanks to the fabric's properties. Check out our sex toy storage page if you want to know more.
Still have questions?
If you have questions about anything you read on this page or want to know something about a specific product you can always send us a message. We'll do our best to get back to you within 24 hours!