Plump Real
Plump Real
There's a wide variety of girls featured on onahole boxes: pink hair, blue hair, glasses… But they're almost all skinny! Do you prefer a plumper girl, with luscious feminine curves, large breasts, a soft belly and amazing hips? Toy's Heart made this new onahole just for you!
Packaging
As with all Toy's Heart products, the packaging looks great. It features a thick girl clad in lingerie and stockings. The Plump Real itself is packaged safely in a sturdy plastic insert to keep it safe. The other sides of the box feature clear cut-through views of the onahole's tunnel, so you know exactly what to expect.
Tunnel
One of the first things you'll notice when taking this onahole out of the box is that it's quite heavy, about 450 grams. It feels soft, squishy and pliable, Toy's Heart did a great job capturing the feeling of a thick, plump girl. The Plump Real has 2.5 cm thick walls, which means that you won't be able to feel your own fingers through the onahole but can focus completely on the amazing textures inside.
The inside of the Plump Real has realistic ridges, with tighter and wider areas alternating. The rounded entrance has a wide indentation, which makes it easy for you to thrust inside. There are some narrow grooves around the opening which help keep your lubricant where it should be. Once you are past the narrow but flexible opening you will first feel a slightly wider area, and then a narrower one. Behind that, wavy ridges of different sizes will give you an amazingly realistic sensation! At the very back is a wider chamber with a small nub, which is like a narrow cervix.
The Plump Real onahole is quite stretchy and will accommodate pretty much any length and girth. The stimulation is realistic but quite mild thanks to the soft, pliable material. If you want an onahole you can last a long time with you might want to try this one!

Material
This onahole is made out of Toy's Heart's patented Fresh Skin material, which is a type of TPE. It has a very slight sweet scent which isn't really noticeable unless you go out of your way to sniff the onahole. Fresh Skin is super easy to clean and dry as it is slightly hydrophobic.
Cleaning
Of course you'll get the most out of your onahole if you take good care of her. To clean the tunnel, rinse it out under the tap after use until it's clean. Squeeze out as much water as you can, and push an absorbent cloth inside to absorb the last bits of moisture.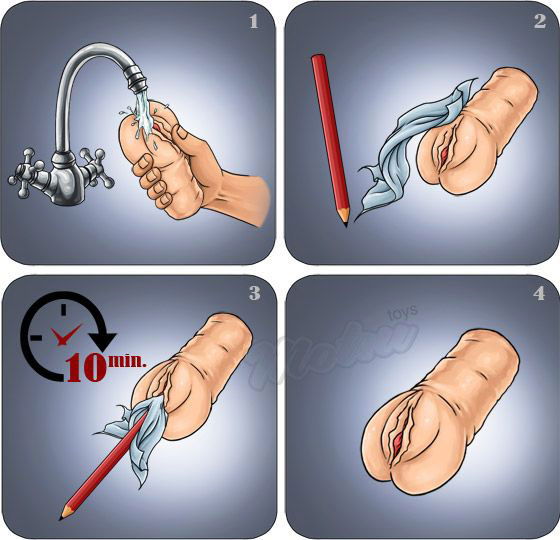 In short, the Plump Real is a gorgeous thick onahole made out of high-quality material which will bring you pleasure again and again. It is suitable for many different sizes, and has the great stimulation we've come to expect from Toy's Heart.
Properties:
Weight: 475 grams
Length: 18 cms
Width: 7 cms
Height: 6.5 cms
Material: TPE
Made in Japan byToy's Heart
Additional Information
| | |
| --- | --- |
| Brand | Toysheart |
| Number of holes | 1 |
| Number of layers | 1 |
| Open/Closed | Closed |
| Reusable | Is reusable |
| Bone structure | No |
| Theme | Anime |
| Tunnel length | 150mm |
| Product weight | 475gram |
Perfect Review by zz

An amazing onahole. The feel is very nice and texture is great. Also it's very easy to clean. (Posted on 10/25/2018)