Puni Ana DX Hard
Puni Ana DX Hard
Are you looking for an onahole that isn't only shaped beautifully, but will also give you such incredibly intense stimulation that your knees will buckle and your eyes will cross? Don't skip over this one!
Beautiful art
After the success of the original Puni Ana, EXE now also released the Puni Ana Hard. The box is nearly identical, though the background is blue and not pink. This box also has art of Exe's adorable mascot girl offering herself to you. She's lying on her back, with her legs pulled all the way up, showing you her beautiful pussy and ass. Her small breasts and lean body are irresistible! Her innocent face is framed by her long blonde hair and a flower crown, and a thin red ribbon around her neck finishes the look.
Can't get enough of this sexy art? You're in luck! EXE has included a DVD with even more drawings in a similar style by the same artwork, featuring gorgeous loli girls getting up to all kinds of mischief.
If you are worried about the loli artwork posing a problem at customs: we ship directly from a warehouse in the Netherlands, so that means there will be no customs checks whatsoever if you are also in the EU. If you are in the UK, Switzerland, Norway or the US, customs may check your order.
2.2 kg of pleasure
As you might have gathered, the "DX" means "Deluxe", and when you see this toy you will understand why. Not only is it shaped beautifully, it also feels luxurious to the toy, and the weight adds to the realism. The material is slightly firmer than that of the regular Puni Ana DX, but squeezing her little round butt still feels great and realistic, the Hard version definitely doesn't feel plasticky or unnaturally hard.
The Puni Ana DX hard has a narrow waist, with a soft round belly and wider hips with a cute firm ass. The puffy, smooth outer labia form a cameltoe vagina, and when you pull these apart you'll see the underlying inner labia.
Two tunnels, double the stimulation
The shape of the tunnels is identical to those of the Puni Ana DX, but thanks to the firmer material you'll be able to feel every single detail. Like with all hips, the amount of material used means that the anal and vaginal tunnel both have extra thick walls, and the material will push back against you, squeezing you with every stroke.
The vaginal tunnel starts with the labia gently sliding past you, forming a gentle seal around your cock. The area between them acts as a small reservoir, holding the lube and keeping it from leaking out. What follows is a tunnel which narrows slightly as you push inside, with small ridges stimulating you from all sides. The last part of the tunnel curves and weaves from side to side, its surface lined with round nubs. The tunnel is 22 cms, so long that you likely won't be able to reach the end!
The anal tunnel starts off nice and tight, and then opens up slightly. The rest of the tunnel follows this pattern of opening and closing, creating a series of gates that you squeeze through with every thrust. The detailed wavy ridges on the sides enhance this sensation even further.
The tunnels run all the way through the hip, joining at the very end. Here they merge for the last cm or so, and poke out the back to create a flushing hole, which makes cleaning much easier. The tunnels measure about 22 cm, which means that you can go as deep as you want without hitting a "wall", even if you're above average in length.
The Puni Ana DX Hard's shape makes it incredibly easy to grab an use in all kinds of positions. Lay her down on your bed and fuck her from behind, let her ride you cowboy-style while you lie down, or bounce her up and down in your lap while you're sitting, it all feels great! You can even insert a vibrating bullet in one tunnel while you use the other, or swap between both tunnels. It is definitely a masturbator that won't bore you.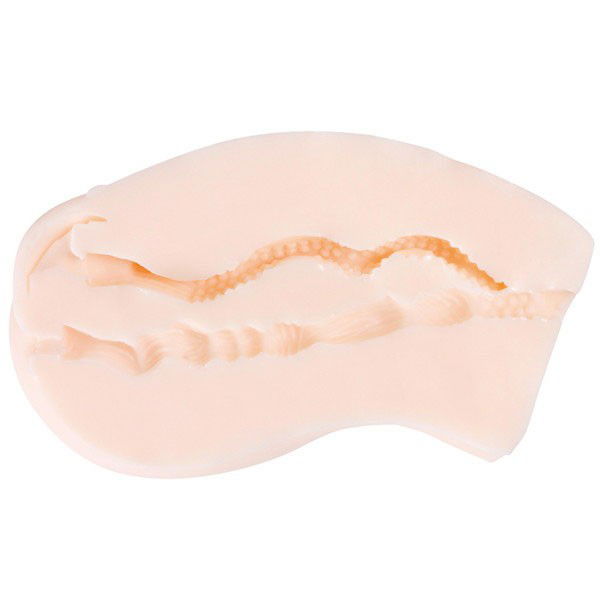 A little too much?
If you feel like all this might be a little too much for you, be sure to check out the regular Puni Ana DX or even the Puni Ana DX Fuwatoro (soft). They are made of softer materials and as such are a little less stimulating.
Cleaning
Because the tunnels meet at the end and have an opening at the back, the Puni Ana DX Hard is fairly easy to clean. Flush the tunnels with water a couple of times, and then squeeze out as much water as you can. Insert a piece of absorbent fabric to absorb the last bit of water and you're pretty much done! If you want to you can apply a bit of maintenance powder to keep the outside of the toy feeling soft and fresh. The plastic blister is perfect to store the onahip in until the next use.
In short….
The beautifully shaped Puni Ana DX Hard feels amazing, and its two intense tunnels will bring you pleasure again and again. With many different ways to use it, great material, beautiful art and a design that's easy to clean, how could you say no?
Properties
Total height: 22 cm
Total width: 21 cm
Weight: 2.2 kg
Material: TPE
Includes bottle of lube (100 ml)
Includes CD-ROM with extra art
Made by EXE
(Almost) Everything one could ever want Review by Felix

An excellent choice especially for guys above average size who have trouble finding good onaholes for their length. Both holes have an excellent texture and open end which makes it both both attractive for all sizes and very easy to clean. It has a good weight that makes you just want to let it ride you cowgirl-style.
However, I personally expected a higher level of firmness since it is already the "Hard" version, with a more meat-like feeling. I have not purchased the normal version for comparison but even the hard one still feels like jelly in my hands (It is not my first one and most of the others are quite a bit tougher, which is why I was surprised by the softness of this product). The lube included in the package has a nice feeling to it and allows you to jump right into the action after opening it, but although the girls on the cover girl collection CD which is also included are quite cute, the censorship ruined it for me. (Posted on 4/2/2020)
You may also be interested in the following product(s):