R-20 Puni
R-20 Puni
The R-20 is a well-known and popular onahole from Toysheart. The R-20 Puni is a lot thicker than the first R-20. This better version is also a bit shorter. Where the 'R-20' was 19cm, the 'R-20 Puni' is 13,5 cm.
When you take out the R-20 Puni out of the box and the first thing that you will notice is how thick and full she feels.
The reliability and durability can directly be felt!
The R-20 Puni is also stretchable, kneadable and reasonably tight, but more about the tunnel later.
Safe Skin material
The R-20 Puni is made from Toysheart's Safe Skin material. Don't you know this material yet?! Then you don't have to read on, but throw this in your shopping cart immediately!!
Safe Skin material is in one word: Fantastic.
Safe Skin material is totally odorless and does not stick. It is as good as oil free, but still it feels soft and stretchable.
Safe Skin feels silky smooth on the outside and has a special structure. It feels a bit rough, soft and smooth at the same time. This ensures that the R-20 Puni lies in your hand nicely despite the gripless form.
The inside feels smoother and a bottle of Moisty lubricant is delivered along with this Onahole. So you can slide inside immediately.
R-20 Puni Tunnel
The tunnel starts with a ring with speckles on it, that Toysheart calls the 'Wet Groove'. These speckles ensure that the lubricant don't leak out of the onahole. A second ring follows... the with nubs covered tunnel follows and in the middle, you feel stimulating bumps.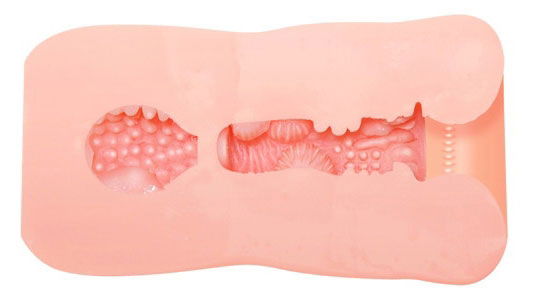 The big bump on the underside (depending on how you hold the R-20 Puni) and small bumps on the upper side, give a special effect.
The sharper narrowing that follows brings you to the end chamber. You can feel this narrowing going over your glans really well and gives some counter pressure. This is in my opinion the best part of this Onahole.
Here below you can see an image of the insides of the tunnel, to the left the beginning of the tunnel and on the right image, the narrowing that leads to the end chamber.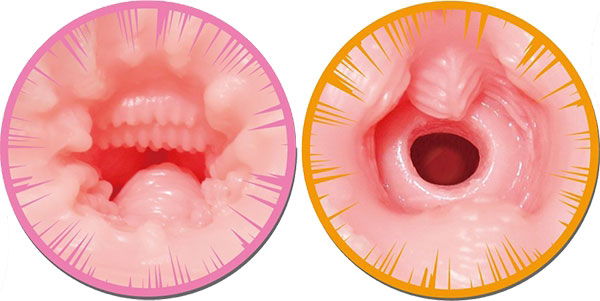 Afterwards you are in the end chamber, that is also covered with nubs.
The R-20 Puni is a delicious stimulating Onahole, that you can grip nicely and brings you to a delicious orgasm.
Cleaning:
The material is stretchable and durable and you can easily turn the R-20 Puni inside out. Rinse her off with some soap and or toy cleaner and let her dry for a while.
Afterwards you fold the onahole back and she is ready for a next round.
Despite the R-20 Puni taking on the body warmth quickly, it is of course even nicer to warm her up beforehand with a Warmer.
The R-20 Puni dimensions:
Total length: 135mm (5.3 ")
Inner length: 120mm (4.7 inch)
Total width: 74mm (2.9 ")
Weight: 380g (13,4 oz)
Safe Skin
Good vacuum
Made in Japan
Additional Information
| | |
| --- | --- |
| Brand | Toysheart |
| Number of holes | 1 |
| Number of layers | 1 |
| Open/Closed | Closed |
| Reusable | Is reusable |
| Bone structure | No |
| Theme | Anime |
| Tunnel length | 120mm |
| Product weight | 380gram |
Good Review by Drago

Good (Posted on 7/9/2019)