What type of sex doll suits your needs, wants and budget? read on to learn a little about each of these four categories.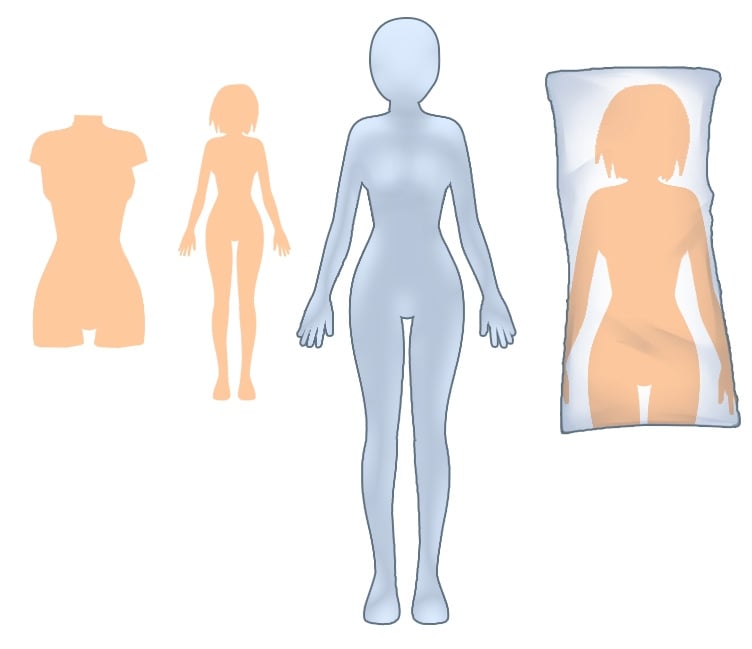 Sex Doll Torso:
+ More realistic breast, waist and ass size
+ More realistic feel thanks to the amount of material used
+ Can be used in different positions
+ Can wear real clothing, lingerie or cosplay
+ Usually big enough for both a vaginal and anal tunnel
o Usually have built-in tunnels, so can't be used with different onaholes
- Less realistic because it lacks limbs and a head


A sex doll torso is shaped like a woman's upper body. Depending on the design, it may include (parts of the) limbs or head. With a sex doll torso you can enjoy the ass, pussy, waist and tits at a good size without the toy becoming too heavy, or unwieldy fragile limbs getting in the way. Because the size is often realistic you can also dress a sex doll torso up with lingerie or a cute cosplau outfit.  
Buy our sex doll torsos online >
Mini sex doll: 
+ Enticing curves
+ A complete body, but lighter and easier to handle
+ Has a cute face
+ Poseable
+ Extra realistic thanks to wigs and different materials
+ makes you feel big and powerful
- Less realistic because it's smaller
- Often only has one tunnel due to small size
Also called an "onahole doll", a mini sex doll is a complete woman, from head to toe - but a lot smaller. While they are small, they are definitely not childlike: they have the proportions of a beautiful young woman. When it comes to looks, they are among the msot realistic options, since unlike a sex doll torso, blow up sex doll or hentai pillow they have a real 3D head, complete with hair. You can also put them in different positions thanks to the poseable skeleton.
With all of this it isn't hard to see the appeal of a pocket sex doll! 
Buy our mini sex dolls online > 
Blow up sex dolls: it's not the nineties any more
+ Incredibly lightweight, so easy to use for a long time in a variety of positions.
+ Easy to clean up
+ Can be used with a variety of onaholes, can feel different every time
+ Easy to store and hide
+ Very cheap sex doll
- Incredibly lightweight, so less realistic
- Skin and flesh feel less realistic
When talking about blow up sex dolls many people still picture the flesh-colored monstrosities with pink doughnut mouths from a couple of decades ago, or perhaps even the infamous blow-up sheep. But the male sex toy industry hasn't stood still: blow up sex dolls now look and feel much better. Motsudolls imports several types from Japan and has several hentai blow up sex dolls, based on anime girls' slender proportions and elegant bodies.
Using blow up dolls is a little different from using a sex doll or sex doll torso: the sturdy material is perfect to inflate, but if you want to have sex with it you'll need a little something extra. Most inflatable sex dolls have an opening that can be used with a variety of onaholes, turning them into an onahole doll. 
Buy our blow up sex dolls online >
Hentai Pillows (Dakimakura)
+ lets hentai illustrations shine
+ Incredibly lightweight and easy to store
+ Easy to clean up
+ Can be used with a variety of onaholes
+ Can be used with a variety of hentai pillow covers
+ Very affordable
- No realistic shape
- No realistic skin/flesh
If you love hentai and prefer the look of an illustrated woman, hentai pillows may be perfect for you. A "pillow sex doll' like this has an opening (or two) you can put your favourite onahole in, which means it is very versatile. While they don't provide a realistic body shape, they do give you something to hold on to, allowing you to use your hips in a thrusting motion - much more like real sex than moving your hand up and down. The full colour illustrations allow for a lot of detail, and the material won't get damaged easily. And when you're done you simply deflate it, fold it, and store!
How to use these sex toys for men
The first step is to apply plenty of water-based lube for masturbation on and in the opening you want to use. Next, you can use a onahole warmer to heat your sex doll's tunnel up to a more realistic temperature, and while this step is completely optional, we definitely recommend it. Then you can use it as you like: missionary, cowgirl, reverse cowgirl, prone bone, standing up... Whatever strikes your fancy. To clean up after you can use water and some mild soap, but if you want to make the cleanup process faster and easier you can pick up some special sex toy cleaning products .