The Finest Lady Potential
The Finest Lady Potential
While the outside of this onahole isn't very interesting to look at, the name immediately piqued our interest - The Finest Lady Potential? Is it potentially fine? Potentially a lady? We're still not quite sure what they mean, but we can tell you that this is a great onahole.
First impression
The box features a cute short-haired girl, a short top wrapping tightly around her large chest. She's holding up the onahole for you, trying to tempt you into having some fun with her. How could you resist? This is no shy, blushing virgin: this girl knows exactly what she wants, and she knows exactly how to pleasure you.
The onahole itself feels enticing, it's made of a heavy, flesh-like material.
The tunnel
Hot Powers really outdid themselves with the tunnel for the Finest Lady Potential! The inside is lined with ridges that run along the length of the onahole and are covered in a subtle wavy texture. The ribs don't just run from the front to the back in a straight line though! After the first couple of centimeters they start twisting and turning, sliding over you from every side. This feels great even with the most basic up-and-down movement, but also really adds to the sensation is you prefer to turn your onahole while you use it. The Finest Lady Potential isn't terribly intense, and if you usually reach your climax too quickly this toy is a great pick, as she will tease you and draw it out of you slowly.
Material
HotPowers produces their onaholes in a small workshop, where expert craftsmen mix the TPE to be the exact right consistency and make the toys in small batches. This means that quality control is great and each and every product is scrutinized closely before being sent out.
The Material used for the Finest Lady Potential is neither soft nor firm. It is a good medium which most people will enjoy, a realistic material which feels like real flesh and delivers the right amount of stimulation. If you bring it up to your face and sniff it you will notice a mild smell, but this isn't enough to be bothersome. After a couple of washes this smell will fade even further.
Another plus of the material that HotPowers uses is the durability. The expert craftsmanship means that these onaholes have few weak spots and will last longer than most others. The internal design of the Finest Lady Potential also lacks flimsy membranes which tear easily.
Cleaning
Rinse the onahole out thoroughly under the tap until everything has been flushed out. Now squeeze out as much water as possible and insert an absorbent cloth to absorb the last bis of moisture. Wait a couple of minutes, remove the cloth, and (optionally) give the outside a light dusting of maintenance powder.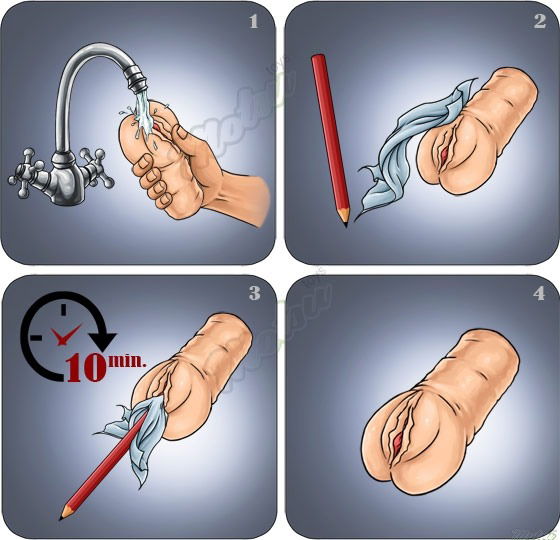 In Short
The Finest Lady Potential is a durable onahole with an interesting internal structure which will envelop you from all sides. The high quality and excellent design will quickly make this one of your favourite onaholes!
Properties
Total length: 16.5 cm
Total weight: 400g
Material: TPE
You may also be interested in the following product(s):