Tight Innocent Pussy
Tight Innocent Pussy
This onahole from Toysheart represents the virgin, like we've noticed with other recent artificial vaginas.
The packaging shows us an innocent young woman dressed in sexy underwear. She looks a little nervous and shy, but she won't disappoint you!

This fake pussy is 13 cm long and has a 60 mm diameter. This makes Tight Innocent Pussy a small artificial vagina. You will (probably) reach the end of the tunnel easily.
At 220 grams it is also fairly light in weight, and it's set at an affordable price.
Material
This Tight Innocent Pussy is made out of Virgin Skin, a material that is similar to Fresh Skin, but with some major improvements.
Virgin Skin Characteristics: Premium quality and safe material. It feels soft and gentle, but it is stretchy and strong. This durable material is produced in Japan.
The material is fully compliant with Notification No.370 of the Japanese legislation on food hygiene.
As usual for Toysheart products, the material feels incredibly comfortable. It is smooth and odourless, will not stick and is very durable.
This compact onahole will last you a long time and give you a lot of pleasure.
About the Tunnel and how It Feels
Although the exterior of the Tight Innocent Pussy reminds us of the Virgin Age ~ Admission, the interior is entirely different. Behind the round opening, a star-shaped entrance awaits. This star shape will stimulate your penis from the start.
The material on the outside is soft. This artificial vagina lacks a harder inner layer, which makes that the Tight Innocent Pussy does not provide too much stimulation. Of course this is ideal for those of us that don't need that much in the first place!
The tunnel of this onahole is straight, without curves. At the start it is covered with ridges that lead you to its centre. The passage has soft ribs, with two thicker parts on the upper side. Finally, your penis ends up in the vacuum chamber, a larger room in the Tight Innocent Pussy in which you can create more suction power.
The entrance to the vacuum chamber is not very tight. When using sufficient lube, you will hardly feel it. The end chamber itself feels soft and fleshy, but the ridges are too gentle for your penis to really experience them.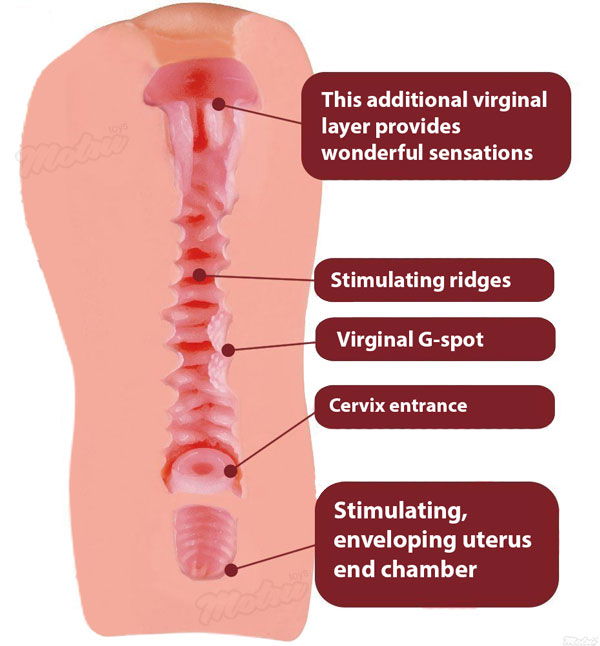 At the centre you'll find a G-spot zone.
The Tight Innocent Pussy is not as incredibly tight as the Virgin Age ~ Admission. The tunnel does not taper but is cylindrical, allowing you to enjoy it for an extended period of time.
The material feels fantastic, and is very durable. Given its pricing point, this onahole is an absolute must-have. Those of you that have never tried a fake pussy from Toysheart should have added it to your cart already!
Tight Innocent Pussy Product Details
Total length: 130 mm
Diameter: 60 mm
Length of tunnel: 115 mm
Extreme suction
Virgin Skin material
- Odourless
- Durable
- Stretchy
- Virtually free of oil
- G-spot
- Designed and produced in Japan
Summarizing the Tight Innocent Pussy; it feels like 'the first time', with easy, comfortable penetration.

Good quality, but a bit small Review by triple-sec

Let's begin with quality. If you're familiar with ToysHeart, you'll already know that you won't be disappointed.
The packaging is high density paper, on which you'll see a cute girl.
The onahole itself comes packaged in a sealed plastic bag. There is no noticeable smell upon unpackaging.
The sensation is pretty alright, the bumps and riges are a bit too small to really notice them. The inner material is quite hard so it's more of an intense stimulation. Also the hole is relatively short for the average european. That said, it won't be my favourite, but it's pretty enjoyable.

tl;dr you'll get really good quality. However, inverst in an onahip if you want to experience more pleasure. (Posted on 7/21/2018)

Awesome Material, a little bit to soft when it comes to Stimulation Review by Tama

Service:
Orderd the product, a day later it's on its way. No problems delivering it to a Packstation

Product Package
Gorgeous Box Art!
A little spartanic when it comes to the inside of the box, but servicable

The Product:
The Material feels really awesome. The Masturbator is pretty tight but not too much.
The stimulation is a little weak, the textures are there but it doesn't do very much imho.
The little vacuum chamber is a nice adition, altough the vacuum also isn't that great

overall I like it, it gets the job done and due to the soft stimulation lasting longer isn't a problem which is nice. (Posted on 3/19/2017)
You may also be interested in the following product(s):