Virgin Loop Eight Long Onahole
Virgin Loop Eight Long
Ride Japan is a brand that's been very popular in the Japanese online market for a while now, and it is starting to make a name for itself in Europe too! The Virgin Loop and the Virgin Loop Hard are both very popular products, and with the Virgin Loop Eight Long Ride Japan has strived to make an even better product.
The packaging
The packaging features some gorgeous art of a curvaceous woman touching herself. Her pink lingerie clings tightly to her beautiful body and that seductive look is sure to pull you in… It looks like she could use some help! The gloves, long transparent stockings and veil are the kind of details that we love to see in our ona-art.
The onahole
This onahole is a fairly long onahole. The entrance is shaped like abstract labia, round and puffy with excitement. After the entrance the onahole gets a little slimmer, making it easy to grab. The material is stretchy and soft, but firm enough to keep its shape.
Eight?
If you wonder why this second edition of the Virgin Loop is called the "eight", wonder no more: while the original Virgin loop had a four-leaf-clover design on the inside, with four long ridges, this new edition has eight! These thin, vertical ribs will stimulate you with every thrust, rubbing all around you.
But that isn't all that this onahole has to offer. The inside is also covered in very small horizontal ridges, which make for a great, steady form of stimulation. No unexpected bumps or curves here, just one great texture from beginning to end.
Or well, nearly all the way to the end. Just like with the Virgin Loop, this toy has a so-called end chamber, where the tunnel widens into a small room. There are some very gentle nubs here with will rub over the tip of your cock. Since the narrower ridges can be a little overstimulating to such a sensitive part, this end chamber is a good addition.
Of course, the eight turned on its side is also the symbol for "eternity", and this toy will promise you eternal love - or eternal pleasure, at the very least!
Cleaning
Of course you'll get the most out of your onahole if you take good care of her. Thanks to the simple, straightforward design this onahole is easy too clean. There aren't any deep ridges or complex structures that can trap dirt or moisture. To clean the tunnel, rinse it out under the tap after use until it's clean. Squeeze out as much water as you can, and push an absorbent cloth inside to absorb the last bits of moisture. You may want to dust the onahole with some cornstarch, talcum powder, or special maintenance powder to keep it in optimal condition!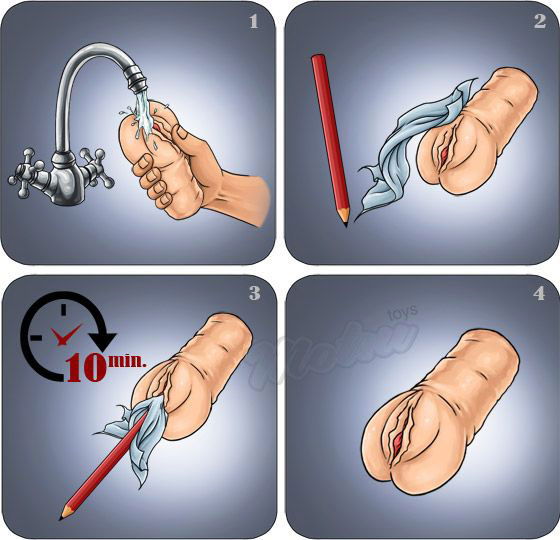 The Virgin Loop Eight Long is another great toy by Ride Japan. The internal structure might look simple, but it feels great and is easy to clean! It's absolutely an onahole you should try.
Additional Information
| | |
| --- | --- |
| Brand | Ride Japan |
| Number of holes | No |
| Number of layers | No |
| Open/Closed | No |
| Reusable | No |
| Bone structure | No |
| Theme | No |
| Tunnel length | 0mm |
| Product weight | 0gram |
A pleasant surprise Review by P.

Wasn't expecting it to be as stimulating as it is due to the simplicity of its design. Its length also allows me to be rougher than usual without fear of poking a hole through it while bottoming it out. And after several dozens of uses, it still doesn't have any noticeable wear and tear. (Posted on 10/17/2021)

Unique and Crazy Fun Review by Mike

Feels definitly confusing at first it quickly becomes one of the best stimulations onaholes can provide.
The material is also great, perfect softness and doesnt stain or get dirty as easily as other ones, which makes maintenance also quite pleasant.
Maybe not great as a starter, but great as a contrast to more "vanilla" onaholes. (Posted on 5/22/2021)

Soft quality Review by Edwin

Again a great soft toy from Ride!
It's all stimulating from top to end, but smooth so you will last longer to peak.
Material also feels good in the hand.
Not a lot of lube needed.
Motsutoys delivered fast, as useal. (Posted on 8/5/2020)

Great Review by Momo

One of the best onahole ever.
Great stimulation, soft material, fair price.
Good build quality, still in good shape after 30+ uses.
Doesn't need a lot of lube and really easy to clean.

Would definitely recommend. (Posted on 7/27/2020)

unique and worth trying Review by ho wang

The tiy has a very simple and unique interior design, which gives a special scratchy feeling. Recommend for people who want to try something new. (Posted on 2/25/2019)

Ride japan, Simple but great. Review by A Lad

Great onahole!
Soft material but feels VERY durable.
No faults in motsutoys service, great as all ways! (Posted on 2/20/2019)