Wagon Izumi LC2
Wagon Izumi LC2
Onaholes always feel good, but having a fantasy to go along with the experience can really elevate things to the next level. Of course you can think about a sexy serving girl or a curvaceous student, but you can also picture your favourite character from an anime or game. Toy's Heart has a range of toys which will help you do just that: not only are the girls featured on the packaging, the structure and tightness of the toys even reflects their personality!
Wagon Izumi is a character from Lovely x Cation 2, where you, as the main character, can try to seduce different girls. Izumi is populair, intelligent, sweet, and difficult to seduce… But once she has fallen for you she is intensely sexual and even a little dominant!
Intense tunnel
The Wagon Izumi doesn't look very intimidating at first: it's a fairly short, wide onahole with a pretty cameltoe vagina. It's made out of Toy's Heart's FineCross material, which is soft to the touch and keeps it shape very well.
But don't judge a book by its cover: when you slide into this onahole you'll find a interesting and very intense tunnel. Shortly after the tight entrance there is a second narrow area, followed by a couple of large ridges to push past, which will stroke up and down your shaft with every movement. These ridges feel great, but also serve another function: they push you against another ridge on the other side, which gives an even more intense experience! After this unique area there's another narrow and one last ridge before you reach the end chamber.
All of this stimulations make the Wagon Izumi a wild ride, and a toy you won't forget any time soon. How long can you last?
Compact
Like we said earlier, this onahole is pretty short. While the FineCross material is fairly stretchy, it might not be the best toy for you if you're particularly large or don't enjoy pressing against the back wall. If you're a little smaller or enjoy the sensation of "bottoming out" you'll probably love the Wagon Izumi, though!
Cleaning
Cleaning the Wagon Izumi is very easy: rinse it out under the tap and squeeze out as much water as possible. Push an absorbent cloth inside to wick away the last bits of moisture and you're done!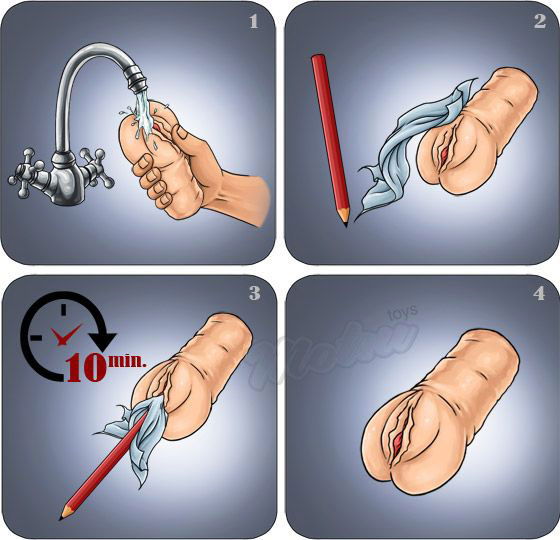 To summarize, the Wagon Izumi is a small but intense onahole which will bring you a lot of pleasure - even if you've never heard of Lovely x Cation! Toy's Heart's FineCross material feels great and will last a long time, so this toy is great quality for the price!
Properties
Length: 10 cm
Width: 6 cm
Tunnel length: 8.5 cm
Weight: 180 grams
Material: FineCross TPE
Made in Japan by Toy's Heart
Small masturbator for quickies Review by J.T.

I bought this along hinata LC2 and you can read my review for it on this site.
Bottom line is i prefer this one over its tighter cousin Hinata LC2 as it is more manageable.
It is still a small masturbator, but it got it charms, like how easy it is to clean, and how accessible it is. (Posted on 8/14/2018)