Futanari Musume Double Hole
Futanari Musume Double Hole
The Futanari Musume Double Hole by Tamatoys stands out among the artificial vaginas in our webshop - literally! You might be surprised by this type of onahole. Initially, so were we ... surprised to hear about this fetish, and how popular it is. Not just in Japan, all over the world!
For this onahole is a girl, with a vagina AND a penis. In Japan they call this a Futa, and it is a popular fantasy and fetish.
Futanari is a Japanese term for intersex. This then, is a person with a vagina and a penis, or even with a vagina, penis and testicles (a full package futanari) - like the Futanari Musume Double Hole.
This is different from a she-male and a transsexual.
What is Futanari?
At first glance, the image on the packaging looks innocent enough. A blonde girl with ribbons in her hair. But upon closer inspection, you will see that she is holding a big, hard penis ... that is attached to her body.
So is this gay? If you're into she-male porn, or have a Futa fetish, does that make you homosexual?
Actually, these questions have been researched extensively, and the answer is NO. You're probably heterosexual, like most males. Homosexual men don't show any interest in females with a penis. If boys and men make you horny, you're homosexual. But if you get excited by a female with a big dick, you can still be heterosexual. Hentai and Manga porn that features Futanari portray mostly sex with another woman or Futanari
But let's not complicate things any further - let's have a good look at this remarkable onahole.
Futanari Musume Double Hole Onahole
The material of the Futanari Musume Double Hole is soft and feels nice. The vagina is not extremely tight, and has a stimulating structure. She has large breasts, and a penis that is larger than life.
While you are using this artificial pussy, the dick will jump up and down. It will slap against your stomach and bounce around.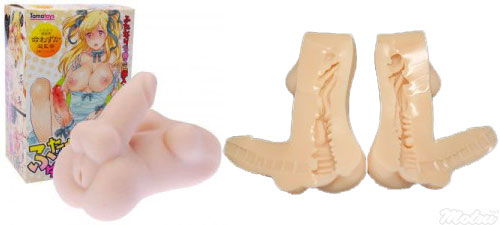 The packaging claims that the penis can be penetrated too. Tamatoys have even created a ribbed structure inside the urethra. But we're afraid the urethra will be too narrow for most of us to penetrate, although you can stick a finger inside. The urethra is connected with the vagina.
You could insert whitish lube in the urethra, to make it look like the onahole is ejaculating.
Futanari Musume Double Hole Product Details
Weight: 400 grams
Length: 140 mm
Width: 125 mm
Height: 80 mm
Free sample of lubricant included
Additional Information
| | |
| --- | --- |
| Brand | TamaToys |
| Number of holes | 1 |
| Number of layers | 1 |
| Open/Closed | Closed |
| Reusable | Is reusable |
| Bone structure | No |
| Theme | Anime |
| Tunnel length | 125mm |
| Product weight | 400gram |
Good Review by Nathan

Like it, good basics sentations. A little too small I think, especially for the penis hole but it was said so no surprise. I recommand it (Posted on 12/13/2017)

Nice little onahole for futanari fans Review by RandomDude

This is actually my first onahole I ever bought, and I'm happy to say that I'm not disappointed at all. Motsutoys' service is excellent, they sent me the product in a discrete box, and GLS delivered the package within one week. The product is made out of a really good material, it feels nice on the outside and the inside as well. It comes with a sample lube, so I recommend ordering more lube alongside with it for further use. The product didn't have any errors or defects on it. The stimulation is nothing groundbreaking, but it's perfect for stress-relief, and it feels really good. Not too tight, not too soft either. There is no chance to use the "second hole" sadly, it's too small to fit in, the only way to use it is to put a finger inside, which is kinda weird but somehow makes the experience more exciting, and it's a nice eyecandy. Cleaning is simple and easy, but I don't recommend turning it inside-out. I mostly bought this product because I'm a futanari fan myself, and the appeal of the toy got me. For my first onahole, I definitely happy about this purchase. If you look for something to start with, and you're not afraid of this kind of fetish, then go for it! If you want to try out something more stimulating or a tighter feel, then search for some other onaholes. (Posted on 11/1/2017)