A sex doll torso is a realistic replica of a woman's body, minus the limbs and head. If you like to have something to grab onto or look at, but don't want the weight or price of a full sex doll, this might be a great option for you!
You are more than your dick, so a sex toy should be more than a pussy 
As you probably already know if you're on our website, onahole are pretty awesome: they do a great job of emulating a woman's pussy, mouth, or ass, and can give mind-blowingly good stimulation that's often even better than a real girl.
But there's more to you than your dick. Being able to look at some beautiful curves, grabbing a thicc ass or feeling jiggly breasts push against your chest as you thrust inside makes the experience that much better - and that's exactly what a sex doll torso can do for you.
Why should you pick a doll with no limbs or head?
Of course some people simply prefer the look of a sex doll torso, and that's reason enough to pick a torso - but they have a couple more benefits:
Less weight: arms, legs and a head add a lot of extra weight to the doll. If you're not specifically into those things, it may be better to go without
Easy to handle: a doll without all those extra parts is not only lighter, but also easier to handle and maneuver. Do you want to flip her over for doggy style? Switch to reverse cowboy? No problem! There are no legs or arms to get in the way. Plus, easy access to all her holes!
Easy to store: similar to the last point, the lack of limbs makes the doll much easier to store. Most should fit in our large sex toy storage sack.
More affordable: A full doll is much more expensive to manufacture, for two reasons. Firstly, a doll with limbs requires a skeleton. Without one, her arms and legs would flail around like limp noodles. Production and assembly of a skeleton with joints in it takes a lot of labor. Secondly, the head also requires a lot of manual attention: the make up and lashed have to be added manually as they can't be printed onto the material.
More resilient: Fingers, toes, lashes and makeup are all fragile and easy to damage, and if used wrong a poseable skeleton's joints might snap or get stuck. Since a sex doll torso has none of these, there's a much lower risk of something breaking.
Dressing up your sex doll torso 
Because of a sex doll torso's realistic shapes you can have a lot of fun dressing her up. How about a cute little bikini or some lacy lingerie? Or shorts and a t-shirt? How about the outfit of your favourite anime girl? The possibilities are endless, and the right outfit can really make your fantasy come to life.
Most of our sex doll torsos are smaller than the average woman, so make sure to check her measurements before you buy an outfit. Often a small size works well, and you can always tuck some of the excess fabric back or pin it with a safety pin.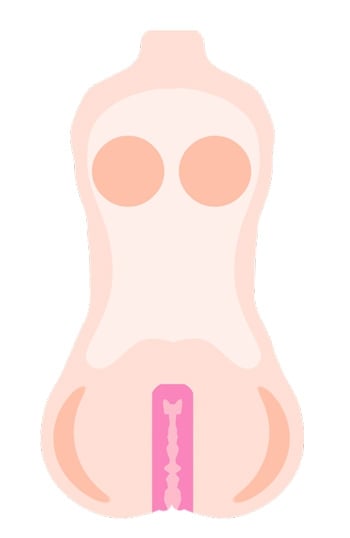 Sex Doll Torso layers and structure
Almost all sex doll torsos consist of more than one material. This way, different textures can be emulated, making your sex toy look and feel even more realistic. Below you'll find an explanation of some common structures and what they do - not every sex doll torso will have all of them, though!
Soft skin material
Skin-coloured, soft and a little stretchy, the outer layer is made to feel like the soft skin of a beautiful woman. This material tends to be similar to the material used in smaller onaholes. 
Fleshy interior material
Sometimes sex doll torso's have a special material wrapped around the pussy or ass tunnel. This material is generally an appealing pink colour and its softness makes it feel like the inside of a woman's pussy, eagerly grabbing onto you with every thrust.
Skeleton/rib cage structure
a lot of large sex toys for men have some form of skeleton inside to give the toy a bit of sturdiness. Without this, a sex doll torso would fold in two if you lifted it at the waist, because the other materials used are so soft. This sturdy structure may run along the spine, but often also creates a ribcage and/or a pelvis. Feeling the hardness of these "bones" just under the skin's surface adds to the lifelike feeling.
Jiggly boob and butt implants
the more luxurious sex doll torsos use a soft and jiggly material as a "breast implant" - or even a butt implant! Regardless of the doll's breast size, this is a serious improvement, as a woman's breasts feel different from other areas of her body.
Keeping your sex doll torso in perfect shape
If you've had regular onahole before, a sex doll torso might seem a little daunting since it's much larger and more expensive. But rest assured: taking care of them is very easy, especially if you have the right tools.
Always use water-based personal lubricant with your sex toys. This feels better, and the reduced friction also prevents damage to the material. You can use a sex toy warmer to bring the toy up to body temperature.
After use, rinse the tunnels out a couple of times, optionally with some toy cleaner. It's important to dry the inside well, as a dark and wet place is a great place for bacteria to grow. We have some onahole drying tools] for that, or you can use a dry, lint-free cloth.
You can also clean the outside if it's necessary. Rinse it off and/or use a soft washcloth. Then pat it dry with a soft, lint-free towel. We recommend using some renewing powder on the outside. This not only restores the soft feeling of the skin, it also keeps dust from sticking to your toy and prolongs the toy's lifespan.
Lastly, store your sex doll torso safely. The best way to do this is in a sex toy storage sack, as this breathable material protects it from dust and UV-light.
Read more about this on our pocket pussy cleaning products page.
Picking the perfect toy for you
We can't tell you what the best sex doll torso it: it's largely down to personal preference. The most important thing is to pick one which looks good to you: a flat torso, or enormous, jiggly boobs you can bury your face between? Whichever works for you is the one you should go for.
Weight and size are two more important factors. They determine how close to life size the rose looks and feels, but a greater weight also makes the toy more difficult to handle. Think about what is more important to you or find a comfortable middle road.
Alternative to sex doll torsos
Have you decided a sex doll torso isn't for you after reading all this? Consider some of these alternatives:
If after reading the text and looking at the pictures you still need a better idea of what a sex doll torso is like, take a look at this video of the Puni Ana Miracle DX. It'll show you the toy from all sides, as well as how the squishy material behaves when you squeeze or bounce it.