KYO Plush Doll DX
The Perfect Companion
Improve your masturbation experience with a soft yet erotic doll compatible with your favorite onahole. The KYO Plush Doll DX is a 4.5kg plushie with a complete set of limbs. Whether you like to wrap its arms and legs around you or thrust your way inside it, this Plush Doll will give you the intimacy and comfort you desire!
Feel the warmth of a fluffy companion
The KYO Plush Doll DX is a sex doll full of plush fabric that is non-toxic and safe on the skin. Additionally, the doll's outer skin is durable enough to handle the weight of a person lying on top of it without tearing it apart. So, thanks to its durability and versatility, you could use the KYO Plush Doll DX as your companion in every fantasy you want.
Here are more of the exciting features of the KYO Plush Doll DX:
Suitable for any position and could fit different onaholes!
Unlike other sex dolls made of TPE or rubber material that have fragile cores and cannot sit on their own, the KYO Plush Doll has hip and shoulder joints inside. These joints allow you to bend, stand, or sit the doll in any position you want. Even though this doll has a pair of supple breasts, it will not fall forward in a sitting position.
This doll has stable interior parts maintaining the posture and balance of the KYO Plush Doll DX so that you can twist and turn it into any position you want. You can fuck this sex doll while lying on the bed or sitting on a couch. You could also test your stamina by trying different sexual positions with this doll and see which position you could last the longest.
Not only that, but you could also insert your preferred onaholes inside the hole of this sex doll. The KYO Plush Doll DX features a pull-string lock to tighten the onahole once you insert it. This pull-string mechanism helps the onahole to attach tightly without falling off, regardless of how intense your thrusts are.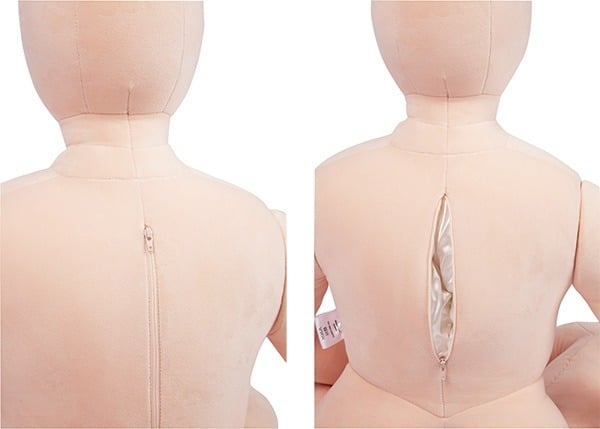 The hole of the KYO Plush Doll DX could fit onaholes, pocket pussies, and fleshlights with a length of up to 27 cm and a width of up to 8 cm. With the zipper on the back, it is easier to put the onahole in place.
Loosen the pull-string to insert your toy, then tighten it once you place your toy in the position you want. With this mechanism, your KYO Plush Doll DX would look like it has its own naturally protruding vagina, ready to service you.
Use it for comfort, whichever you prefer!
Most people want to get more out of their sex dolls, and that is why KYO Plush Doll DX offers a hole for you to stroke your manhood in, but you could also cuddle with it. You could wrap its arms and legs around you to help you sleep.
Specifications:
Height: 74 cm
Head circumference: 68 cm
Chest circumference: 75 cm
Arm circumference: 25 cm
Back to leg: 40 cm
Onahole Slot
Depth: 27 cm
Diameter: 8 cm
You find the KYO Plush Doll DX for the best price here at MotsuToys
Additional Information
| | |
| --- | --- |
| Brand | KYO |
| Number of holes | No |
| Number of layers | No |
| Open/Closed | No |
| Reusable | No |
| Bone structure | No |
| Theme | No |
| Tunnel length | 0mm |
| Product weight | 4500gram |