What is a pocket pussy, and what is an onahole?
Onahole is simply the Japanese word for pocket pussy. While not all of them might literally fit inside your pocket, they are still fairly small, allowing for easy storage. These compact masturbators are made of a soft material that mimics the feeling of a real woman's body. A pocket pussy may even have multiple layers: one to imitate soft skin, and another to replicate the fleshy, stimulating inside of a pussy.
A pocket pussy can have all kinds of shapes and sizes, but most are shaped roughly like a cylinder. Some designs are more realistic, featuring labia or even the shape of a woman's body, while others have a sleek and modern design. Since we specialize in sex toys from Japan, our pocket pussies often come in packaging with gorgeous anime and hentai illustrations.
If you want a pocket pussy, we have many different kinds from different trusted brands here at Motsutoys. We have seen most toys here in real life and have even visited several factories, so we know exactly what we're selling. In order to provide quick and affordable shipping we ship from our warehouse in the Netherlands. Your order is usually shipped the same day and arrives at your doorstep within a couple of days - sometimes even the next day!
The benefits of a pocket pussy
You know what they say: size doesn't matter, it's all about how you use it. The same goes for a pocket pussy: bigger toys aren't always better; it all depends on your preferences and what you think is important.
The inside of a pocket pussy is generally the same as that of a bigger sex toy: the same stimulating ribs, bumps, and nubs cover the surface. The main difference is that witha  pocket pussy there is less to hold on to, and because the walls are thinner they stretch a little more easily and give less realistic resistance.
Here are some benefits to smaller sex toys for men:
➤

 Increased control

With a big onahip or sex doll torso you can try different positions and speeds, but in the end you are still fairly limited when it comes to controlling your experience. A smaller pocket pussy gives you more control: If you want the end to be tighter, use your hand to squeeze it. If you prefer a spiraling motion, twist it up and down over your cock. Want to last longer and edge yourself? Hold the opening down while you gently move the end over yourself. These kinds of motions are much harder or even impossible with bigger sex toys.
➤

 Affordable Price

Because a pocket pussy is smaller they use less material and cost less to ship from Japan, which allows us to keep prices low. 
➤ 

Easy to clean

A small pocket pussy can be rinsed out under the tap without too much effort. When you squeeze, bend and roll the toy with your hands it will be easier to get all the lube and fluids out - again, not something you can do easily with a real-sized sex toy. For more information on cleaning, check out our pocket pussy cleaning category.
➤

 Easy to store (or hide)
Maybe you live with other people or want to avoid guests accidentally seeing your sex toys. In that case, a small pcoket pussy is very easy to store: it will fit in your nightstand or at the back of your closet without issues. Be sure to use the right type of sex toy storage bag to keep your toys clean and safe.
➤

 Sex toys you can use with one hand
If you like to watch hentai or porn while masturbating you might want to keep one hand free to click the next video or rewatch the hottest scenes. With a compact sex toy you won't have to iterrupt the action at all.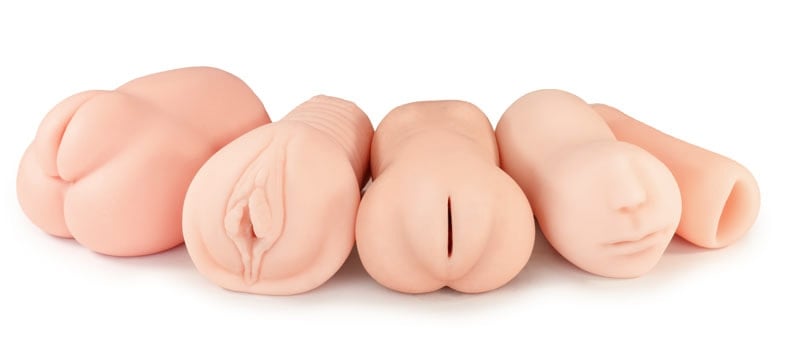 Anime and hentai pocket pussy
What are you into? Innocent young women, so tight that you have to take it slow? How about an experienced woman with big puffy labia? Or have you always dreamed about making your favourite anime's protagonist happy? If you want something more unusual we've got angels, demons and succubi for you.
Looking at the illustrations on the packaging is often enough to get your blood flowing and to start thinking about the scenarios in which you could have fun with these beautiful girls. Some onaholes even feature bonus art on the inside of the box!
Japanese porn pocket pussy
If you prefer the non-drawn side of Japanese porn, we've got plenty of that, too. Japan has some of the most beautiful porn actresses in the world. Many of these JAV (Japanese Adult Video) actresses love the idea of their pussy being immortalized and let the manufacturers take a direct copy of their labia. If you want to check out some JAV onaholes, N.P.G. is a good brand to start with.
Why should men buy a pocket pussy?
Well, why not? Sex toys for women have become more and more common in the last decades, and sex toys for men are finally starting to catch up. Using sex toys has many benefits:
Take control of your own sexual needs: We all have sexual needs, and we all deserve to experience awesome orgasms. Being dependant on a partner for this can be stressful: not only is there the hassle of finding a partner you're compatible with, they might also not feel like sex every time you want to cum. Whether you're in a relationship or not, masturbating is a healthy release of sexual energy.
Last longer, cum harder: you can use a pocket pussy as as a tool to gain sexual stamina. Using sex toys frequently can help if you tend to shoot your load too quickly, and doing edging training will not only give you more control over your orgasms but will also make them much more intense.
Relieve stress: Sometimes the best thing after a long, stressful day is taking some time for yourself! With a pocket pussy it'll be much easier to clear your mind and focus on nothing but pleasure for a little while
Making a small pocket pussy feel big(ger)
There are several ways to make a pocket-sized sex toy feel bigger. There are two main reasons you might want to do this: to give yourself something to grab onto, or to increase the squeezing sensation.
If you're looking for a pocket pussy that feels a little thicker and squeezes you like a real girl does, look into ones with a sturdier outer layer. Because this is less stretchy it squeezes you with every stroke.
If you want something to grab onto, you might be better served with an blow up sex doll or dakimakura pillow. Both of these allow you to put an onahole inside them. Our Premium Japanese blow up dolls are very different from the ones you'll see in most sex shops in the west: they don't have a big red mouth shaped like a donut or a cheap blonde wig, but instead have beautiful elegant curves. With a Dakimakura you won't get that curvy body, but being able to add a pillow case featuring a beautiful hentai illustration is just as sexy.