NPG Onahole / Nippori Gift Onahole Manufacturer

NPG stands for "Nippori Gift" and as you'd expect, this company operates from the Nippori District in Tokyo, Japan.
NPG was founded in 1979 and that makes it one of the oldest companies in the Japanese onahole market, and these years of experience mean they produce very high-quality products. They also haven't become complacent: NPG is still a forerunner in many ways. They are proud of what they make and will not take shortcuts or sell a sub-optimal product. Because of this, many of their products have become real classics: the Maria Ozawa, the Meiki 5 and the Meiki 6 are still very popular years after their initial release.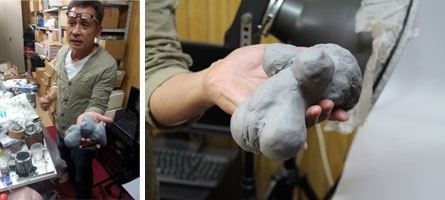 Back in 2014 we went to Japan to see the craftsmanship with our own eyes. NPG . showed us the entire process, from initial design, to clay model to packaged end product, and we can confirm that they excel at their work - and they've only gotten better in the years since.
NPG's AV Star onaholes
Many of NPG's onaholes are based on Japanese porn stars. Thanks to NPG's good reputation the adult actresses are eager to be immortalized by them. The box art often features beautiful photographs instead of the manga-art of many other asian adult toy manufacturers and several of their products even come with a little mini-poster.
High quality sex toys for men
The NPG onaholes are made out of high-quality material and often have two or three different layers. This way they can have a soft, skin-like layer on the outside and a sturdier, more stimulating layer on the inside. The external design is, of course, based on the real labia of the adult actresses!
NPG's onaholes aren't the cheapest on the market, but if you buy from this brand you know for sure that you'll be getting your money's worth - AND you'll finally be able to see what your favourite porn actresses look like behind the pixelated porn!