Meiki no Shoumei 6: Yen Yu Yee / Yen Jyu Yi
Meiki no Shoumei 6 Yen Jyu Yi
A brand new Meiki has arrived! It's a Taiwanese 'betel nut beauty'' Yen Yu Yee or also called Yen Jyu Yi. Betel nut beauties are a Taiwanese phenomenon. They are scantily clad, sexy girls that sell betel nuts and cigarettes from stalls along the road.
Feel her tender lips on your body as you thrust her pussy.
Don't clean the Meiki with hot water after usage! Use lukewarm water with some soap.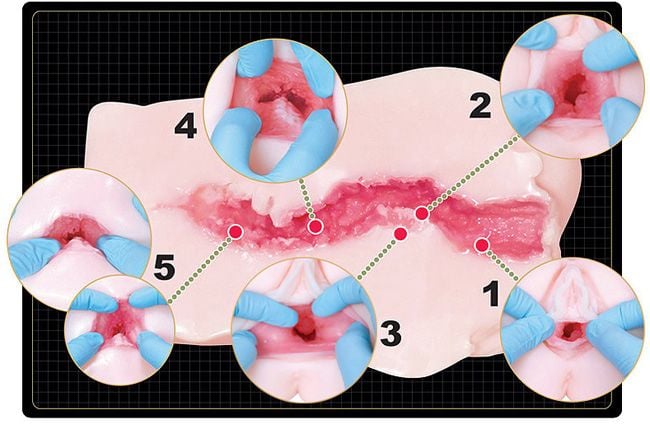 1) Her lovely wet pussy feels extremely realistic! This is the moist entrance of a virgin. The outcome of excessive, obsessive research!

2) A variety of studs and ridges. Like a seductive vagina that has just reached adulthood. She can take you to the highest level of pleasure!

3) A large G spot provides extreme stimulation during penetration.

4) The penis encounters countless studs everywhere; this is one of the highlights of Meiki no Shoumei 6. A true masterpiece!

5) Even the cervix is covered with countless studs and ridges. This is where you will get that divine climax!
The surface of Meiki No. 6 is twice, almost three times smoother than that of the previous Meiki onaholes. It is an absolute sensation to touch. The material feels incredibly realistic and is a convincing copy of the female body.
The exterior of this Meiki is soft, smooth, and has a lovely colour. The inside is equipped with a true to life mucous membrane, which makes for a fantastic experience. This product comes with a 60 ml bottle of lubricant with a sweet, sexy pheromone fragrance!
Meiki no Shoumei 6 Yen Jyu Yi Product Details:
Artificial vagina Length: 17 cm
Width: 10 cm
Weight: 720 g
Another star of the Meiki line Review by Delta

Meiki onaholes are wonderfully stimulating and surprisingly addictive. This is my second Meiki onahole (after 5) and it certainly lived up to the expectations. They do require a little extra care with maintenance as they are made of a very soft material that rips easily and if not properly cleaned, dried, and coated in maintenance powder they can get quite sticky and attract unwanted dirt. It is all worth it though. After using a Meiki onahole you may find it hard to enjoy any other onahole (Posted on 2/23/2019)

Oh yes Review by Jay

This is very similar to the famous ZXY. If you own both, the big difference you're going to notice instantly when going inside this one is how much more stimulating it is. This hole feels a lot more aggressive in the way it wraps around your member while still having that realistic looseness. It's still a Meiki through and through though. Holds lube inside perfectly which is always a plus. All in all this is a very pleasurable toy with no weird gimmicks. (Posted on 6/13/2018)
You may also be interested in the following product(s):