Extreme Pleasure Hip Shinsei
Extreme Pleasure Hip Shinsei
The producers of the famous Meiki No Shoumei series have produced a new version of the popular Meiki Extreme Pleasure Hip.
NPG have launched the Meiki Extreme Pleasure Hip Shinsei. This is not a new model in the No Shoumei series, although you will recognise many of its good features in these artificial pussies.
For starters, the exterior. The vagina looks beautiful and realistic. The hip has gorgeous curves, a slim waist, and a cute belly button.
The bottom is partially flat. It is angled to ensure stability when the hip is laid down on a bed or another flat surface.
This design allows for a wide range of positions with the Meiki Extreme Pleasure Hip Shinsei.
Inside the Extreme Pleasure Hip Shinsei
The tunnel is dual-layered, like with the Meiki 5, 6, and 7. Thanks to the double layer, the exterior is soft and smooth while the interior will give you plenty stimulation. The thin interior layer is almost fused with the exterior layer.

The vaginal tunnel is covered with studs, and has various bends. It is closed off, which causes strong suction.
The anal tunnel is tight, with a sharp S-bend.
Cleaning:
Unlike the bigger Kokos hips, the tunnels have no sperm outlet. This is the easiest way to clean them:
As displayed below: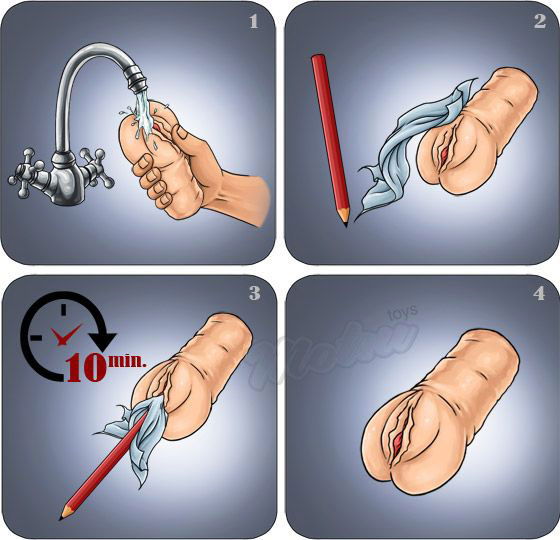 1) Rinse the Meiki with water, and let the water run out.
2) Get a cotton cloth
3) Wrap the cloth around a blunt stick (the blunt end of a pencil will do). Insert the stick in the Meiki, and allow the cloth to absorb the moist for about ten minutes.
Repeat with a dry end of the cloth, as many times as necessary until the Meiki is entirely dry on the inside.
4) If necessary, use some talcum powder, or even corn starch, to dry the artificial vagina further. This will not be necessary in most cases.
Meiki Extreme Pleasure Hip Shinsei product details
- Two tunnels
- Total length: 27 cm (10.6 ")
- Width: 27 cm (10.6 ")
- Weight: 5.4 kg (11.9 lbs)
- Closed design masturbator, guaranteed maximum suction
- Made in Japan
Amazing product Review by Star boy

The product is amazing. The inside Will feel you like heaven (Posted on 1/23/2018)

Very nice substitute... Review by SailorDude

...if you are not able to aquire the real thing. The inside feeling mimics reality very well. No smell what so ever. You need a surface however.
But then, it is just great and due to its mass, it gives a pleasing haptic sensation. Cleaning process is done in only a couple of minutes, ones you get the hang of it. So do not be afraid and buy it. (if you do not have access to real women) (Posted on 9/26/2017)

Good product! Review by Hendrik

Both tunnels feel great, but I use the vagina the most.
It is not so soft as the version that I had before of this hip, but it feels good and it seem to last longer.
Good product! (Posted on 3/23/2016)

Great product, fast shipping Review by Dude85

The Shinsei feels great, the size is good and it keeps in place when you put it down on a table or bed.
It is a bit hard to clean, but a great product! (Posted on 3/12/2016)
You may also be interested in the following product(s):