Meiki Utensil Race Proof 10 - Okita Anri
Meiki Utensil Race Proof 10 - Okita Anri
Japanese sex toy producer NPG recently celebrated its 10th anniversary. In that time, their product name 'Meiki' grew into a popular word that stands for superior quality artificial vaginas. It all started with the Meiki No Shoumei series, and the Maria Ozawa and Meiki ZXY (Meiki 5 Chou Shuu U) in particular, are still extremely popular.
To celebrate a decade in the industry - and two years after the introduction of the Meiki 9 - they have launched the Meiki 10!
Of course, this anniversary model is extra special. They have changed the name of the popular Meiki No Shoumei series to Utensil Race. And this new model has been baptised the Utensil Race Proof 10 - Okita Anri.
For their new onahole, NPG once again chose to collaborate with one of Japan's most famous porn stars. This time, they worked with Okita Anri. Okita Anri has been called the woman with the perfect body.
Meiki Utensil Race Proof 10 - the interior
This artificial vagina has an amazing three layers and two tunnels. The seductive pink interior is covered with bumps and ridges.
The tunnel has some sharp bends, and thanks to the extra layer between the tunnel and the exterior, it retains its original shape very well.
You can see this clearly pictured in the cross section below.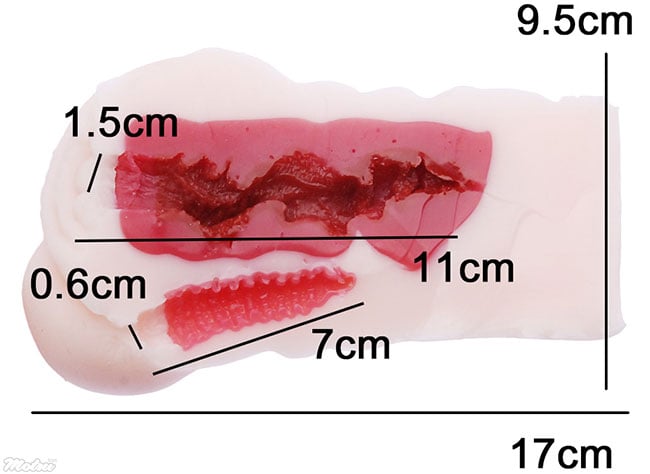 The tunnel ends in a vacuum chamber. The vacuum is so strong, the Okita Anri is bound to suck you dry! The combination of the structure, the material, and the way the tunnel envelops your penis make this onahole a contender for the most intense fake pussy you've ever experienced!
But that's not it! After leaving the vaginal entrance utterly satisfied, you can have another go - this time at her tighter anal tunnel.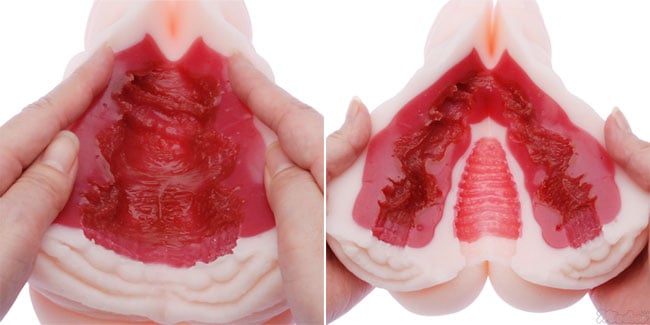 Another beautiful picture of the cross section is seen above. This image is taken from above. The picture on the right also shows the anal tunnel.
Extras
The beautifully adorned box not only holds the Meiki 10 (Utensil Race Proof 10 - Okita Anri). It also comes with a 60 ml bottle filled with her love juice lubricant. This lube can also be ordered separately with us.
And finally, there is a hot two-sided poster of Okita.
Meiki Utensil Race Proof 10 - Okita Anri Product Details
- The entire Meiki 10 weighs an impressive 630 grams.
- Two tunnels
- Triple-layered
- Non-stick material
- Odourless
- Okita Anri's signature on the onahole
- Double-sided poster depicting Okita Anri
- 60 ml bottle of Okita Anri's love juice
Personal Details Anri Okita
Date of birth: October 28, 1986
Length: 168 cm
Japanese cup size B101 (K Cup)
You may also be interested in the following product(s):