Utensil Race Aika
Utensil Race Aika
The Utensil Race Aika (also called the Meiki no Saigen Marugoto: AIKA) onahole of almost 600 grams sits in a beautiful box that is sealed. Inside, the Utensil Race Aika is sealed in a plastic bag.
The box is covered with photos of the Japanese porn star named Aika, even on the inside when you open the lid. The photos are made by a former porn star named Saki Otsuka, who also was once a model for the Meiki 3 and is now a photographer.
This onahole from N.P.G. feels nice and solid. She is made of the same quality and softness which you probably know from the Meiki No Shoumei series of NPG.
Hey labia and clitoris are a mold of the porn star Akai which make the Utensil Race Aika look super realistic.
Utensil Race Aika Tunnel:
The inside feels fantastic, you feel that the Utensil Race Aika is a high end onahole. The thick walls ensure that your penis follows the tunnel as it is intended.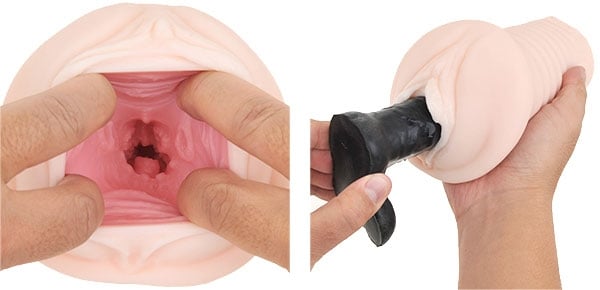 The tunnel is covered with lots of ridges and nubs. In the beginning of the tunnel about 4 cm deep you feel a big G-spot membrane on the bottom side that stroke the underside of your penis.
A bit deeper there are more membranes on the underside, while on the upper side you feel a few wide ridges glide over your penis.
At the end of the tunnel on the bottom side there is a last thickening. This feels lovely and provides an intense orgasm. The tunnel ends with a smooth part that looks small but stretches very well.
Above you see the circumference of the tunnel.
The Utensil Race Aika gives a mild vacuum, which you can strengthen by pushing out the air before entering.
With this onahole a bottle of lubricant of 80 ml is delivered along.
Cleaning:
The cleaning of the Utensil Race Aika is done by turning the onahole inside out and then rinsing it under a tap.
Or it can be done in this way: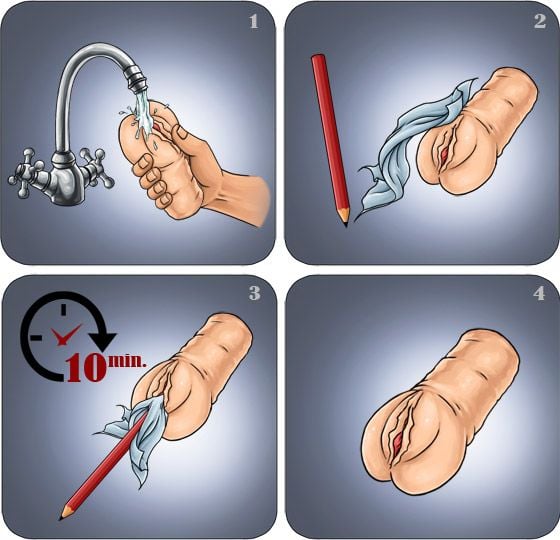 1) Rinse the Meiki with water, and let the water run out.
2) Get a cotton cloth
3) Wrap the cloth around a blunt stick (the blunt end of a pencil will do). Insert the stick in the Meiki, and allow the cloth to absorb the moist for about ten minutes.
Repeat with a dry end of the cloth, as many times as necessary until the Meiki is entirely dry on the inside.
4) If necessary, use some talcum powder, or even corn starch, to dry the artificial vagina further. This will not be necessary in most cases.
Dimensions Utensil Race Aika:
Length: around 18cm (7,1 ")
Weight: 600g (21,2 oz)
Inclusive 80 ml Aika lubricant
Additional Information
| | |
| --- | --- |
| Brand | NPG |
| Number of holes | 1 |
| Number of layers | 2 |
| Open/Closed | Closed |
| Reusable | Is reusable |
| Bone structure | No |
| Theme | Anime |
| Tunnel length | 0mm |
| Product weight | 600gram |
It's very good, really recomend when it goes for sale Review by TheMan

It's a bit pricy but the product is really good,I recomend waiting for sale but if u deperate that's a fair price. It's goes really good with some quality lube.No downsides tbh (Posted on 2/18/2021)

not that soft like Meiki Shoumei Review by Den

It gives good pleasure specially at the entrance but more far behind the stimulation is little bit less. Still a very good toy and easy maintenance. Deserves the Meiki name. (Posted on 1/10/2019)

Same quality as high-end Meiki's Review by Martin

This onahole has the same material quality as high-end Meiki's.
In fact, if someone told me this was the Meiki no shoumei 15-whatever, I would probably believe them.
Inside texture is interesting and feels great. And the price is slightly lower than it is for high-end Meiki's so that's an added bonus.
Even though my Aika onahole was ruined by an onahole warmer, I still use it today. Worth a buy for sure! (Posted on 7/30/2018)

Not as sturdy as expected Review by Knaag

Being normal mid-size with my dickenson, Aika provides some problems when reviewing. Mostly because this is a great onahole without a doubt, squeezing the second you enter and not letting go at any point. It's a long-burn joy for sure, and will provide some spastic hips when given time, but the build quality, the one that was mention by certain Infernal Monkey, -the- definitive onahole reviewer on the web, doesn't really live up. After one week of use, I noticed that the entrance had been ripped both top and bottom. Fixing tearing like this on hypoallergenic materials is rather expensive, as specialised silicone glues tend to have rather salty price, similar to high-end two-component epoxies.

Despite this, the onahole's an absolute bliss. It may not offer earth shaking points at once, but the constant stimulation does throw this one up in the higher categories. I'd recommend using more lube than usual to get in to prevent tearing at the entrance, but not much inside so that the texture can cling to you more. It's not exactly tight, as the material's soft, but if you're looking for something that will squeeze you to high heaven all the while attacking all your sweet spots with fury, this won't be it. This is an onahole for man with class and time to enjoy life's pleasures. Well, as long as it won't split itself due to girth. (Posted on 7/21/2018)

Pretty good Review by Daniel

It's a good onahole, i usually go for the harder ones, but even i could feel how well-made it is. Good build quality, haven't seen any tearing yet. (Posted on 7/21/2018)

High quality and great feeling Review by Thomas

The onahole is large, has a nice weight to it and lubricant is decent as well. Would definitely recommend getting a heater as it would make it feel so much more realistic. It wasn't tight enough for me but its good for longer sessions. (Posted on 6/24/2018)

Good masturbator for this price Review by M

Good fair price, very good quality, and super lubricant (Posted on 5/13/2018)