Gokusai Uterus X - Soft
This luxuriously soft version of a popular Magic Eyes Classic envelops you with its squishy material, delivering gentle stimulation. It has received a couple of design upgrades which make it even more enjoyable!
Mochi-Mochi material… And more
The outermost layer of the Gokusai Uterus X - Soft is made of mochi-mochi material. This feels amazing to the touch and results in an onahole that's stretchy, squishy and very soft to the touch. Softer materials make onaholes feel less tight, as they squeeze less and the interior textures don't get pushed against you as much.
In order to still give an enjoyable amount of stimulation Magic Eyes lined the inside of this onahole with a different material. This pink material is a little firmer and gives more "grip". At the very back they used a third material: an elastic pink material that forms the cervix and womb.
Taken together, the Gokusai uterus X Soft gives a more gentle type of stimulation than most onaholes, making it very well-suited to long sessions or guys who get overstimulated quickly. Because it's quite stretchy it's also great for men with a thicker or longer penis.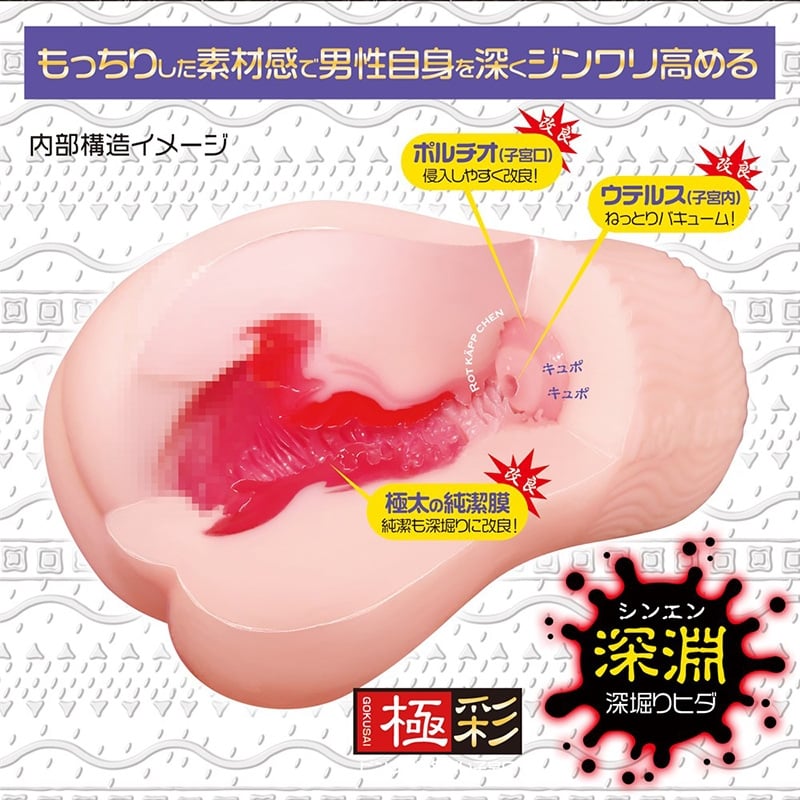 A tunnel with a spectacular finish
Apply some lube, spread the camel toe-style pussy lips and let the soft material envelop you! The first part of the tunnel has "abyss folds": deep, well-defined folds which stroke and caress your member as you push by them. As you thrust deeper, the tunnel tightens around you, and an organic bumpy texture massages you every time you move.
At the back, you'll find the feature which gives this onahole its name: the Uterus. The pink cervix feels great as it slides over your glans, and you can easily rub back and forth here until you cum. However, if you are determined to exlore this onahole's most intimate parts you can grip it tightly and push through! It has been redesigned to be a little easier to access compared to the original Gokusai uterus. As you push through, the ring of the cervix slides over your glans as the smooth walls of the uterus squeeze it gently, all while the rest of the tunnel is still massaging your shaft… You have to feel it to believe it!
Gokusai Uterus X - Soft in short
The Gokusai Uterus X - Soft is another great onahole by Magic Eyes. The soft material makes it perfect for long sessions, which means you can enjoy the amazing pussy, cervix and womb for a long time before finishing.
Onahole length: 15 cm
Onahole width: 8.5 cm
Tunnel length: 12 cm
Weight: 480 g
Triple material construction
Brand: Magic Eyes
Additional Information
| | |
| --- | --- |
| Brand | Magic Eyes |
| Number of holes | 1 |
| Number of layers | 3 |
| Open/Closed | Closed |
| Reusable | Is reusable |
| Bone structure | No |
| Theme | Anime |
| Tunnel length | 120mm |
| Product weight | 480gram |
Quite good Review by Loggi

This is my first jap ona, bought it with another one I've yet to try. I like it, the sensations are good, but I've found the uterus to be pretty hard to enter into. Pretty easy to clean also. My main complaint is that the interior is already starting to tear up a bit after only one use, we'll see in the long time how it holds up. (Posted on 11/10/2021)