Pururun Blue Vein Oppai 2200
If you are tired of those fake TPE tit sex toys and want a real thing, this Pururun Blue Vein Oppai 2200 is a perfect choice! With the highest quality silicone and Seiraku DX Gel inside, the breasts feel super realistically to your hands and member. The blue veins are painted by hand on the soft skin texture for your premium satisfaction.
Just like the real thing. Or even better!
Pururun Blue Vein Oppai 2200 is created with special attention to quality and detail, especially for those men who value realistic experience. From the materials to the design, the product will bring you the highest pleasure that is just like real breasts.
The texture of the skin material feels amazingly soft to the touch. Two small pink nipples are almost begging you to play with them. And with the special narrow gap, these breasts are created for you to enjoy every part. You can use the toy as an addition to your onahole or play just with the Oppai 2200, sliding between the beautiful round tits until you are ready to finish.
So, if you are looking for the most realistic and premium experience in male toys, order Pururun Blue Vein Oppai 2200 now!
Perfect breasts for paizuri and more
The design of Pururun Blue Vein Oppai 2200 makes them an excellent addition to any male toy collection. Thanks to the quality of the materials, it's very durable. And the special gel below the silicone outer layer creates two breasts of great shape. You can squeeze, hold, pinch, press, or slide between the soft realistic skin material to enjoy them to the fullest. Don't forget to apply some lube and take the most out of those two round and sexy tits.
Your pleasure will start from the moment you open the packaging with a young and beautiful girl in the illustration. She is slightly touching her breasts, inviting you to join her. So, open the box and look at the beautiful tits.
They are almost round with small aroused nipples painted in a darker color. But the best part is those realistic blue veins that make the breasts look exactly like real. Order Pururun Blue Vein Oppai 2200 now and start to explore the pleasures of this amazing toy!
Silicone vs TPE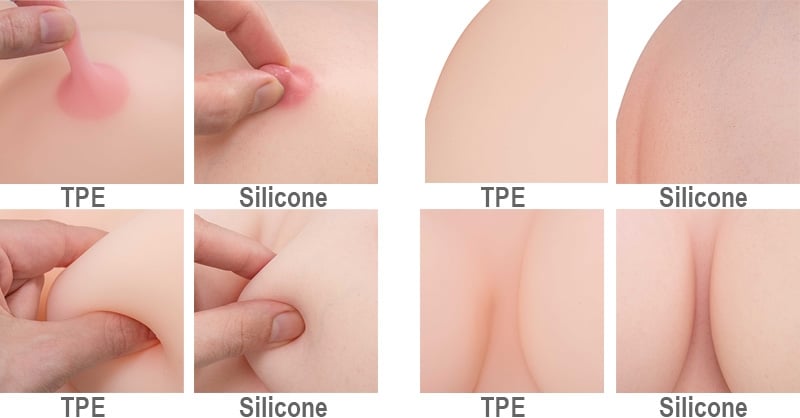 Above you see visual comparison of the details of Silicone versus TPE.
1. The nipples are harder, like an aroused woman.
2. The skin has much more detail, color differences and skin details instead of one color.
3. The feeling is also different, because of the extra layer in the Pururun Blue Vein Oppai 2200 she really feels like a woman's breast, even more than you are used to from TPE Breasts.
4. Not unimportant, the cleavage is firmer, which gives a different oppai experience.
And they are tastier to lick or suck on.
Specifications:
Weight: 2,250 g
Length: 285 mm
Width: 170 mm
Height: 90 mm
Additional Information
| | |
| --- | --- |
| Brand | Seiraku Toys |
| Number of holes | No |
| Number of layers | No |
| Open/Closed | No |
| Reusable | No |
| Bone structure | No |
| Theme | No |
| Tunnel length | 0mm |
| Product weight | 2200gram |