Big Lolinco Virgo
Big Lolinco Virgo
The popular Sujiman Kupa Lolinco has a sister! The brand new Sujiman Kupa Big Lolinco Virgo is bigger and better. We have called her the Big Lolinco.
As usual with Magic Eyes, the packaging is the first thing to enjoy. The Japanese certificate of declaration of marriage that is printed on the inside of the box makes the Big Lolinco Virgo a real collector's item.
For those proud owners of the first Lolinco, this is a great upgrade at excellent value.
For those who are unfamiliar with the Sujiman Kupa series, the first thing to explain is the name, which refers to the pronounced labia. "Sujiman Kupa" stands for "camel toe". The large lips of the artificial pussies in this series form a camel toe. Once opened, a detailed vaginal tunnel awaits you.
The Big Lolinco is twice as heavy as her sister. It is an onahole of considerable size, and weighs 900 gram. The new tunnel is tight like a virgin.
Of course, this Magic Eyes artificial vagina has been made of the purpose-developed Magic Eyes Skin with AG+ material, which has antibacterial properties.
Hybrid dual-layer structure
The Big Lolinco is a dual layered artificial vagina. The outer layer is smooth, and feels like a woman's skin, while the inner layer of the tunnel is firm and more stimulating.
Magic Eyes call it a hybrid dual-layer structure. At the entrance of the tunnel, the firmer layer is thick. As you go further inside, it gets thinner.
Towards the end of the vagina, the stimulation you experience is softer and smoother.
The start of the tunnel is equipped with a number of 'doors' that alternate with so-called lube-grooves. Each door creates the effect of a hymen, and there are a few of them!
While every hymen adds to the sensation, your penis is lubed by the alternating grooves.
The structure of the tunnel is bended, and the bend is a lot sharper than that in the original Sujiman Kupa Lolinco.
The tunnel is covered with studs, ridges and grooves. This combination creates a lot of variation every time you thrust, and it feels very life-like.
The last door in the tunnel opens up to the cervix. This last part feels soft and smooth. Because it is very tight, your penis is stimulated in a smooth but very effective way.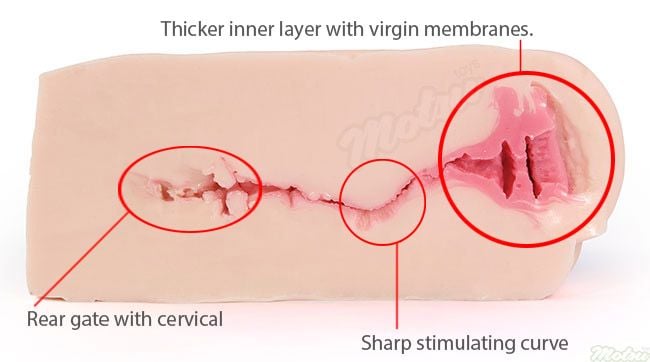 To sum up, this new artificial pussy is a real sensation. You have to try the Big Lolinco! A 900 gram onahole at this price is unique. Order the Big Lolinco Virgo before stocks run out!
Big Lolinco Virgo Product Details
Weight: 900 gram
Length: 20 cm
Width: 11 cm
- Soft Magic Eyes Skin with antibacterial properties
- Dual layered
- Tight virginal entrance
- Free sample Magic Eyes lubricant comes with the Big Lolinco
Additional Information
| | |
| --- | --- |
| Brand | Magic Eyes |
| Number of holes | 1 |
| Number of layers | 2 |
| Open/Closed | Closed |
| Reusable | Is reusable |
| Bone structure | No |
| Theme | Anime |
| Tunnel length | 150mm |
| Product weight | 900gram |
An incredibly solid Onahole. Review by Tom

Heard a lot of good things about this particular one, and indeed, it felt fantastic on the first go and that feeling hasn't diminished on subsequent wanks. The inner works come together just right as you sink yourself into the toy and lead to a satisfying climax, whether you pace yourself fast or slow. Not only does it feel great on the inside but the outside is to also be commended: the texturing, size and shape make it incredibly convenient to grip onto either with one or two hands, and the cameltoe is good fun to play with as you make your way through the entrance. Hands down, one of the best sextoys I've had the pleasure of owning and would heartily recommend to anyone else interested in a good, solid cocksleeve that'll provide proper value. (Posted on 10/7/2022)

Just perfect Review by Josto

I own 14 toys, 3 of them are onahole and the Lolinco Virgo is now my favorite it's the best. First of all she has the best entrance you'll ever see, when you look at it you don't even know how you're going to get inside but it works, just like magic. 1 month later it's still intact so I don't have anything to say about the durability.
This girl is so tight she'll destroy you just as much as you'll destroy her, if you ever wanted to know how the inside of a IoIi feels like, this is it. Even when you clean her and you use one finger to guide the water all the way in, you can feel EVERYTHING, she's squeezing you down, imagine how it must feel with something bigger than a finger.
The tunnel is surprisingly long, you can probably fit your entire penis, which is rare. One thing I really don't like is that I can't really feel her cervix, it might be because I'm completely overwhelmed
Her ridiculously large cameltoe has a practical use: it keeps the lube and the heat inside, she's a perfect candidate for fleshlight/onahole warmer.
Really not a big fan of the Magic Eye lube sample they give us, this thing is so thick it cancels the texture of fleshlights (I've tried it with different toys). It could be good if you're really sensitive (like I said, this girl will crush you, beware). (Posted on 9/25/2022)

The best there is. Review by Goom

Honestly this is probably the best onahole I've ever used.
Somehow, the first use didn't leave much of an impression on me, but after a couple of times, the feeling started to become really good and it
seemed to have improved over time.

It's REALLY tight and it's a bigger alternative to the original. (Posted on 9/21/2022)

Feels great Review by William

My first onahole so I don't have much to compare it to but it feels really good. Cleaning it is no problem but drying it however is a bit hard because of how tight it is. (Posted on 7/12/2021)

Great Onahole Review by Yuu

I bought the Big Lolinco Virgo some months ago and it's still one of my favorite onaholes to date! It's weight and size are just right while the tunnel feels also very stimulating. (Posted on 7/4/2021)

Very good Review by Joseph

I bought this onahole some months ago and i highly recomend it, its big, and quite heavy, so the stimulation is better than other onaholes.
The outside is super cute with those small tits, and but.
The inside is super good due to the small entrance it have.
highly recommended. (Posted on 5/27/2021)

Wonderful Onahole Review by Speregest

The Big Lolinco Virgo is by far the best onahole i had the pleasure of using.
The inside has a great texture and in my opinion the perfect tightness. The weight is hefty compared to what i used before and that just makes it even better.
The aesthetics... the texture... it's just "muah" "italian chef hand" on point.
Cleaning can be a bit tedious but there are worse onaholes out there in that regard.
I would wholeheartedly recommend this onahole not just for the quality that is delivered but also for the relatively low price.
(Posted on 4/13/2021)

A good feeling Review by Alessandro

I am writing this review because in this way I can and hope to make a contribution to those who approach this type of product for the first time, as happened to me.
Let's start immediately with the question, would I buy it back? Surely!
The positives are:
To the touch the outer material feels good feels real and I was sorry that the body was small and not to scale.
In use, I must say that the sensation is pleasant and the internal structure feels good, but I believe a lot depends on the type of lubricant and the quantity that is introduced.
I went slowly and I had to slow down often and despite everything I came almost immediately.
He gives his best in a Missionary version, with the necessary precautions, it was really difficult to resist.
The negative sides, however, are there and are the following:
In the first use I do not know if due to the first use or from cleaning a small tear was created, a small hole, just before the internal curve and the ring of the uterus was torn in two equally distant points leaving it tied only by two other angles .
I believe that with the next use it can break completely.
I did not experience the suction or sucking sensation that I had experienced with a Fleshlight model with a Mini-Lotus internal structure. Here I was a little disappointed given the internal structure I expected a higher pressure but it could also be from the type of lubricant and quantity.
Another negative point is cleaning, it is very difficult not to clean it but to dry it and I used both a microfiber cloth which created many problems in inserting it and the Onahole Quick Drying Stick, which is certainly better than the cloth. (Maybe it's by inserting these two products that I created the internal tears.)
The product has a vial of lubricant and I have only used half of it.
It is difficult to insert the lubricant, especially if it is a little thicker, and it is better to sprinkle it on the member or using the KYO Onahole Warmer soaked by the lubricant. (Note this last product I kept it for 4 minutes but the hot sensation was weak and I did not understand if the red light goes off or changes color at a suitable temperature, since the product has a thermometer to turn it off. )
So yes the product is more delicate than a Fleshlight, but despite some defects, I prefer it to a Fleshlight and then I would buy it again but this time I would try the HARD version which promises greater consistency and resistance of the internal material, if only to avoid any tears or holes. (Posted on 3/6/2021)

Great Sensation Review by Oz

This is my favorite hole so far. It is very tight and has very distinct profile, with many nubs and curves. Highlight is the tight chamber at the end, which feels great to puncture.
Cleaning is very difficult however. It takes time to scoop all the slush out from every nook and cranny and then drying it is even harder, as inserting drying sticks or micro fiber cloth is difficult due to friction. So you should definitely plan in some time properly cleaning this thing.
I would give it 5 stars for the feeling, but will subtract one point for the cleaning.
Service was top notch. (Posted on 11/20/2020)

A verry nice one but you have to get warm with it Review by Subaru

This is my first Toy, which is a bit more on the large side.
At first i was struggling with getting used to it. You have to be full erect to enter it.
At the beginning, the sensation is kinda low but after some time, i got used to it and it felt pretty good (especially if you use it for Dakisex, its awesome).

I totally recomment it but if you buy it, but for starters: You may need some time to get used to it)
(This is my first Review. Sorry if i didnt explain well) (Posted on 4/26/2020)

Best Onahole I have purchased so far! Review by Nub

I have tried quite a lot (10+) of Onaholes by now, this one is my favorite for now. The entrance is extremely well done and the end of the tunnel hugs your glans really well. I usually end up staying in the end of the tunnel for longer sessions because if you thrust in too fast you will end up finishing (too early). it's also weirdly the only toy I have that lets me keep pumping up and down as I am cumming. (dunno if others have this problem) This alone makes it worth it for me because it enhances the sensation quite a lot. Other onaholes over stimulate me so much that I just idle in the tunnel as I am cumming.

5/5 Buy it! (Posted on 4/22/2020)

Feels perfect! Review by Jk

For anyone on fence about this - get it, it's really worth it! No defects or use tears so far, cleaning is also not really that difficult. (Posted on 2/9/2020)

Great Product! Review by birdie

Shoutout to Motsutoys for the really fast delivery! It arrived within 2 days after my purchase, which is really great.

Top-notch onahole, the tightness can be a little bit too stimulating the first time, but after a few uses it feels just right. Just like the real virgo experience. owo

I also really like the weight this thing has, feels great to use. Thinking about cleaning it can be a real turn-off tho, I purchased the cleaning sponge sticks and it works okayish I guess. But in general you should only use this if you can invest some time for cleaning it, it does take quite a while compared to Fleshlights. (Posted on 9/15/2019)

Holy moly, its tight and nice Review by Sneak

This onahole was my first "proper" onahole, and i do not regret it at anytime, its soooo nice and tight. I will gladly recommend this product for anyone who is into lolis and wants to try a onahole for the first time. 10/10 (Posted on 8/28/2019)

My best go-to toy Review by JohnathanDoe

There are no words to describe this one!
This takes me to heaven each time I use it and never lets me down.
It gets a great grip one your member and hugs it like there is no tomorrow.

Unfortunately the tip ring broke and I don't remember how it was and
the ring when entering also has a rip in it but I don't feel the difference,
or at least it doesn't change the feeling. But I have had this one since
November 2018 or so and used it almost daily or at least every other day.

I can highly recommend this one and if mine will break, I will buy a new one. (Posted on 8/26/2019)

Soft yet tight Review by Liche

Superb toy in this price category! It's soft but yet maintains tightness. Can feel the inside of the tunnel clearly + suction. Cleaning is a hassle because the entrance is so tight. Have to use fingers and a lot of water to clean in thoroughly. (Posted on 3/23/2019)

Best Review by NA

Best among the toys I have. (Posted on 11/24/2018)

Good things don't last Review by Barro

While the first uses of this onahole are heavenly and the reason why i'm buying it again, don't expect this to last if you're a bit on the thick side. (Posted on 11/23/2018)

Good product and top service Review by ThatGuy

Owned it for about 4 month. The product overall is good, a bit on the pricey side but fit for the size and weight.

As noted in other reviews (here and other sites) expect the wanna-be-hymen to tear after a few use: don't take this as a stopper, I think its somehow part of the "virgo" experience and if you are really really carefull when cleaning up the tear will stay just at the hymen without subtracting to the overall sensation.

Sensation: TIGHT. Rock solid is mandatory on this one, less than that and it will push you out. (Posted on 4/29/2018)

Great Review by Bu

Service is great, i dont live in the same time-zone but its more of less answer on the same day.

The product is really great if you ask me, but it has a fatal flaw in my eyes... The Hymen tore after 1-3 uses meybee and i took good care of it but the little tear will just become bigger and bigger, but i've had mine for a while and i wouldnt hesitate on buying a new one. (Posted on 8/20/2016)

Excellent Review by DDU

First of all, Motsu service is top notch, email answered in less than 3hours after sending, packaging was tight sealed, well protected and the goods came in perfect condition just 2 days after the order.

About the product itself :

Great onahole, better than the previous version, heavier and longer. It's a bit hard to clean off, they didn't get rid of the smell when you unpack it but it goes away when you wash it with soap.

(Posted on 6/3/2016)