Dakimakura Hug Pillow
Dakimakura Hug Pillow
Bang as much as you like with the Dakimakura Hug Pillow! This Hug Pillow is produced by Japanese manufacturer TamaToys. A wide variety of covers is available for this gorgeous sex toy.
Dakimakura Hug Pillow - with two entrances!
The TamaToys Hug Pillows have two holes, one on each side.
This means that their use goes beyond that of decoration, hugging, or sleeping - they will hold onaholes and artificial vaginas!
We had been looking for a long time for a good Dakimakura pillow. There are pillows that will hold an onahole, but they usually can't hold it very well in place. As a result the artificial pussy comes loose while you're thrusting away. This will not happen with TamaToys' Dakimakura Hug Pillow.
We were shown these pillows during our recent visit to the TamaToys facilities in Japan, and we knew straight away that these were the pillows that we wanted to bring to Europe.
Which onaholes fit inside the Dakimakura Hug Pillow?
The dimensions of the two holes are 55 mm and 85 mm respectively. This means that the pillows can accommodate a small artificial vagina, as well as one that's bigger. With the variation this can offer, satisfaction is guaranteed!
We are currently compiling a complete list of the onaholes that are suitable for these pillows.
Different types of covers
All you need is one pillow, and you can choose the covers to your liking. The covers have an anime print on either side.
These different prints on the front and back make sex with a Dakimakura Hug Pillow a real First Person POV experience. The pictures are created by famous anime artists, and have a lot of detail.
A wide variety of covers is available, and new prints are available with every shipment we receive.
The covers fit well around the pillow, and stay in place thanks to the zipper at the top.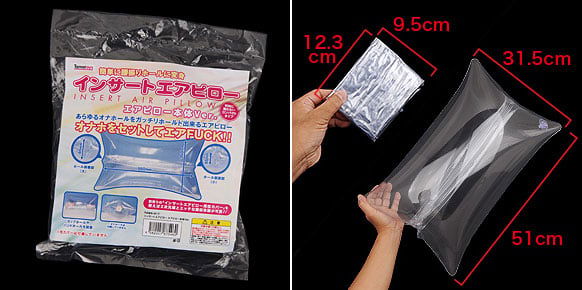 The Dakimakura Hug Pillow is pictured on the left, while the image on the right shows the dimensions.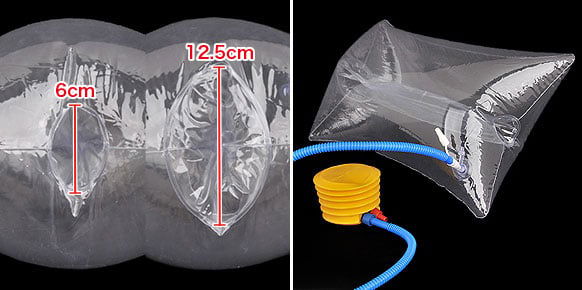 The small hole is 55 mm wide, and 60 mm deep. The big hole is 85 mm wide and 125 mm deep.
You can use a pump to blow up the pillow, or simply use your mouth - the pillow fills up quickly.
The plastic is thick and strong; it will not puncture easily.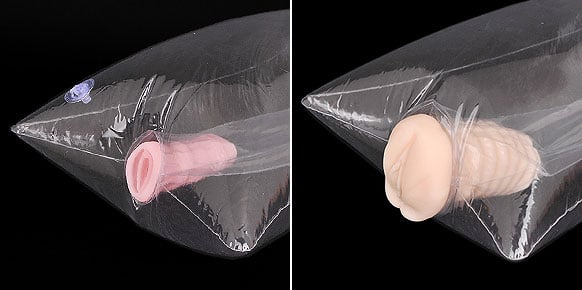 If you are struggling to insert your onahole, let out some air and apply a little lubricant to the exterior of the artificial vagina.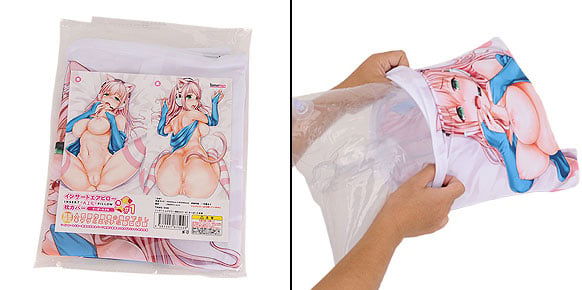 Pictured here is one of the covers. It is not supplied with the pillow, the covers have to be ordered separately.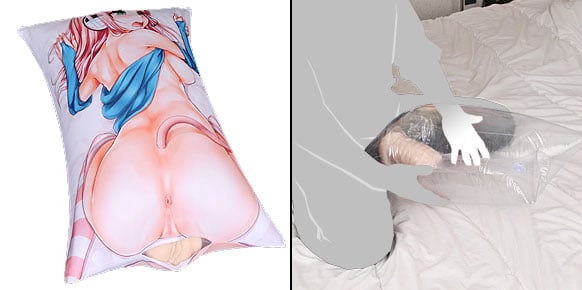 And this is how you enjoy the Dakimakura Hug Pillow.
Dimensions:
Dimensions Dakimakura Hug Pillow: 550 x 350 mm (when inflated)
Weight (without packaging): approx. 115 grams
Two entrances for masturbators/onaholes
Suitable for double-sided anime covers
Sizes of the onahole openings: 55 mm, 85 mm
Masturbators and covers are sold separately
Please bear in mind that only the covers produced by TamaToys are guaranteed to fit. These are purpose-made for this product.
Additional Information
| | |
| --- | --- |
| Brand | TamaToys |
| Number of holes | No |
| Number of layers | No |
| Open/Closed | No |
| Reusable | No |
| Bone structure | No |
| Theme | No |
| Tunnel length | 0mm |
| Product weight | 0gram |
use my trick Review by coco

it took some time to master using this, the trick is to put the onahole deep inside and push against the pillow, feeling was divine.


If only it didnt break after i got hooked on it, pretty sure u need to lube the inside when u put the onahole but i didnt like the mess.
Shame i cant order another one, i will try buying some glue to fix it..
(Posted on 7/20/2020)

Quality fits but! Review by M

Quality of the product itself is very good, but you get very hard the masturbators purely therefore only 2 stars! would not buy one again. (Posted on 5/13/2018)

A good idea in theory, but............ Review by peterbear

This pillow is made of very thick plastic which feels a bit tacky to the touch and makes a sqeaking noise when your skin rubs against it. It is quite simple to insert your Fleshlight or other type of sleeve into one or other of the openings but it is very awkward when it comes to trying to mount it and attempting to insert your penis. The angle is all wrong if you try and lie on top of it and I ended up lying on my side next to it in order to find a comfortable position to thrust. The item is also very overpriced when you consider the type of material and simple design. I was disappointed. (Posted on 3/18/2018)

The perfect addon for any of your favorite onahole ! Review by Cr4zyDuck

Never used a blowup pillow before, this was my very first time. The pillow is very easy to blow, you can use either your mouth or a pump. Then you just have to insert both the onahole of your choice and a pillow cover (sold separately) and enjoy your time !
Check out the rest of my review on https://blog.onahole.eu/reviews/blowup-dolls/insert-air-pillow (Posted on 7/28/2016)