Ereshkigal Cherry 6.1KG
This beautiful onahip by Seiraku toys has high-quality material, a stunning 360 degree design, and of course two very enjoyable tunnels.
A goddess waiting for you
Ereshkigal is the goddess of the underworld, according to Sumerian mythology. Ancient and powerful, she presides over the realm of the dead and takes care of souls.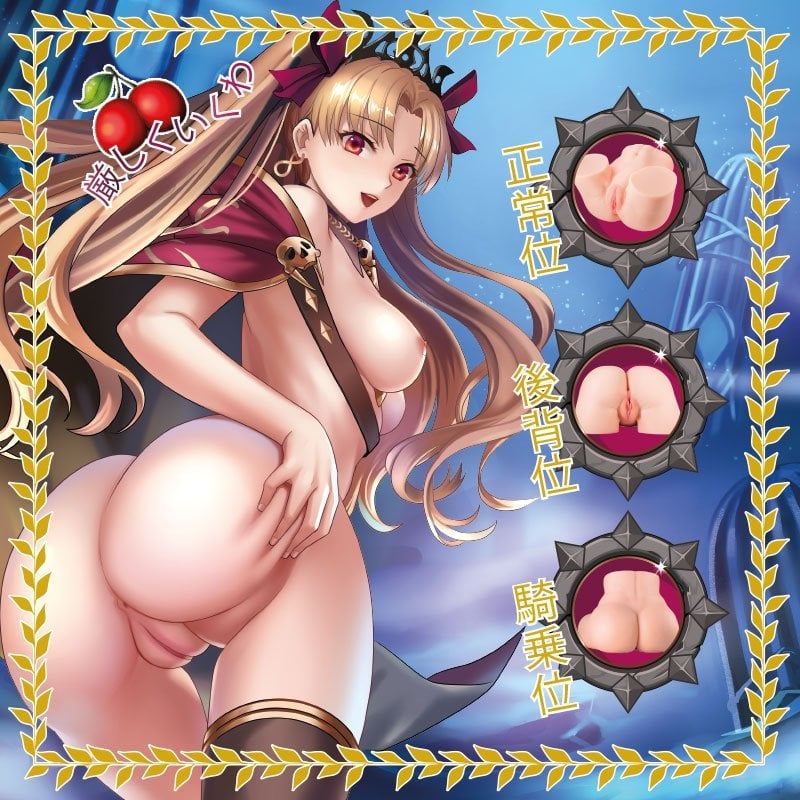 But even powerful goddesses want to have a little fun sometimes! Ereshkigal has taken possession of the body of a young woman and wants to enjoy some mortal pleasures while she's here… Will you show her a good time?
Seiraku's packaging has two beautiful pieces of art, both showing off Ereshkigal's main asset: her cherry-shaped ass. The luxurious box is very sturdy and has beautiful gold foil print, making it clear that you're about to get a premium pleasure experience.
A perfect ass
The Ereshkigal Cherry onahole weighs a little over 6 kgs and is about 30 cms wide. This makes it big enough to feel realistic, but not so big and heavy that it becomes difficult to move around. The design looks great from all sides, whether you have her bent over in doggy style, lying on her back with her legs spread, or riding you cowgirl style.
Seiraku went for a very lifelike design, with realistic shapes and proportions. The belly is nicely toned and the back muscles stand out as she arches her lower back. Two subtle dimples are placed above her beautifully round butt. Lastly, Ereshkigal Cherry's pussy looks almost uncannily like the real deal: the high-quality elastomer material holds a lot of detail and you can see all the little bumps, lines and folds real skin has.
Two well-defined tunnels
Ereshkigal Cherry's pussy isn't just beautiful on the outside! The inner textures on this onahip are very well thought-out and really shine thanks to the thick walls and nice material.
When you slide into Ereshkigal's pussy you first pass the two gate structures which will grab around your shaft and help reapply lube with every stroke. What follows is a combination of bumps and shapes too complex to describe, with different textures pushing against you and hitting all the right spots. Towards the back you'll find a longer section with some textures which are like a string of pearls, leading you into a small end chamber with a subtly ridged womb… Wow!
But Ereshkigal is happy to offer you the pleasures of her "underworld" as well, of course. After you squeeze through the tight asshole there are several blocks of stimulating textures waiting for you, with a bit of spacing in between. Because the material is soft and stretchy, the blocks move back and forth with every thrust, treating you to an amazing massage. The back of the anal tunnel has several long bumpy ridges that feel great as they slide over your shaft and glans.
Grab Ereshkigal's round asscheeks as you slam into her soft flesh again and again!
Ereshkigal Cherry onahip in short
Seiraku once again gives us an amazing sex toy, with beautiful design inside and out. The great material and varied tunnels feel absolutely amazing.
An ass this good deserves to be worshipped!
Onahole width: 30 cm
Onahole height: 18 cm
Onahole length: 27 cm
Weight: 6.1 kg
Vaginal tunnel length: 14 cm
Anal tunnel length: 12 cm
Material TPE (Elastomer)
Brand: Seiraku Toys
Additional Information
| | |
| --- | --- |
| Brand | Seiraku Toys |
| Number of holes | 2 |
| Number of layers | 1 |
| Open/Closed | Closed |
| Reusable | Is reusable |
| Bone structure | No |
| Theme | Anime |
| Tunnel length | 140mm |
| Product weight | 6100gram |
Excellent Review by Sandevistan

Amazing butt, it's great to grab, slap, squish or just to put on your lap and chill. I found myself playing around with it for a while before I decided to do some penetration tests.
And oh boy those felt great. Both canals feel meaty, reminded me real sex for a second. It's hard to have a long session because it feels so itense you just burst.
I'm throwing out tengas, the size of this hip makes me really happy and replaces every other experience I had with sex toys to a much better one.
This may be a gateway drug to a sexdoll.
For now, I feel satisfied. Great product, pure excellence. (Posted on 10/1/2022)

Best Onahip? Review by Federik

Ok I must say this, it's hard to get used to and find the correct position that suits you, but when you find it, you hit the jackpot, I have 2 torso and 4 onahips, but this one beats them all, the pleasure overall on both holes it's amazing, the way you can change the position it's why this one wins over them, the only thing that didn't convinced me at the begging was the material, but after few months I'm quite sure this type of material it's really great, the stimulation it offers it's top notch.
The cleaning part... yes, I use it like 3 times in a row (yes it's that good) and then clean it, and use again the next week because cleaning it more than 1 time per week it's a bother..
The price, compared to other onahips and torso, it's the best, totally worth it a full price!
Pleased as always by the shipping and customer service offered by MotsuToys <_< (Posted on 9/9/2022)

A nice hip but not that intense Review by Toshi112

The size and how it jiggles is tier 1 stuff, however the tunnels barely feels like anything. It's a bit odd as when you see the tunnel texture it's quite a few nubs.
If you are looking for longers sessions it definently works, but if you want to some more pleasure during the session, look for something else. (Posted on 7/31/2022)

crazy good Review by Louis

To put it simply, this product is very very good. It was my first hip ever, and I had been watching a lot of review of a ton of products because it is a big investment, that's for sure. (You should probably do the same, to make sure you're buying what you really need.) if you want a product with great durability and great feeling, this one might be "the one". Great exterior look, with durable material. Even the thinner parts that you'd expect to be fragile are in fact made with quite a thick plastic, so don't be scared about them breaking. Two holes is a must have with hips onaholes, and those two are great. While the asshole is a bit tighter than the pussy, it can be a bit less stimulating, so you can switch between the two and make the playtime a bit longer. The two canals feel great, and are relatively easy to clean ? I recommend the KYO shower, because it really facilitates the cleaning process. A bit of baby powder between 3-4 uses, and you'll have a toy that's not sticky. Keep something in mind: if you only had pocket pussys or small onaholes to this day, hips onaholes are big. If you want to be discreet with it, I'd recommend ditching the box (a bit sad since it's such a pretty box), and buy an opaque bag to store the toy. On the heavy side, you'll get tired if you only use it standing up, so don't hesitate to use it freehanded while on a surface, or cowgirl style. The ass feels greaaat, thanks to the attention they put on it. Really soft, tou can give it a good squeeze because it stays firm, without being wobbly like jelly. It really adds to the experience. Take your time with this toy, because it'd be sad to just use such a great product for a quickie. It can be a bit noisy, making an "air" sound, when some air is trapped inside, so try not to use it when people are in the next room as you if you want to be discreet. I really recommend it, it has changed my fap game by a LOT. (Posted on 6/28/2022)

Definitely a goddess Review by Nabee

Good points:
-Ereshkigal
-Nice box
-Visually great
-Both holes feel great in every position
-Heavy and feels natural

Bad points:
-Wish it was a little bit bigger for the price
-No lube in the box
-Not the easiest to clean

Honestly, I just removed a star because I can't put a 4.5 and it's not the perfect hip but definitely a great one, especially for my fellow FGO players.
If you need a hip toy and if you have the budget, definitely go for it! (Posted on 4/5/2022)

Segshkigal Review by Succ

I absolutely agree with the review from Marcin. this Hip is my first hip ever, but i can tell you, this definitely cannot be topped by any other. 11/10 for me.

I can add that yes, sadly the pink color on labia does come off slowly, half of the coloring for me had already came off onto the bag it was in. What was surprising is that, the Cherry in this products name isnt just the butt size. The labia coloring is (or at least for me it is) infused with a cherry scent. The moment i opened the box the sweet nice smell hit me. Man if every real pussy would smell like this, id eat pussy 24/7, breakfast, lunch and dinner.

Both tunes are amazing, I agree with the feeling mentioned by Marcin, Vagina more stimulationg and Ass is for longer sessions. Both tunnel are rly deep+ they can still stretch if needed. The weight feels epic. used it standing up on desk, lying down on a couch or sittiing down. Had fun with it for almost 3 hours... 1 thing is for sure. You wont use this on daily basis unless you a mad man.

1. Its heavy af, this is literally a workout. I was as exhausted as if i had real sex
2. Prepare to take a shower after longer sessions cause u will definitely sweat
3. Its quite the PAIN to clean, but absolutely worth it.

Im really sad Motsutoys is kinda bad with restocking stuff. The Kyo onahole shower would be insanely amazing for this. I already went to the HW store and basically bougth some stuff to make my own with some water sprayer and some tubing. Havent tried yet, hope it works. If you get a hip, def try to get the Kyo onahole shower. Idk why noone else is making these. Having that would let you only clean the surrounding of the vagina and the inside without needing to get the entire thing wet. Also i only have 1 wooden stick with 2 microfibers. They were out of stock on that too.. So be prepared to do some DIY or come up with a good solution. Otherwise cleaning it manually in a shower/tub (cause i cant imagine iny sink to fit this in) is gonna make it at least a 30min thing or more. + dont forget to powder everything.

Thill tho, overall, i can absolutely recommend this. Worth every penny. Have fun guys. (Posted on 1/8/2022)

A wank and a workout Review by Marcin

I am so happy with this product that I actually don't know where to start. It's really high quality, even the box is great, with the character this hip is based on presenting her charms to you. The hip itself is on the big side as well, nearly life-like in size, if Ereshkigal was on the petite side. It's very nicely sculpted, with abdominal and back muscles accentuated for your viewing pleasure. The narrow waist flares out into shapely, proportional hips, and the material on the buttocks is really firm, yet still pliant, so you can get a good fondle and any spanking will produce a good sound. The labia are small and pretty, and dyed pink, but whether or not the dye will come off like it does on the Ondo Nupu, I've yet to see.

The tunnels are pretty different from one another. Both are quite tight (vagina is slightly tighter) and stimulating (again, vagina is more intense), and pretty deep. For an average-sized guy like me it was difficult to bottom out in the tunnels due to the additional "flesh" on the outside. It's like the two tunnels were designed with different purposes in mind: the vagina is there to grip you and stimulate hard to bring you quickly to a brain-busting climax, while the anal part is intended to provide less stimulation for a longer session. At least that's how it was in my case. With the right lube (or properly diluted lube) all the ridges and bumps can be felt really well, even if you're desensitised.

The hip's overall shape and weight lends itself well to hands-free use. Just put it on your desk or some support and pump away. The way it's shaped is also great for gripping, whether you hold it by the waist, hips or just grab the bottom. You can use it sitting or standing, too, though expect to get a workout that way, since it is quite heavy. Changing its orientation also changes the stimulation a little: whether you use it missionary, doggy, or on the side, each position brings different stimulation not only to your thing but your whole pelvic area. The weight is also an issue when handling it, so make sure to get a careful grip and don't strain your back.

The only downsides I've noticed so far is that it's slightly difficult to clean and dry because of how tight the tunnels are, and secondly: the lack of any lube in the box. There wasn't even a single-use foil wrapper in my box, and for a product of this quality I would expect at least a small bottle for five sessions to be included. I also would have liked the anal opening to be tighter, but those are minor things in an otherwise stellar product.

If you're looking for a good hip onahole, you couldn't do much better than this one. A wholehearted recommendation from me. (Posted on 11/24/2021)