KYO Jeans Girl
KYO Jeans Girl - Dual Tunnel Pleasure Hip
When you're walking down the street and you see a beautiful girl wearing short jeans shorts, showing off her long legs and tight ass, it can really brighten your day and give you something to fantasize about at night. The KYO Jeans Girl masturbation hip is shaped like a sexy girl, bent over at the waist and with her shorts ripped off, offering her pussy and ass to you.
The soft material feels very lifelike, with enough "squishyness"to be like a real ass, and enough firmness to keep its shape and offer stimulation.
Two amazing holes to pick from
Which one are you going to try first?
The vaginal tunnel starts off with some ridges that slide past you one by one with every stroke, before turning into a realistic tunnel full of bulges, folds and stimulating nubs - -it's like the real thing, but better!
The KYO Jeans Girl's ass has a unique tunnel design, with different textures enveloping you from different sides. The sides are lined with supple, stimulating nubs, the bottom with suction cups, and the top with long ridges. By turning the Jeans Girl around you can get the right stimulation exactly where you want it...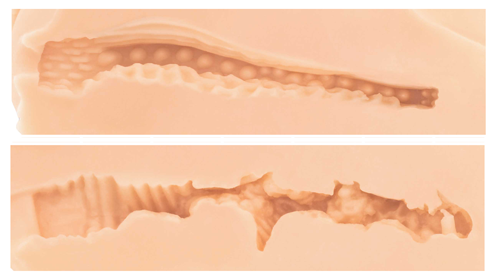 KYO Jeans Girl Specs
Weight: 2200 grams
Length: 19 cms
Width: 21 cms
Height: 11.5 cms
You may also be interested in the following product(s):