KYO Jeans Girl
KYO Jeans Girl – the best ass in town
Every summer they show up again: hot girls with jeans shorts so short that their ass is almost hanging out. Have you ever imagined bending a girl like that over a table, ripping off her already-ripped shorts and having your way with her? If so, this is the toy for you. If not, you should still read on... Because this toy has a lot of things going for it.
Mini Hip: all the curves and none of the drawbacks
Some might say that bigger is always better, but with onahips and other large sex toys for men, large size also has certain drawbacks. The KYO Jeans Girl weighs 2200 grams; large enough to appreciate the nicely shaped ass and grab it with two hands, but not so big that it causes problems.
➤ Lower weight = easier to handle
Large sex toys for men can often become unwieldy, especially if they don't have an internal skeleton structure. They're great once they're in place, but switching between positions can be annoying, and certain ways of fucking can be really tiring – or a good workout for you, depending on how you look at it.
➤ Smaller = easier to clean
Cleaning out a sex toy after use is no one's favourite part. The larger they are, the more difficult it gets, because a wet and slippery sex toy is even harder to handle than usual. The KYO Jeans Girl is an onahip which still fits in most sinks, which makes it easy to clean up.
➤ Less material = more affordable
There's no way around this one: bigger toys are more expensive. You need more material, more work needs to be done to finish off the seams, and it's more expensive to ship.
➤ Small size = easy to store
The KYO Jeans Girl takes up less space in your closet. It comes with a plastic blister which is shaped in a way that perfectly supports the toy everywhere, making sure it lasts as long as possible. Consider using a [[storage sack if you want to make sure humidity doesn't become a problem.
Doggy Style Sex Toy: tight ass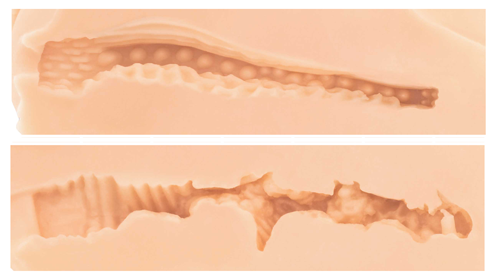 Bent over like this you can access both holes easily, and the ass looks invitingly tight. It definitely won't disappoint!
After pushing past the tight "sphincter muscle" the tunnel swallows you whole, rubbing against you from all sides with different textures. From the sides, large round nubs massage you while from the top, long, smooth ridges give gentle stimulation. On the bottom, a long pleasure bump rubs past you.
Unless, of course, you choose to change things up: bounce the KYO Jeans girl up and down in your lap and twist her different ways to see what feels best for you. Thrusting in and out feels great, but twisting from side to side can be a great way to have some milder stimulation, prolonging the fun and keeping yourself on the edge.
Offering up her pussy
The KYO Jeans Girl is bent over forwards, exposing her tight pussy and offering it to you. The shape is realistic, with outer labia, inner labia and even a clitoris and clitoral hood. Lube it up and close your eyes and it won't be hard to imagine it's the real thing!
The inside, however, is another story. KYO hasn't aimed for pure realism, but rather for something that feels just as good, or maybe even better. Because TPE material just isn't the same as flesh and muscle, realistic pussy textures can sometimes disappoint, and this is why many brands go for something else. The Jeans Girl's tunnel starts with a series of ridges that glide past you one by one. The tunnel quickly narrows, forming a fleshy gate for you to push through. From this point on, it becomes hard to describe: the different folds, bumps and curves blend together in an overwhelming sensation of pleasure.
KYO Jeans Girl Specs
Weight: 2200 grams
Length: 19 cms
Width: 21 cms
Height: 11.5 cms
Brand: KYO
Material: single layer TPE
Additional Information
| | |
| --- | --- |
| Brand | KYO |
| Number of holes | 2 |
| Number of layers | 1 |
| Open/Closed | Closed |
| Reusable | Is reusable |
| Bone structure | No |
| Theme | Neutral |
| Tunnel length | 120mm |
| Product weight | 2200gram |
Beoordeling Review by Wesley

Strakke afwerking goed op details gelet (Posted on 1/1/2022)

Good product Review by B

As my first onahip was a great experience.
Easy to clean product.
Stretched and gripped me well while using.
The softness and bounce of it was a fun addition while using it. (Posted on 8/18/2020)