Beautiful Legs - Nakadashi Life
A beautiful and lifelike set of legs
The Nakadashi Life by Seiraku Toys has clearly been designed by someone who loves the female body: run your fingers over the subtle curves of the leg muscles, the less subtle curve of the butt, and grab her around the waist to pull her against you. Rather than a set of fleshy tubes, this lower body is lifelike and incredibly detailed:
♥ Soft and squeezable material: caress it gently or dig your fingers into the soft flesh
♥ Lifelike skin texture: highly detailed skin textures have been applied in several places
♥ High-quality joints: allow you to post the legs in many enjoyable positions
♥ Two amazing tunnels; you may have a difficult time choosing your favourite
♥ Beautifully sculpted feet: perfect if you love feet, they even include small toenails
♥ Lightweight metal skeleton: sturdy without weighing you down
Do you like
Stockings - Panties - Legs - Ass - Feet - Suspenders - Skirts - Dozens of positions
then this toy is for you...
Pussy: how manye cervixes?
The Nakadashi Life's Pussy has an amazing combination of textures. The first part of the tunnel starts off with some subtle ridges and then a more intensely textured area, with ribbed pleasure bumps and small massaging beads. After that a cervix-like gate awaits you! Rub your glans over the soft, flexible protrusion and then push through into a narrower tunnel with well-defined smooth ridges… With a second cervix! This second cervix is a little bigger, fleshier and harder to penetrate, but if you do push through you'll be rewarded by the tight "womb" chamber wrapping around the top of your dick while your shaft is being massaged by all the other textures in this great pussy. She'll bring you to a throbbing climax in no time, so you can live that true Nakadashi Life!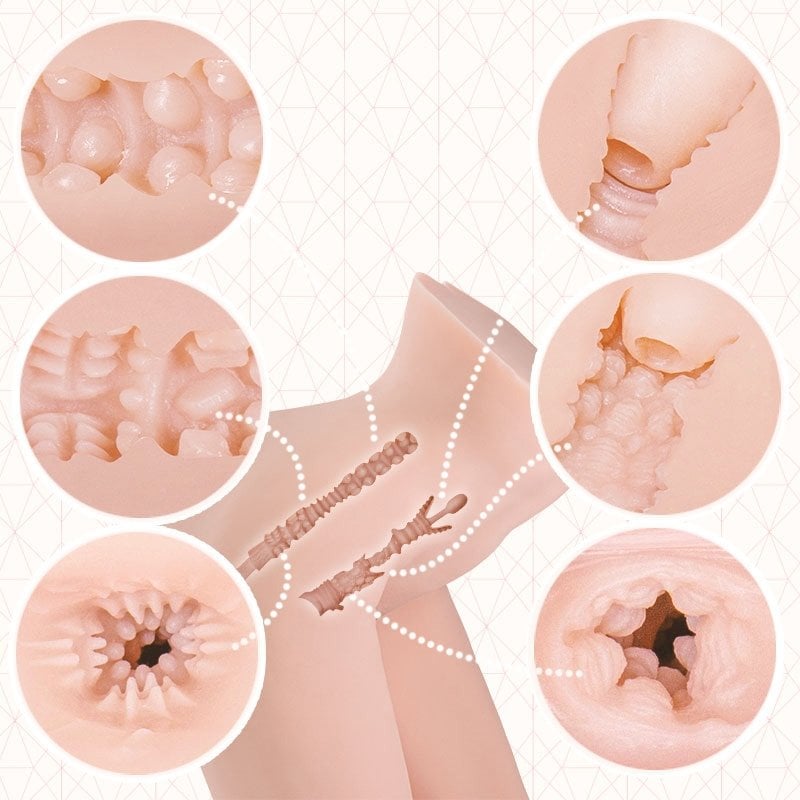 Tight beaded asshole
Completely different but amazing in its own right, Nakadashi Life's asshole is a straight, richly textured tunnel with a tight entrance. This entrance grabs hold of your shaft as you probe deeper and pass through three different areas: the first has small, varied bumps, then a tighter area with several rings that slide over you one by one, and a final stretch lined with big, luxurious massaging beads and rings.
High quality construction
Not all poseable sex toys are made equal. Where cheaper sex toys only have a wireframe skeleton, the Nakadashi Life has a very solid, durable construction. Lightweight metal rods are used for the bones, and good joints are used for the hip, knee and ankle. This allows you to pose her however you like!
The high-quality material is resilient but stretchy. Thanks to the durable single-layer design this toy will last a long time if you take good care of it! Seiraku's design here provides thick walls which push back against you as you press inside, creating a much more lifelike feeling than you get with a small sex toy. To make it feel even better, use a USB heater to bring the inside of the tunnels up to body temperature before you get started.
Nakadashi Life - Beautiful Legs in short: more than just a pussy
Seiraku's Nakadashi Life is an amazing toy, not just for those who love legs or feet, but also if you like the idea of a more complete sex toy with dozens of new positions to try. The tunnels are very well-made and this is a toy that'll have you coming back for more again and again!
Total length: 90 cm
Inner leg length: 66 cm
Foot length: 18 cm
Waist circumference: 45 cm
Hip circumference: 70 cm
Pussy tunnel: 12 cm
Anus tunnel: 14 cm
Weight: 10.55 kg
Brand: Seiraku Toys
Clothing in product pictures is NOT included. Used as example only.
Care note: like with any big toy with a metal skeleton inside, we recommend always using the beautiful Legs - Nakadashi Life on a soft surface. Take care not to put too much weight on the knees when the toy is in kneeling position or feet when she is standing, as this may cause damage to the skin of the knees or feet.
Additional Information
| | |
| --- | --- |
| Brand | Seiraku Toys |
| Number of holes | 2 |
| Number of layers | 1 |
| Open/Closed | Closed |
| Reusable | Is reusable |
| Bone structure | With bone structure |
| Theme | No |
| Tunnel length | 140mm |
| Product weight | 10550gram |