Chubby Narumi's Outrageous Ass - MEGAHIP 2.0
MEGA HIP - Juicy Narumi's Thicc Ass 2.0
Most sex toys for men are scaled down… But what if we scaled them up instead? Seiraku Toys is a new brand on the market, but their first toy is sure to make a big splash… Narumi's Thicc Ass is a huge toy, but thanks to the special design it doesn't weigh all that much. Read on to learn more!
Narumi: The girl with the ass
The side of the box has a short comic explaining the toy's concept: Narumi, a girl in your class, has an amazingly developed body. You can't keep from staring at her big ass, and you think you've been sneaky about it… But one day she confronts you. She knows you've been checking her out… And she likes it! Your stares turn her on and she wants you to fuck her as soon as possible - it's a dream come true!
The Biggest Ass on the Market: BBW Sex Toy for Men
There are few onahole out there that cater to those who like their women with a little more meat on their bones: most box art is of skinny girls with no tits or skinny girls with big tits. There are some BBW sex toys out there, but because they are so scaled down they don't convey that feeling of size.
Narumi's Thicc Ass is a huge improvement both in shape and size if you like your women thicc: it is bigger than any other onahip. A LOT BIGGER. It is larger than life, and beautifully shaped, with a big, round ass, puffy outer labia, and delicate inner labia.Seiraku Toys knew that making a toy larger-than-life toy would make it extremely heavy, so the inside of the toy is filled with lightweight foam. Thanks to this, the mega hip weighs "only" 17 kilograms. The circumference is a whopping 155 cms! There is a nice layer of soft, skin-like material covering the toy to make it feel lifelike. Of course, the tunnels are also surrounded by a generously thick layer of squishy material.
Two holes to pick and choose from
In this bent-over pose you have two holes to choose from: will you go for her pussy, her ass, or switch between the two? They each have a unique texture on the inside, creating two distinctly different types of stimulation. Her ass is a little less deep than the pussy, but not by much.
Both holes have a thick layer of squishy, elastic material around them. The material pushes back against you as you thrust inside, making it feel like a real woman's body.
Deep and intense pussy
A big, beautiful woman needs a big, beautiful pussy. With a depth of 20 centimeters, pretty much everyone will be able to go balls-deep in Narumi. For the best experience, add some good personal lubricant and heat it up with a sex toy warmer: now the pussy is hot, wet and ready for you!
Slide into Nazumi's pussy and you will feel it eagerly swallow you up. Waiting for you inside is a combination of many different textures, which after the first few strokes, combine into a blur of bliss. The tight entrance forms a seal around you, keeping the lube inside. What follows is a tunnel which might not look natural, but nonetheless creates a very lifelike experience: small massaging beads and ridges cover the sides, stimulating you from all sides and inviting you to plunge in deeper.
The second half of the tunnel ramps up the intensity. Protruding bumps and rings are arranged in asymmetrical patterns, keeping you on edge. The very end of the tunnel tightens and finishes with a flower-like structure.
Offering her BBW ass up to you
Like the pussy, her asshole also starts off with a tight entrance, forming a secure seal around you. Directly after that is a section with many massaging pleasure bumps, each covered in ridges. These will envelop the base of your shaft once you are all the way in.After this, the tunnel widens slightly, making room for the thick-well-defined textures. Thick, whirling fins and flexible massaging nubs cover the tunnel, leading you towards the final part of the tunnel, which has a typical anal-toy structure: rings wrap around you from all sides, simulating the tissue and muscles of a girl's ass. The tunnel measures 17 cms, which is a little shorter than the pussy but still long by onahole standards.
Version 2.0
While the first version was very popular Seiraku Toys still saw some room to improve based on customer feedback.
Thicker ass: Yes, even thicker! or perhaps we should say fleshier. While the shape was great, the layer of flesh was a bit too thin in places, causing the Narumi 1.0 to feel a little too firm. The upgrade has replaced some of the lightweight foam filling with more jiggly goodness. This adds a little to the weight, but if you ask us it's worth it!
Packaging: The first version of this megahip had a rather plain box with stickers on the side. While the illustrations were beautiful, it just didn't have that well-designed look that most other japanese sex toys have. The new edition comes packed in a beautiful box, with not jsut art or narumi but also close ups of the onahip and a comic with her confessions...
The rest of narumi has stayed the same: the same stimulating tunnels, beautiful shape and great material.
Keeping Narumi's Thicc Ass in shape
Don't worry, you won't have to exercise her on the treadmill and ensure she eats enough calories - this section only has some cleaning and storage advice.
Some big toys are very hard to clean because their tunnels are full of curves and folds, but Seiraku Toys clearly kept this in mind when designing this megahip: the tunnels are straight and contain no spaces which trap water or fluids. The section with the deepest textures is at the start of her asshole, and this can easily be cleaned out with your fingers.
After each use, flush out the tunnels you used with plenty of water and some mild soap or toy cleaner. You can use a vaginal douche to get into the deepest parts of the tunnel if necessary. Then, dry it well. It is easiest to use some onahole drying sticks for this, but you can also grab some absorbent, lint-free cloth and wrap it around the blunt end of a pencil. Wash and dry the outside if necessary, and every now and again use some renewing powder to make the skin feel soft again and prolong its lifespan.
Narumi's Thick Ass is best stored sitting on the flat side (top). If you set her upright on her butt, this might cause it to become a little flat after a while, and that would be a shame!
Mega Hip Sex Toy: Worth it or not?
This enormous hip literally and figuratively rises above its competition: there's nothing quite as big as Narumi's ass! The foam inside helps keep its weight down, and the extra-long tunnels are stimulating and well-designed.
If you love big women, big sex toys, or both, you're not going to find anything better than Narumi's Thicc Ass.
Narumi's Thicc Ass: the numbers
Circumference: 155 cms
Width: 50 cms
Height: 38 cms
Vaginal tunnel: 20 cms (extra long!)
Anal tunnel: 17 cms
Weight: 17 kgs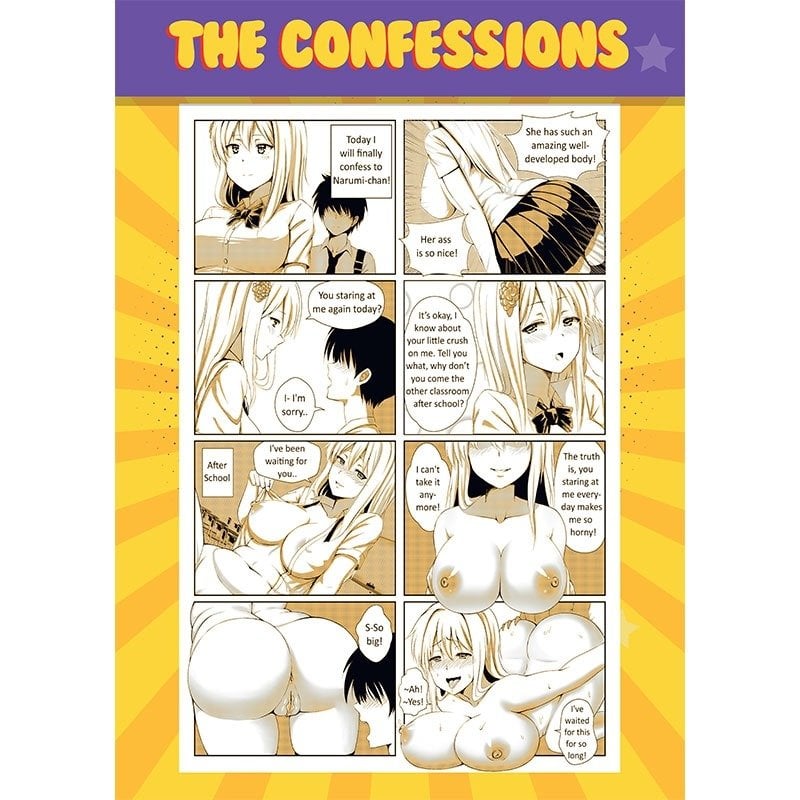 Additional Information
| | |
| --- | --- |
| Brand | Seiraku Toys |
| Number of holes | 2 |
| Number of layers | 2 |
| Open/Closed | Closed |
| Reusable | Is reusable |
| Bone structure | With bone structure |
| Theme | Anime |
| Tunnel length | 200mm |
| Product weight | 17000gram |
Good Hip Review by Nick

So, after testing it for around a month, I have to say I'm very pleased. Sure the cleaning is a little bit annoying, but overall I like the fact that it's so robust. The tunnels are both nicely done and the material so far seems sturdy.

My only complaints or wishes would be, if you made a pubic hair version. I know there are patches you can stick on there, maybe that would be a cool accessory you guys could sell. Also a little more jiggle would be really cool, but I understand why that could be problematic, unless you downgrade the entire thing in size.

Overall I'm satisfied and can recommend this for others.

(Posted on 11/26/2021)

Great fit Review by V

I was very pleased with this item, only grievances I would have is the size and wishing it could jiggle more but overall I am loving it. (Posted on 5/29/2021)

Good but has it's problems Review by AT

To preface this review, this is the first and only hip I have. I decided to get this since I thought it'd be nice to have a really large hip and it's not like I was spoiled for choices. I knew it was going to be large but when I got it, it was a lot bigger after seeing it in person than what I had imagined based on the images and video. That brings it's own set of problems since storing and carrying this thing around isn't necessarily the easiest thing. The box it came in is nice-looking, and there's not much to say about it.

Using it felt good and it's size really helps your brain and imagination go wild. It doesn't have much if any jiggle to it which is a shame but I didn't mind that. Some positions were impractical due to the placement of the holes but it's not a big deal. Cleaning it is a pain in the ass (pun not intended) since it's so large and heavy and the length of the tunnels doesn't make it any easier either. The foam core is also exposed from the "flat" front part so take care not to get water there. If you have a douche, something similar to one or unscrew your shower head it becomes a lot easier but it's still way slower to clean than most other hips probably would be. Drying is easy enough but really benefits from having something to push a microfiber cloth deeper into the holes at hand.

Overall I'm really satisfied with it. It's obviously not without it's issues due to its sheer size and weight and the lack of jiggle might be a deal-breaker for some but if you have a solution for or don't care about the possible difficulties in storing, moving and cleaning it then you are probably going to be happy with it. (Posted on 5/12/2021)

wish the ass could jiggle more but im fine with it Review by The Black Johnny Sins

great asshole to fuck
great pussy to fuck and finger
little jiggle/bounce but if you're okay without physics (Posted on 2/17/2021)

SUPER SATISFIED :) Review by WelshWanderer

SUPER SATISFIED. Overall I can't wait for the next toys from this new brand(Seiraku Toys), it's the biggest hips i ordered so far. But I did have a couple of problems of how it was shipped. Standard cardboard box, with the main commission and art pieces introductions were sticker to the cardboard with a black wrapping the box. I think it would be better to have the art not placed on boxes, but to have then like an manual flip book you could use for reference of cleaning or to look at from time to time since it doesn't come with a guide or least mine did not. The black wrapping on my package was good, But almost half of the black wrapping was tore off in shipment exposing the art pieces that's featured on the brand labels, I removed my labels in order to better hide my package in plain sight, due to me not researching enough of how enormous it is, still worth it through ;). Again overall i am happy with my product (Posted on 9/29/2020)