Nikutai Kankei - Physical Relationship - 7,5kg Torso Body
Physical Relationship - Nikutai Kankei 7,5kg Torso Body
The Physical Relationship also called the Nikutai Kankei has a massive weight of 7,5kg! The first question that came to us was; how big is this onahole?!
The length is 47,5cm by 33cm width with a height of 18cm. A reasonably big torso, not as big as the 20kg heavy life sized 'Real Body Julia', but hey the Nikutai Kankei is a lot cheaper.
If you know Magic Eyes (the brand behind this torso), then you know that time after time they come with sensational and very innovative designs.
The Nikutai Kankei is a realistic mini doll masturbator, this torso is a feast for the eye.
The outside has nice round curves and lots of details. Like the beautiful neckline, the navel, the pubic bone and the round hips. Of course we cannot forget the eye catching delicious F-cup.
These big breasts have very beautiful nipples in a natural color.
The breasts feel natural and squeezable to touch like the rest of the body. They can also be used to penetrate between them.
Nikutai Kankei Spine
A torso of 47cm made of TPE, without any reinforcement it will flail around to all sides.
That is why there is a spine made in the Nikutai Kankei.
Her waist and thighs are deliciously pliable but it is still a sturdy torso! Her upper body can be flexibly bend backwards and back. Because premium urethane material is used, this material is strong and is described as 'memory foam', because this polyurethane variety, goes back to its original form.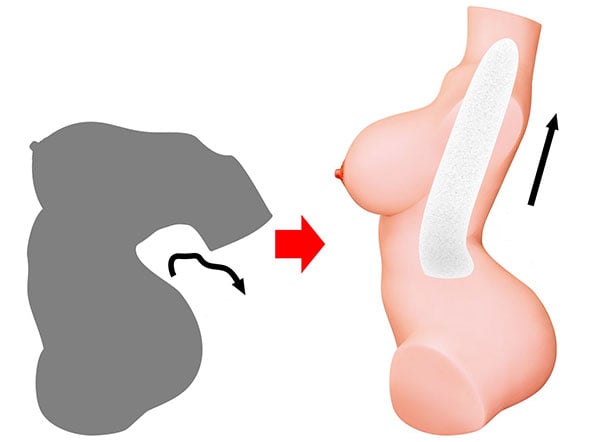 This makes the backside of the Nikutai Kankei extremely sexy. It is determined by scientist that men find an angle of 45 degrees (or bigger) enormously sexy. One of the reasons why stars like Beyoncé, Jennifer Lopez en Kim Kardashian are viewed as beauty ideals.
With an angle of 45 degrees there is less pressure on the hips, because of this women are more in balance. Which at giving birth, but also in long searches of food had big advantages. The risk of back injury was significantly decreased by this angle.
This sort of 'warranty' is programmed over the course of thousands of years in the brains of us men and that is why we still find it very sexy.
Two tunnels:
In a 7.5kg heavy sex toy you can naturally expect two tunnels. The vaginal tunnel is winding and has a swirling structure. In the middle of the tunnel is a strong curve that ends in the uterus.
The anal tunnel is straighter and is fairly tight. This is also provides with grooves and holes for stimulation. There are five phases made in the anal tunnel, which you can feel during penetration.
Nikutai Kankei 7,5kg Torso Body features
Dimensions: 475 x 330 x 180 mm
Weight: 7,5 kg
Flexible back
F-cup breasts
Two tunnels
Vaginal tunnel length: 105mm
Anal tunnel length: 110mm
Size: 475 x 330 x 180 mm (19 x 13 x 7 ")
In short:
The Nikutai Kankei is squeezable and pliable which gives you a good grip during use, while her body has sturdiness.
good product with smears Review by Sascha

I think the torso is really well made, the size is ok, both tunnels are really great. The material feels very real. The weight takes some getting used to and cleaning is more difficult than expected. All in all an almost perfect torso - unfortunately I have received a product with a material defect. After half a year, the upper layer of material in the genital area dissolves from vagina to anus, so that, for. B. the labia are no longer connected to the torso ......... despite mild cleansing and care with powder. This is of course very annoying ......... so only 3 stars of me. (Posted on 1/11/2019)

Mixed feelings Review by James

Overall, I'm very happy with this product. Just a few minor hiccups you need to be attentive off.
There's a lot to review, so I'll do it in parts.

Firstly, the holes. They will last you for a long while. They don't leak with a thicker kind of lube and there are so many ways to enjoy them. Different angle, different feeling. Different experience with either you or the toy on top. I can guarantee you there's a perfect way for you to enjoy it regardless your preference and size.

Both holes will last you a long time, although the anal tunnel is more solid. They are not invulnerable, though and they will wear out eventually. You'll get plenty of uses out of it before then, as long as you take good care of it.

As for the other features:

Weight:
It's hefty, alright. Since it's basically a deadweight it's quite the exercise to lift it for extended periods of time. The weight does add something that a hand sized onahole won't. It's actually something solid you can insert into rather than some flimsy handle you wrap around your member. If it's on top it'll slide down by itself.

However, the bone structure doesn't keep it straight up. It'll flipflop and tip over unless you manually hold it in the right position by the upper torso, which can be quite exhausting. I like to hold the waist, but that won't work well with this toy.

The breasts are honestly not very good. They are firm, but you to the point they feel like somewhat springy tennis balls. They are too small for proper paizuri (titfuck). They are large enough for a titty massage but you'd have to maneuver the toy yourself, making it not very enjoyable. The only good use I could find was that they make for nice handles when the toy is on top.

As for washing, it's quite a hassle. Use medium warm to cold water, anything really warm may melt or weaken the material. Being a deadweight makes it hard to hold the toy in the right angle for water to flow through. The vaginal tunnel is layered and is the easiest to accidentally destroy if you're not careful when rubbing it dry with a towel or whatever you use. it's best to wipe any excess water after washing and then let it dry to the air for a bit before you store it away. I recommend powdering occasionally for proper maintenance.

And finally, don't keep any dark clothing on it overnight. The dark color will stain the material and you won't get the color off any time soon. I had a black bra on it and the color stained the entire backside.

+ Great holes
+ A LOT of ways to enjoy these two holes
+ The weight is definitely nice
+ Stretchy hole entrances, so easier to clean deep.
+ A tad bit expensive, but still worth it in my opinion
- Being a deadweight makes it kinda heavy and clumsy at times
- Washing can be a drag
- Definitely awkward with visitors.

PS. For storage you can combine this with the Toy Bag XXL, which I also reviewed. (Posted on 6/20/2018)

Very good torso body for this price Review by M

Quality very good, both tunnels also very good, a thing is not so great, breast very hard and too small for Paizuri it is only conditionally, Otherwise it would have got 5 stars! (Posted on 5/13/2018)
You may also be interested in the following product(s):