Punyo in the Chinpo
Punyo in the Chinpo
Tamatoys knows about every fetish out there, and is working hard to make toys to cater to every single one of them, no matter how niche. The Punyo in the Chinpo isn't a regular onahole: this one's all about "docking" or "cock stuffing". Curious? Read on!
Penis penetration?
A penis penetrating another penis, impossible? Nope! It is possible to do this in real life, with enough stretching and training. And even if it wasn't possible, we are sure that pesky little detail wouldn't stop Tamatoys.
A girthy onahole
This onahole is shaped like a thick dick, including balls. It is fairly detailed, with folds of skin and some slight wrinkles. The tip of the penis has a small opening shaped like a coin slot. This opening doesn't have any labia to guide you in, so penetration might be a little harder than usual - but maybe that adds to the realism.
Once you slide inside you'll feel the detailed tunnel wrap around you. Alternating textures stimulate you in different ways and make sliding in and out all the way a real treat. Soft ridges line the tunnel, getting narrower and wider, with a bumpy texture lining the middle of this urethra. We can't tell you whether it feels like a real urethra, but it definitely feels great!
The walls of this onahole are fairly thick, which means you won't feel your fingers through the side when using it. The onahole itself pushes back against you making the tunnel feel tight but not constrictive.
Material
The soft TPE feels great to the touch and has exactly the right firmness to stimulate you. The onahole as a whole is a little floppy, and definitely too soft to use as a dildo.
Cleaning
Cleaning the Punyo in the Chinpo is as easy as it gets with onaholes: carefully rinse out the tunnel under the tap, then dry it thoroughly. First squeeze out all the water, then push an absorbent cloth inside and wait for a couple of minutes until every last drop is absorbed.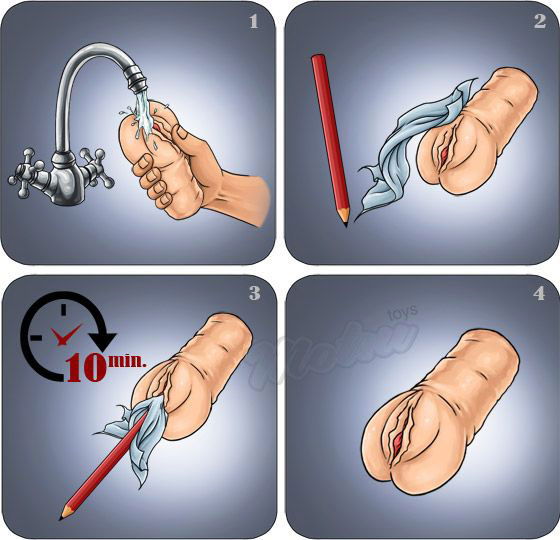 All in all, this unusual onahole feels at least as good as many more conventional ones. Whether this is a real fetish of yours or you just want to try something new, we can recommend it!
Properties:
Total length: 19 cm
Weight: 370 grams
Material: TPE
Additional Information
| | |
| --- | --- |
| Brand | TamaToys |
| Number of holes | 1 |
| Number of layers | 1 |
| Open/Closed | Closed |
| Reusable | Is reusable |
| Bone structure | No |
| Theme | Anime |
| Tunnel length | 140mm |
| Product weight | 370gram |
Outstanding Review by Lo

This is my third onahole of this type but it's by far the best I've used.

-The exterior details on both sides are amazing.
-Feels amazing, has great suction, soft, bendable, quiet.
-The product itself overall feels innovative.

It's definitely a recommendation from me, try it out you won't be disappointed! (Posted on 11/9/2018)