Slut Angel DX 1200
Why bother playing with something that feels fake when you can experience a realistic and even heavenly sensation? The Slut Angel DX 1200 is the latest model in our range designed to stimulate the right parts of your shaft and let you release like no other. With vaginal and anal tunnels, you can take this slut angel from any angle and play around until you're fully satisfied. This onahip comes with tons of features that'll blow your mind, so unlock the ultimate pleasure with the Slut Angel DX 1200.
Two Tight Holes For Endless Hours Of Pleasure
There's no need to bore yourself with just one hole when you can have all the fun with two. The main highlight of the Slut Angel DX 1200 is that it comes with vaginal and anal tunnels — the super soft and tight vaginal tunnel fits smoothly onto your penis and offers the right amount of friction to get you off just as good as a real one.
Want to try something tighter? The anal tunnel on the Slut Angel DX 1200 will offer you immense pleasure and satisfaction, it's tight, gripping every inch of your rod for a truly angelic experience. What's more? The Slut Angel DX 1200 also comes with supple boobs that you can touch, squeeze and play around with while you're filling the holes.
The inner part of the vagina is stretchable, allowing you to go full throttle without any worries. Whether you want to enjoy it from the front or back, the Slut Angel DX 1200 has been made with your complete satisfaction in mind.
Realistic And Durable Design
Great attention has been given while manufacturing the Slut Angel DX 1200. If you're playing with it from the front, you can fully view the two soft breasts and caress, rub, or grab them as you'd like. There's also a very nice-looking ass and a tight hole from the back. Additionally, the belly button at the front further enhances the product's realistic look. Finally, it has a slim waist that you can easily handle with both hands, giving you great control while playing with it.
The inner and outer layers of this onahole also feature a skin-like texture that makes you feel like you're rubbing against a real angel. All these features have been added to offer you the best experience possible.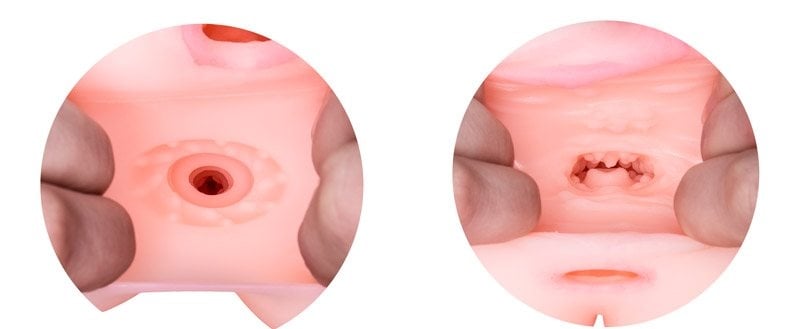 The inner parts of the Slut Angel DX 1200 feature multiple layers and numerous bumps to rub your penis the right way for an explosive ejaculation. That's not all, this product is very easy to clean and requires very little maintenance even if you finish inside. It's manufactured with high-grade and durable materials, so rest assured you'll be enjoying your Slut Angel DX 1200 for many years to come.
All you need is a few squirts of lube, and you're all ready to pump the Slut Angel DX 1200. No matter how you take it, you've assured 100% satisfaction.
Specifications
Height: 19 cm
Length: 21 cm
Hip Width: 14 cm
Height to chest: 11 cm
Anal tunnel length: 14 cm
Vagina tunnel length: 13.5 cm
Weight: 1.2 kg
Brand: XTC Japan
Additional Information
| | |
| --- | --- |
| Brand | XTC Japan |
| Number of holes | No |
| Number of layers | No |
| Open/Closed | No |
| Reusable | No |
| Bone structure | No |
| Theme | No |
| Tunnel length | 0mm |
| Product weight | 1200gram |
Good deal for both novelty and durability Review by e f

It's kind of a mini-mini-torso, and the only other toy in that category I had felt like it would break any second, and the weight from the breasts made the toy to dance randomly during use. Well those worries are not present with the Slut Angel DX, the toy feels VERY sturdy and the weight balance feels nice. Unlike the previous Slut Angel toys, legs are not an issue here as they are not bothering getting to the entrance of the holes. There is two holes in the DX, and both don't feel cheap.

Not sure if intended by the designer, but the toy can stands on "all fours" by it's one thanks to the breasts and thighs, I found it funny. The box is a simple carton box, and the toy is in a simple smooth plastic bag (I'm not sure how it is called) with small holes in it. There is no lube included in the package, and I found bits of pink stains in the bag, so I guess the pink color of the toy won't last very long.

Now for the experience, I used onatsuyu lube with it and had some fun. Despite the sturdiness of the toy, the actual insides, for both vaginal and anal holes, are soft. Not as soft as Tomax's Soft level but softer than the Temptation Witch. At first I tried to go hand-free but it would not work that well, the toy is not heavy enough to stay in place and the four "legs" were not as useful as I hoped them to be, so I quickly gave up the idea.
As for the insides, well they are still very far from the pleasure I get from my favorite ona, but they are still good enough imo. Plus the weight, shape of the oppai, belly and even of the spine at the back, easy switch from a hole to the other, make the experience different from usual in a good way and ultimately very pleasant.

As for the cleaning, both holes are very easy to clean up and dry very fast. The only issue is that it's kind of a big toy for storage, so the usual bags won't work.
This toy brought me a pleasurable moment and different experience from the usual, and for about 50 euros, it's a good and sturdy toy that may last a good while, I recommend it for novelty and its surprising good quality hidden behind its low price. (Posted on 11/30/2022)