Sujiman Kupa BIG Rina
The Sujiman Kupa BIG Rina:
We don't stock the small Kupa Rina; the model is already a little older, and with its 265 gram it is quite small. But we are very happy with the Sujiman Kupa BIG Rina!
This model measures an impressive 17,5 cm long and weighs 600 gram. It is comparable to NPG's Meiki, which is sold for approximately € 80.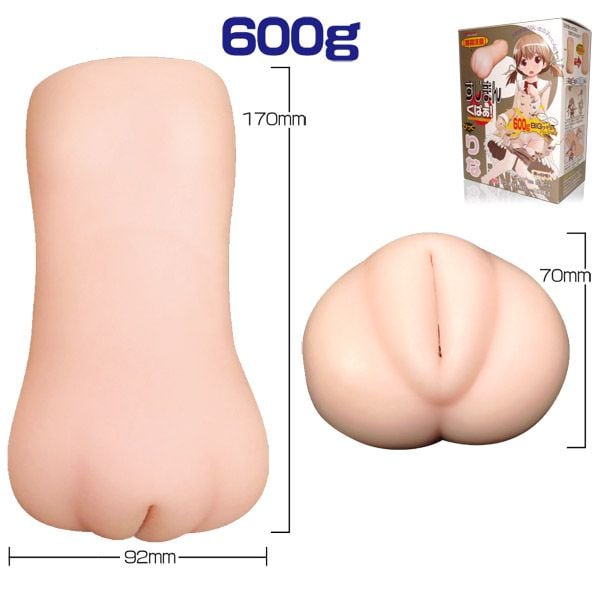 Must-have:
If you've never tried a Magic Eyes artificial vagina, it is high time! This detailed, dual-layered onahole currently offers the best value for money in the market of sex toys - it is simply a must-have!
Magic Eyes' Sujiman Kupa series is characterized by the lush, full labia. Sujiman Kupa is Japanese for Camel Toe, which describes the view of the outline of the woman's labia majora through tight clothing.
Behind these soft, sweet lips you will find the entrance of the vagina.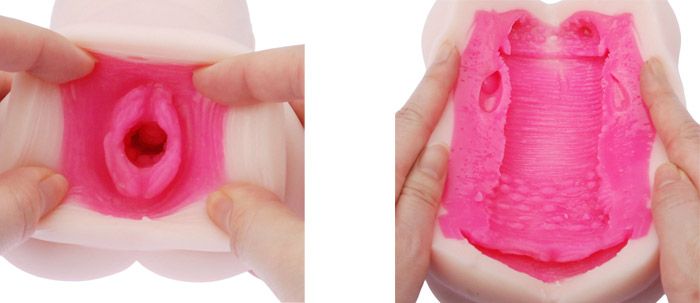 The exterior feels smooth like a young girl's skin, just like you have grown accustomed to with Magic Eyes products. The interior feels different, as described below.
Interior:
The tunnel of the Sujiman Kupa BIG Rina consists of three parts.
The first part, just after the entrance, is covered with small studs, and is equipped with a large G spot. The G spot provides great stimulation, both in the missionary position, as when you turn the vagina over.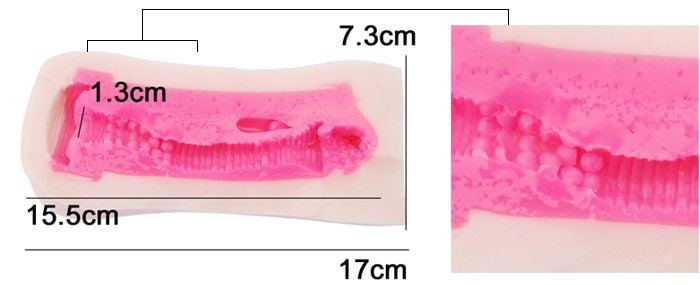 The middle part is ribbed, with a curved narrowing.
Towards the end you enter a deeper chamber that holds and envelops the tip of your penis, just like a proper pussy.
Because this artificial vagina is closed off, it creates a very strong vacuum.
The image below shows a close-up picture of the tunnel, with descriptions for each part: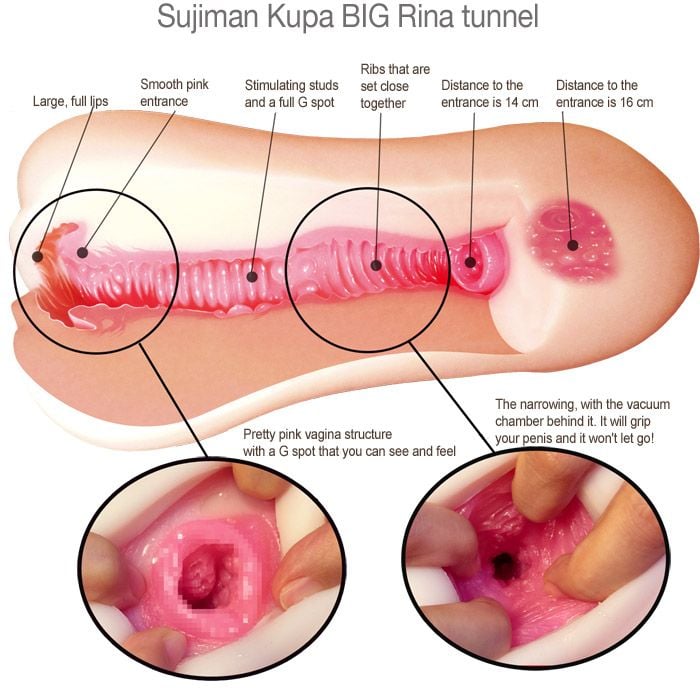 The Kupa Big Rina is beautifully packaged, so the excitement starts with unwrapping! It comes with a bottle with 15 ml lubricant.
This artificial vagina has a thick wall, a detailed tunnel, and the design is overall very beautiful. It creates fantastic sensations, and with its excellent pricing it has already become one of our favourites!
Product Details:
- 600 gram
- 17.5 cm long
- Magic Eyes smooth AG+ hygienic and odourless material
- Dual-layered
- Not sticky
- Flexible, and creates a great vacuum
We warmly recommend the Sujiman Kupa BIG Rina.
Additional Information
| | |
| --- | --- |
| Brand | Magic Eyes |
| Number of holes | 1 |
| Number of layers | 2 |
| Open/Closed | Closed |
| Reusable | Is reusable |
| Bone structure | No |
| Theme | Anime |
| Tunnel length | 155mm |
| Product weight | 600gram |
Great onahole Review by Jesus

Very pleasant insides, they are very soft so not aggressive, but very effective and comfortable, is is not very tight but it's bigger size means you still feel a constant pressure along the travel, and the subtleties of it's inner pattern aren't stretched like they would be in a tighter hole. best used as a static hole that you thust in rather than a sleeve you move, it is too small to stay put on it's own though and need something to hold it in place. the outside skin is, as with every magic eyes product, very soft an smooth. I can't speak for durability as I use it sparingly, but it's safer to consider these as consumable that will degrade over time (Posted on 11/2/2021)

Amazing entrance Review by Kamiya

The best thing about this toy i find it's the entrance with the big lips that envelops your shaft, other than that the textures inside are gentle and soft but still pretty noticeable, very satisfied with this toy (Posted on 1/29/2021)

Good onahole for average/larger sized men Review by anon

The Japanese sex toy industry tends to cater to their average sizes. This hole pushes those boundaries so more well-endowed men can bottom it out. I average around 6-7 inches and it fits like a glove.The stimulation very intense, I would recommend not going crazy with this thing as I've had some trouble climaxing in the bedroom. Yep, no wonder Japan is underpopulated with technology like this around. Pair this with Onatsuyu lube for the best experience. (Posted on 4/6/2019)

Excellent toy with ease of use and durability Review by Liche

One of the best toys in my opinion. Superb feel in the tunnel and suction, big enough for larger men too. Easy to clean too and the material is durable! Not quite as stimulating or extremely tight as the Lolinco Virgo for example. Still definitely recommended, especially as a first onahole when you don't know what you're looking for yet. (Posted on 3/23/2019)

High quality, suitable for larger sizes Review by Hachi

Pros
-Overall, durable and used for many months rigorously without severe damage
-Moderate Vacuum
-Length makes it enjoyable for larger gentlemen aswell
Cons
-Inner 'womb chamber' completely destroyed first use, did not affect the product in a significant way
-Length is fine but tightness is a bit too intense if you're packing
-Asymmetrical material thickness, curvature can guide your piece through the much thinner backside of the toy. Think Alien

For a guy who's packing a little more than usual I think this toy would be nearly ideal, but even still for smaller to average or huge I much prefer the MoT for sensation even if durability is a concern (Posted on 12/31/2018)

Great but a few imperfections Review by Bastien

This is my review for the Sujiman Kupa Big Rina onahole.

Let's start with the positive :
- It's big enough and I can enter it fully without reaching the bottom (or almost).
- The feeling is correct. Not too tight, not too loose (I'm a little oversensitive and I was scared that this would squeeze it too much but it is fine in the end).
- The package is nice, but be careful of nosy parents or customers if you plan on keeping it.
- The shape is very cute, I love it.
- The smell. It doesn't smell anything, unless you get very close to it, and it's a very good point.
- Dual layer for good feelings.

Now, the negative :
- The pussy tore a little after a few use, but it is probably because I tend to use it for way too long and keep the material stretched. Although, it doesn't seem to break any further if used again. Just be careful with it and you should be fine.
- A few scratches on the surface and some weird molding on the lips (not visible from the exterior), probably from the factory. It doesn't seem to affect the feeling or the material itself, so it's just a side note.
- A little oily. I made the mistake of leaving it inside a breathing bag on some paper and it left a stain when I moved the bag. I suppose it's normal for onaholes to be a little oily so just be careful where you place it. Doesn't seem to go after a few washing.
- Washing it can be a little tricky at first since it's much deeper than most onaholes, but scrubing the inside with soap gets easier if you have a stick with a sponge on a side (This website sell those kind of sticks for 5€, so I would grab those if you planned to buy this hole, or a big one in general).

All in all, I can recommend this onahole if you like them big. Not too stimulating and not too tight. But be careful. The material is very stretchy, but could tear if you get too rough with it. It is also charged with Na+, meaning you shouldn't have to worry about mold much, though I have yet to know if it is only present on the skin-like material (outside) or if the inside is also covered with it (tunnel). (Posted on 10/24/2018)

Good onahole for beginners, but be gentle with it Review by yawanuru

This was the first onahole I ever purchased and I am very satisfied with it. The sensations are very pleasant, provides a good vacuum, and is quite easy to clean as well. Good for slow sessions, but I maybe wouldn't recommend it if you intend on pounding it. Perhaps I was too rough with it in the beginning, as it started tearing tearing early on, but if you are gentle with it and take care while cleaning it should remain in a good condition for far longer. (Posted on 10/14/2018)

Very good onahole for average size people Review by samisami

I've had this onahole for quite some time already and the quality is very high. No problems in material strength or hygiene whatsoever. Also the softness and the bigger size make it easy to use for a longer time. Easy to clean and maintain. (Posted on 8/27/2018)