Big Slut Angel 920g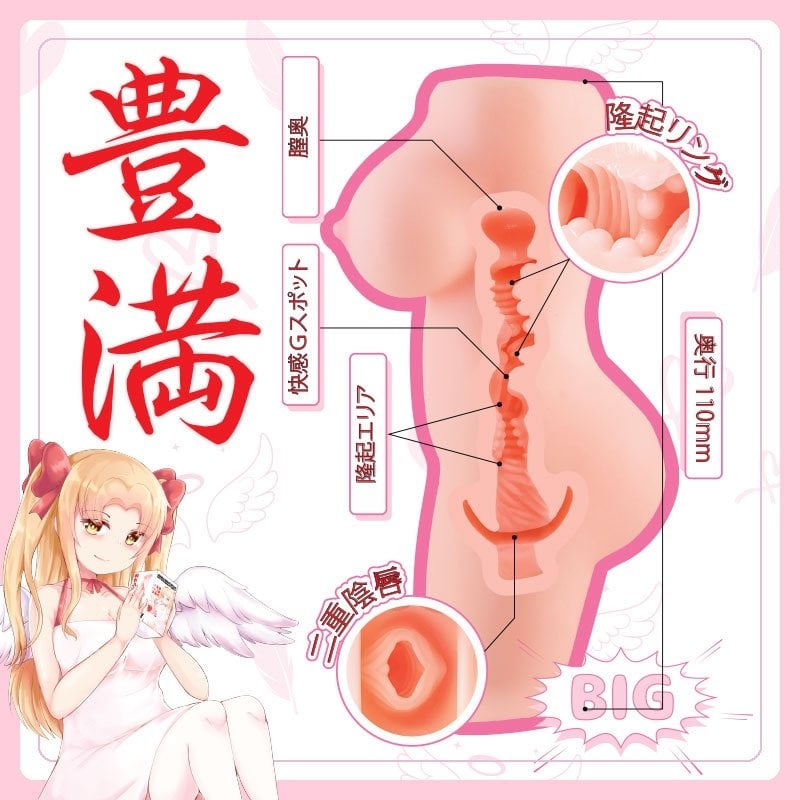 After the success of the Slut Angel, XTC Japan decided to make something even better… The same thing, but bigger! The same quality material, the same beautiful design, the same amazing tunnel, but almost twice as big, going by weight!
Why is a big onahole better?
Disclaimer: it's all about personal preference. However, there are several ways in which a bigger onahole outdoes a smaller one:
More to hold onto: The Big Slut Angel can be used with two hands, allowing more control and more advanced moves. Try pulling her down over you while twisting the top half a little!
More realistic feeling: The thicker walls offer a little more "squeezing power", just like a real pussy would.
Longer tunnel: there's more room inside the Big Slut Angel, so XTC Japan made the tunnel longer - but still with the same amazing textures.
More to look at and play with: the bigger body looks better, and you can grab the hips, ass or tits as you enjoy her pussy.
Divine pussy
You can apply some lube and explore her tunnel right away, but you can also get warmed up by treating yourself to a thigh job first. Thanks to its bigger size the Big Slut Angel is an excellent thigh job onahole! Hold the thighs together and thrust through the narrow thigh gap. The angel's soft thighs will glide over your shaft, and you'll have to resist the temptation to slide into her wet pussy…
When you do finally give in and fuck her, the tunnel will wrap around you with its soft material. Right after the entrance, which clamps down around your shaft securely, the inner labia form a second gate. The subtly ridged texture feels great and gets a little tighter as you go deeper. At the tightest point a pleasure bump adds a little extra stimulation before you reach a richly varied area with bumps, folds and ridges rubbing against you from all sides. Try turning her body in different ways in order to get even more varied stimulation.
As if that wasn't enough, at the end of the tunnel a special treat awaits you: the Big Slut Angel's womb! As you push through the cervix and feel it stretch around you, the womb's smooth walls gently envelop your glans - all while the rest of the tunnel is still massaging your shaft!
Big Slut Angel in short
This excellent onahole by XTC Japan looks amazing and has a very enjoyable, varied tunnel design. As always, with XTC Japan you get a lot of value for your money.
Onahole length: 23 cm
Onahole width: 11 cm
Tunnel length: 13 cm
Weight: 920 g
Brand: XTC Japan
Additional Information
| | |
| --- | --- |
| Brand | XTC Japan |
| Number of holes | 1 |
| Number of layers | 1 |
| Open/Closed | Closed |
| Reusable | Is reusable |
| Bone structure | No |
| Theme | Anime |
| Tunnel length | 130mm |
| Product weight | 920gram |
Slightly overpriced Review by Doe Mangs

Product is satisfactory especially with the right kind of lube.

Although the tunnel is okay at best, the tight suction from the double-layered vaginal entrance end up giving a nice sensation despite the less appealing view.

The legs admittedly get in the way a lot, and penetration in a missionary or doggy position ends up not being that satisfying with the legs being the culprit due to the way it's molded, even if thighjobs feel pretty nice. However, if you penetrated it from the side and use it like how you'd use a fleshlight, your manhood will end up having a more disorganized sensation from all sides of the tunnel which makes the feeling very exciting.

I think there's no reason for it to cost almost twice the price of the normal sized variant though. (Posted on 10/6/2022)

Nice mini doll Review by AZ

Bigger than the original one, so you have more place to hold on, and i guess that it. the tunnel feel ok-ish, thigh job was never a thing for me, when you use it the top half just fold down wobbly, and when not using it, it get in the way with pussy hole entrance. (Posted on 6/27/2022)

Good for starter Review by Unknown

Well, from my point of view, the legs and torso is a nice addition that set this one apart from the others.
Almost feels like you're playing with a fairy.
Sure, the inside could be improved a lot, but it's a good product overall. (Posted on 6/2/2022)

qualité assuré Review by anonyme

tres bonne qualité du produit (Posted on 2/28/2022)

Boob, ass, thighs even papussy.. 8/10 Review by Kem

A very fun toy to use when you're bored and don't got company. if you got imagination and some daft hands you can go on a magic carpet ride.

Shipping was crazy fast got this beauty in 2 working days. Pleased with my purchase recommend it! (Posted on 10/17/2021)