G-19 Secret Uterus
G-19 Secret Uterus - Realistic onahole with uterus
Many onahole do a great job of imitating a tight pussy, but what if you could push even deeper and feel the tight cervix and uterus wrap around your member? ToysHeart allows you to live out this fantasy with their G-19 Secret Uterus onahole. Will you push all the way in from the start, or wait until you're almost ready to blow your load?
Two-part tunnel with secret Uterus chamber
The G-19 by Toy's Heart has a simple but appealing design: a skin-colored cylinder with labia and a little coin-slot entrance. It weighs around 337 grams and is 14 cms long, which makes it the perfect size to use with one hand. The material feels soft, supple and inviting, with enough stretch to accommodate different sizes but not so stretchy that it will feel loose.
The G-19 Secret Uterus's inner labia will guide you into her tight hole. Just behind the entrance is a wide groove. You won't feel this at all, but it acts as a reservoir for lubricant, applying more with every stroke and keeping it from leaking out.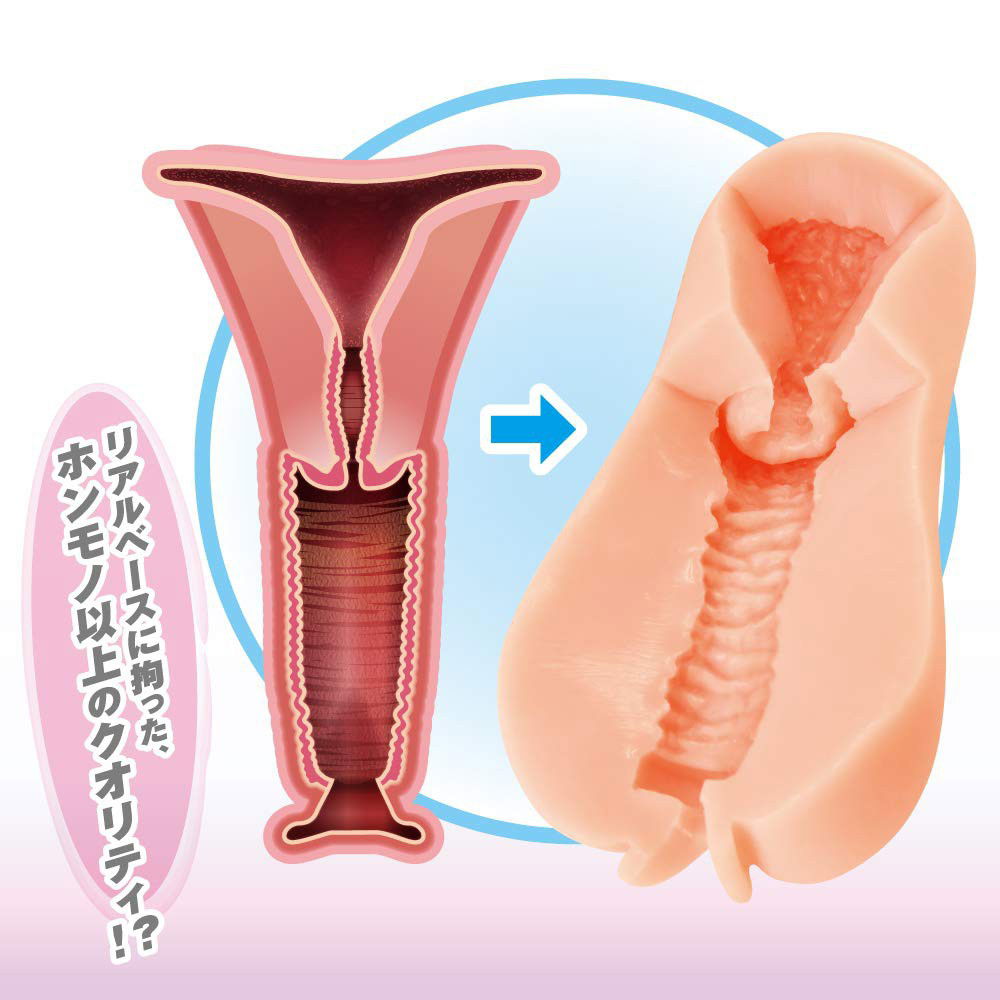 What follows is a semi-realistic design; a detailed series of delicate folds wraps around you from all sides. Feeling this glide over you is already quite stimulating, especially paired with the little "kiss" the cervix gives you at the back. Because the G-19 is a compact onahole you can use your hands to exert more pressure exactly where you want it.
But what if you want to go even deeper? After enjoying this onahole's pussy for a while, you might want even more. Push against the cervix, and with a little effort you'll push through into the narrow entrance of her womb. This is the tightest part of the G-19 so be sure to take your time pushing through slowly. At the very back the tunnel widens slightly again, to simulate the uterus itself. The uterus is lined with countless little bumps.
The combined sensation of the realistic ridges of the first part around the base of your shaft, the tight cervix squeezing you just below the head of your cock and the bumped texture massaging the head of your cock is almost dizzying. While the G-19 isn't the first onahole to incorporate a uterus, it's definitely one of the best!
G-19 Secret Uterus Onahole Maintenance
We won't be surprised if this becomes one of those onaholes you take some special care with when cleaning - after all, the better care you take of it, the longer it will last.
The first step after use it to thoroughly rinse it out under the tap. Use some cold or lukewarm water to flush everything out, and use your fingers to make sure the water gets everywhere. Especially the entrance to the uterus section is important, as it is a little narrow. You could even use something like a vaginal douche to squirt water into the back and flush it clean.
Once everything has been washed, dry it well. Leaving moisture in your onahole is a recipe for trouble. You can use a soft, lint-free absorbent cloth, but special drying sticks can be easier. Repeat the drying process if necessary. The G-19 is now ready to be stored in a toy bag!
G-19 measurements and specifications
Length: 16 cms
Tunnel length: 14 cms
Weight: 337 grams
Produced by ToysHeart
Worth the money Review by Commissar Heavy

This was the third onahole that i got and also the best one so far. With it's inside being modeled after what basically every girl's pussy is like in every hentai I already knew it would be great. Overall it is tight, feels great and you don't need too much lube to make it feel nice. So if you are looking for a good onahole then i would definitely recommend this one. (Posted on 10/31/2019)

Super tight, super feeling when pushing all the way though ;) Review by Sneak

I was a little suspious about this one, it came with this super sticky lube thing, kinda reminds me of actual "vagina discharge" thats super sticky too. Anyhow, the toy is super tight, tighter than i really i expected which was super nice combined with the lube that came with it. 8/10, would fill up again :) (Posted on 8/28/2019)
You may also be interested in the following product(s):