Toy's Heart has been in the adult entertainment industry since the nineties, and they have never once stopped developing and innovating! Toy's Heart is based in Japan and have a team of 50 people who work on all sorts of products. Toy's Heart is a very reliable company with a lot of experience, and every time they come up with something new we already know we're going to love it.
Realistic onaholes and pocket pussies as an alternative to Fleshlight
Toy's Heart's products strive to be realistic, and the materials they use do a good job of replicating soft skin. Their special materials are completely safe to use, of course, and they are also virtually odorless and contain much less oil than some others. Their special FreshSkin material is also very easy to clean: rinse the onahole, give it a shake to get the moisture out and it will be dry after five minutes. The Fine Cross material from Toy's Heart is said to have a slight memory so it will adjust to your shape - who can resist a tailormade experience? The material does restore itself after some time, so don't worry about the tunnels permanently stretching out: next time you want to use it it'll be as good as new.
Toy's Heart goes for high-quality simplicity, and while some other companies produce complex dual or even triple layer designs Toy's Heart has a lot of excellent Onaholes with only a single layer. This simpler design will often last longer, as there's no risk of the layers separating from one another
Because Toy's Heart insists on a very high level of quality their product development process is quite long: it can take up to a year for a product to finally be approved. For every iteration the texture, stretchability, shape and smell of the product are closely scrutinized.
Many men in the West think Fleshlights are the best there is, but we promise you onaholes have much more to offer! Ditch the hard plastic tube, mediocre material and porn star branding, and try some of these excellent onaholes instead.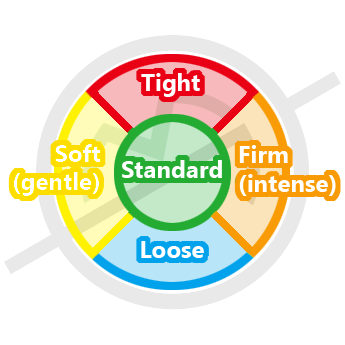 The ToysHeart Characteristics Chart
Toysheart knows how difficult it can be to describe what an onahole feels like, and a picture is worth a thousand words. That's why for many of their onaholes they summarize the characteristics in a simple chart. Tighter onaholes are at the top, looser ones are at the bottom. Likewise, softer ones are at the left and firmer ones at the right. Generally, top right will house the most intense onaholes, and bottom left the mildest stimulation of all. Of course, part of it is still personal preference, as everyone experiences these things differently.
ToysHeart: Onaholes with character
Every Onahole Toy's Heart makes has got its own personality: innocent virgins, standoffish schoolgirls, a bride on her wedding night, a playful seducing witch... They have it all, and more! Their lovingly designed packaging features art of these beautiful girls with an inviting look on their face. Often you'll see a glimpse of panties or exposed breasts, but some of them are much more covered up.
For those of you who enjoy a tighter fit, or find many onaholes too wide, the virgin series deserves a recommendation. These masturbators are a little smaller than most and the Virgin Age Admission and Graduation both taper to an amazingly narrow 2mm! The aforementioned Fine Cross material ensures that these little Onaholes will feel like a virgin every time you use them.
If we have to mention one downside of Toy's Heart it is that the outside of the onaholes are usually fairly similar and, if we may say so, boring. Compared to the beautifully designed packaging and intricate tunnels the outside of the onahole feels a little lackluster.
However, this isn't a reason not to buy Toy's Heart products: the amazing materials, themes and affordability make this a brand you shouldn't skip.