GOKU -HIDA VIRGIN Soft
This luxuriously soft version of the popular Goku Hida Virgin will wrap around your shaft and cling to it eagerly with every stroke. If you like your onaholes squishy you should definitely give this material a try!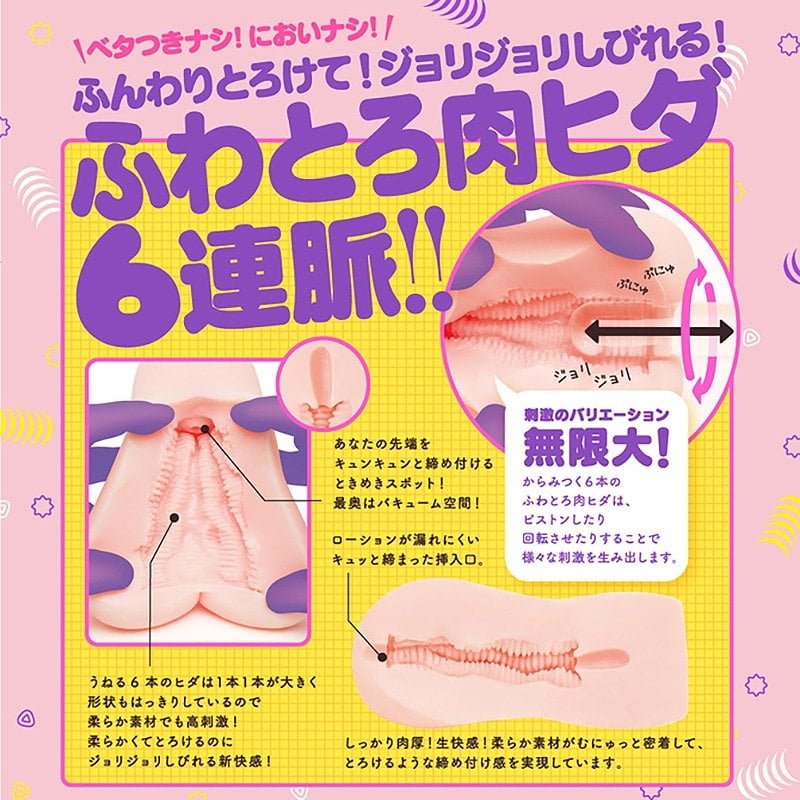 A squishy onahole
The Goku Hida Virgin Soft is an elegantly shaped onahole, slightly narrower in the middle and with cute cameltoe-style pussy lips surrounding her tight entrance. Holding this toy in your hand you can really feel the quality of the material: it's soft but not jelly-like, stretches easily and doesn't have an oily feeling or smell.
It weighs around 300 grams and is 13 cms in length, with a tunnel depth of about 11 cms. Keep in mind that this onahole is designed to stretch though, so you won't have any issues if you happen to be a bit longer than that!
What does it feel like?
Slide in after applying some good lube and you'll feel the amazing textures squeeze around you from every side. The tunnel is lined with long tentacle-like ridges which curve back and forth slightly, each covered in well-defined smaller ridges. Thanks to the soft material these ridges cling to your shaft with a tantalizing eagerness, generating a pleasant "grip".
The wavy ridges can be used for more than simple in-and-out thrusting: if you squeeze, twist or turn the Goku Hida Virgin Soft you'll feel them sliding over your skin. It's a subtle, teasing sensation, perfect for getting warmed up or for edging yourself.
At the very end you'll find a cervix and womb. Let the protrusion of the cervix massage the tip of your glans or push through it and feel the womb itself close around you.
Japanese quality
Like all G-Project's onaholes the Goku Hida Virgin Soft is made with domestic materials and produced domestically in Japan, ensuring the highest standards of safety and quality. Japan has some of the world's highest standards
Goku Hida Virgin Soft in short
This soft and squishy onahole gives wonderful stimulation, combining the soft clingy material with the six textured ridges that fold around you with every thrust. If you enjoy soft onaholes, give this one a try!
Onahole length: 13 cm
Onahole width: 6.5 cm
Onahole height: 6 cm
Tunnel length: 11 cm
Onahole weight: 300 g
Brand: G-Project
Includes free lube sample and storage sack
Additional Information
| | |
| --- | --- |
| Brand | G PROJECT |
| Number of holes | 1 |
| Number of layers | 1 |
| Open/Closed | Closed |
| Reusable | Is reusable |
| Bone structure | No |
| Theme | Anime |
| Tunnel length | 110mm |
| Product weight | 300gram |