I can't call you a Holy Sister with your big Oppai
Holy Sister Oppai, 2.3 kg
Oppai means huge round breast in Japanese, and the name speaks for itself. Holy Sister Oppai is an amazing triple-layer sex toy. You will love her two big soft, jiggly, and bouncy boobs in your hands or around your member. This naughty nun can turn your wildest fantasies into reality, forgiving the sins or making you commit even more.
Beautiful packaging
The box has a great detailed image of the Holy Sister herself. She is invitingly showing you her assets, wearing nothing but a nun cap and a sexy bikini. She is not such a saint, after all, with a small tattoo on the lower belly. If you unfold the inside of the box completely you have a nice big poster of the nun.
Now that you are warmed up by the image let's go to the main attraction. The Oppai is made from durable, high-quality material. You can rub and grip it as hard as you like. It will stay as good as new for a long time. The toy is quite realistic since it weighs 2.3 kg and has almost the size of an actual breast.
Triple-layer construction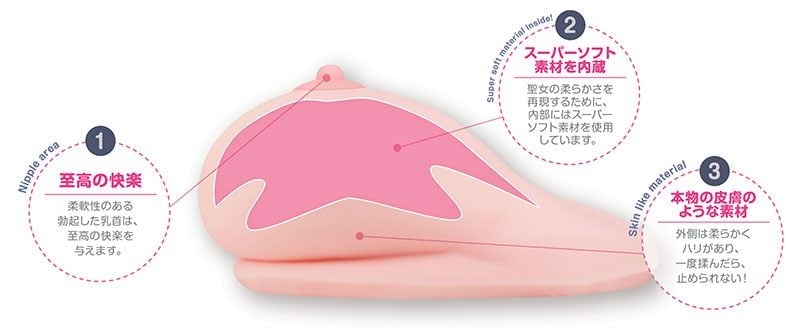 Holy Sister Oppai feels very real as you hold, squeeze, or play with it. Special triple-layer construction makes sure that you will hardly tell the difference between the toy and the real thing. The inner material is very soft, making them great to squeeze. It is covered with a skin-like outer layer that's also soft but stable. Lastly, the nipples are made from harder material that makes them erect and fun to play with.
How to take care of your Holy Sister
Holy Sister Oppai is very low maintenance and doesn't require a lot of special attention. After use, you can clean it with a toy cleaner, or water and soap. Then wipe off any remaining water thoroughly before storing. When storing the product, it's important to place it on a stable surface or use special sex toy bags. Do not store the product in a prone position (on the nipples) as this may cause deformation in the long term.
Specifications:
Weights: 2.3 kg
Width: 27 cm
Length (from top to bottom): 21 cm
Hights (from ground to nipple): 10 cm
Additional Information
| | |
| --- | --- |
| Brand | XTC Japan |
| Number of holes | No |
| Number of layers | 3 |
| Open/Closed | No |
| Reusable | Is reusable |
| Bone structure | No |
| Theme | Anime |
| Tunnel length | 0mm |
| Product weight | 2300gram |
Oppai or not Oppai? Review by Federik

I'm more of ASS guy, this is my first Oppai toy, but mmm... what to say, it's oppai! I use it mainly for antistress, and pillow, I cover it with a nice pillow cover and go to sleep with it xD
The material it's really amazing, easy AF to clean and sturdy enough to sleep on it, worth the full price? I must say it's an expensive pillow, but comes with antistress features, so it's totally worth it <_< (Posted on 9/9/2022)

NICE Review by BiggusDickus

I love this toy, but I'm afraid to wash it because, factory powder or oil smells so fucking good, though usually it's the opposite, you'd want to get rid of that factory smell as soon as possible with other products (Posted on 5/26/2022)