Japanese Real Hole Indecent Rara Anzai
Japanese Real Hole Indecent Rara Anzai
Rara Anzai is one of Japan's most popular porn stars at the moment. Is it her cute smile? Her large, natural-looking breasts? Or the passionate way she fucks, always ready for more? Whichever it may be, EXE created a lifelike pocket pussy, allowing you to experience this stunning JAV star's pussy for yourself.
Compact and effective Real Hole with thick walls
The shape is a fairly simple cylinder that is a little narrower in the middle so you can maintain a firm grip. The front features a beautiful Kupa-style pussy with a narrow coin slot entrance. Just by looking at it you can already tell that these lips will firmly grab your shaft!
At 313 grams this onahole isn't a heavyweight - but she's got it where it counts. The walls are thick and meaty, pushing back against you with every stroke. The well between the end of the tunnel and the back of the onahole is fairly thick, too, so you can pound into it and feel like every blow is cushioned.
Stretchy, durable material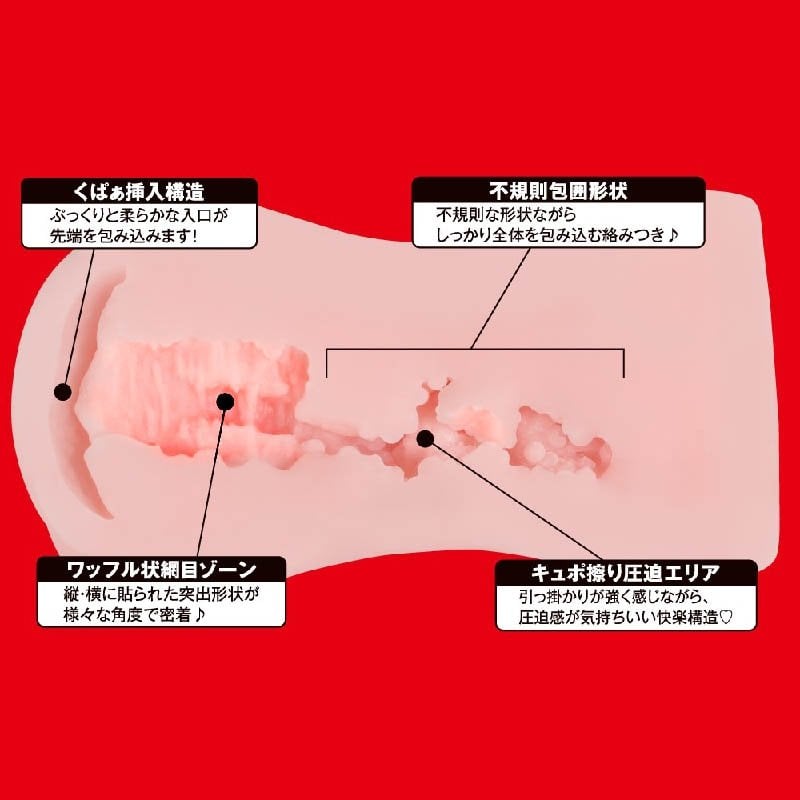 With thick walls on all sides of the onahole you might wonder whether there's enough room left for the tunnel itself. At 11 centimeters it is a little shorter than the average erection, but this is part of the design: the material EXE chose for this onahole is pliable and stretchy, adjusting to your size and stretches to fit. After all, a real woman's pussy also stretches when she is aroused!
This stretchiness means that the material doesn't damage easily: where other onahole would rip or tear, the Indecent Rara Anzai real hole simply stretches a little further. Another factor which makes this onahole more durable is that it only consists of a single layer: multi-layered onaholes can sometimes have issues with the materials not being stuck together perfectly.
Of course taking good care of your onahole is essential if you want it to last for as many uses as possible. Be sure to use plenty of high-quality water-based personal lubricant and to read the information on our pocket pussy cleaning products .
Well-designed and varied textures
The Indecent Rara Anzai onahole's stimulation starts right at the entrance. Miss Anzai's labia are made to grip and caress your shaft continuously, and give you the feeling that she doesn't want to let you go. Directly behind the labia is a little channel that holds and reapplies lube with every stroke, keeping it from dripping out.
What follows is an interesting-looking waffle texture: the walls of this onahole are covered in subtly ridged and bumped textures which feel surprisingly lifelike. Then, the tunnel narrows down, forcing you into a meandering hallway covered with organic bubbles along with larger protrusions. Thanks to the onahole's stretchy materials, these drag along as you move back and forth, creating an amazing sensation.
The Real Hole finishes you off by narrowing the tunnel down further into a wedge-like shape, squeezing down around your glans with a gentle but firm grip.
Rara Anzai… or Rion or Shion Utsunomiya?
If you think Rara Anzai looks familiar, but you haven't heard the name before, that's very well possible. Like many adult performers she has gone under different names, and has previously released videos under the name Rion Utsunomiya and Shion Utsunomiya. Rara Anzai has stunning J-Cup breasts which feature prominently in many of her videos. Many porn stars have round, fake-looking implanted boobs, but Rara's are soft and hang in a more natural way.
Ready for a mindblowing experience? Watch Rara Anzai bounce up and down on screen while feeling this clone pussy around you!
Japanese Real Hole Indecent Rara Anzai In short:
Onahole length: 14 cms
Onahole width: 7.2 cm
Tunnel length: 11 cms
Weight: 313 grams
Includes free lubricant sample
Single Layer Onahole
Made by EXE