Lilith Spiral - Wave
Lilith Spiral Wave
Tomax's products are a favourite for many - and with good reason! The Lilith series, based on the mythological seductress Lilith, is Tomax's midrange line, weighing in at a pleasant 340 grams: light enough to be compact and cheap, meaty enough to deliver some great stimulation.
Triangles, spirals and waves
While the outside of this onahole might resemble a real woman's vulva, complete with delicately shaped labia, the inside is a different story entirely. When you gently spread Lilith's hole you will see three protrusions, each covered in subtle ridges. The area between them forms a sort of triangle. Rather than running straight to the back, the three protrusions spiral around, resulting in a sort of vortex that sucks you in.
While the small ridges might not look like much and can't really be felt individually they allow the Lilith Spiral Wave to cling onto you and grip you a little with every thrust. A thinner lubricant will make this sensation less intense, while a thicker lubricant will make the onahole a little milder.
The holy trinity: realism, durability, customizability
Every onahole manufacturer has their own secret recipe, or sometimes multiple recipes, and each tries to get their material to feel as close to real flesh and skin as possible. Tomax is definitely a few steps ahead of the competition here: their materials feel soft to the touch and has little to no odor.
It doesn't just feel good: it will keep feeling good, again and again. The Tomax materials are very durable and are really made to last. If you use enough lubricant and take proper care of your Lilith, she will last you a very long time.
Everyone has different preferences: some want their onaholes to be intense and unyielding, forcing you to move slowly, while others prefer a milder masturbator. Tomax allows you to pick the firmness level you prefer, ensuring that the onahole is tailored to your likes. The softer version is stretchier and a little less stimulating, while the harder type delivers more direct stimulation and feels a little tighter, because it stretches less easily. The internal and external design is the same for all types, it's only the material that's different.
Cleaning your Lilith Spiral Wave
Because the inside doesn't have any complicated shapes, the Spiral Wave is easy to clean. Rinse it out thoroughly under the tape with lukewarm water, using your fingers to gently stretch the hole open and make sure the water gets everywhere. Squeeze out as much water as you can and use a drying stick or clean cloth to dry the inside well. If you want you can use some maintenance powder on the outside, but thanks to Tomax's excellent material this usually isn't necessary.
In order to stare this onahole safely, use the original packaging or a toy bag made out of breathable material. Like all onaholes, the Tomax Lilith Spiral will last longest if you keep it away from heat and direct sunlight.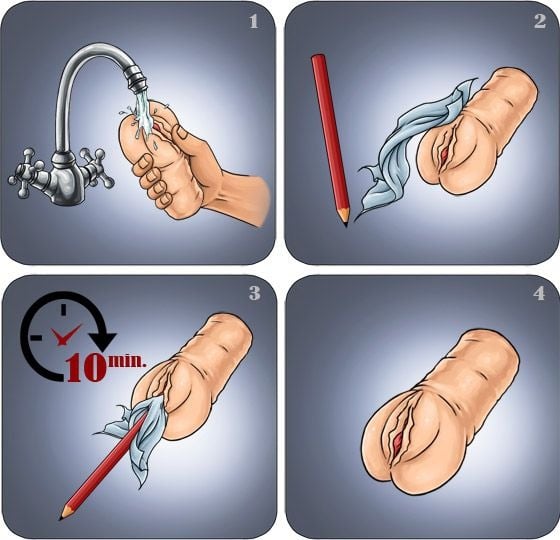 In short…
It's clear why the Lilith series has been named after this mythological character: she will seduce you again and again with her excellent material and swirling structure.
Tomax Lilith Spiral Wave Specifications and Measurements
Length: 15.2 cms Width: 7.1 cms at the front, 6.3 cms at the back Weight: 340 grams Manufactured by Tomax Produced in Japan
You may also be interested in the following product(s):