Lilith Uterus
Lilith Uterus
Have you been looking for an onahole that doesn't just feel great the first time but will also last you a long time? Tomax has you covered! The Tomax Lilith Uterus is a medium-sized onahole with a realistic texture and a spectacular "uterus gate"
Material that will last longer than you do
Many guys pride themselves on how long they can last, but with Tomax onaholes they'll always outlast you. While most manufacturers use the same type of material each ahs developed their own recipe, or sometimes several recipes. There's almost always a tradeoff: a softer, more realistic material is more likely to leak oil, for example. Tomax has managed to create a material which is durable, isn't oily, barely has any smell, yet still has a very reasonable price.
In addition to the material being top-of-the-line, Tomax also has excellent quality control. All Tomax onaholes are produced in a small facility in Japan, where experienced workers make and inspect each onahole individually. This means that flaws in the production, like air bubbles or poorly mixed material are very rare, which also helps the onaholes last longer.
Of course all Tomax materials are 100% body safe and don't contain any phthalates or other dangerous ingredients.
Semi-realistic onahole with g-spot and uterus
In the medium-sized Tomax Lilith line you won't find an onahole more realistic than the Uterus. The outside looks exactly like the other Lilith masturbators: a smooth cylinder, with a fairly realistic pussy on the front. The labia and clitoral hood have been simplified a little but still look very inviting.
Of course the real fun is on the inside, and this is where the Tomax Lilith Uterus really shines. The labia allow you to slide in easily, leading you gently into the soft opening. Every surface is lined with an organic arrangement of bumps which feel surprisingly lifelike. As you push deeper inside you'll feel the onahole tighten around you, pushing against you from both the bottom and the top with a large pleasure bump. Once you're all the way in, these two bumps will grind against the base of your penis. What follows next is the G-spot. This raised O-shaped area is a little more stimulating than a regular pleasure bump. The tunnel until now is already a pretty great onahole, but Tomax has more up its sleeve: the uterus.
When you feel the soft ring of the uterus press against tip of your penis you might think you've reached the end, but you can push even further. When you push into the uterus the tight edge of the cervix will stretch enough to allow you through, and this tight feeling around the head of your cock is what takes the Lilith Uterus to the next level. The inside of the uterus itself is lined with smooth round bumps, which feels different from the rest of the texture of this onahole. Will you use the uterus from the start, or only push through when you're close to climax?
Have it your way: onaholes in different levels of hardness
Unfortunately there isn't one material that will be perfect for everyone, since everyone has different preferences. Fortunately, Tomax has a solution for that: with many of the Tomax masturbators you can pick how firm you want the material to be. A harder material will make the Lilith Uterus more intense, as the details in the texture stand out more and it feels tighter because it stretches less easily. If you pick a softer onahole, your experience will be much milder: perfect if you easily get overstimulated or want to try some endurance training.
How to use and clean your Lilith Uterus
Tomax onaholes are very easy to use and clean. Before use, apply some water-based lubricant. A thicker lubricant feels more realistic and will make it a little less intense, while a thinner lube will allow you to feel every detail of the onahole.
After use, rinse the Lilith Uterus out well under the tap with some lukewarm water. Make sure the inside of the uterus gets cleaned too; as it's an easy spot to miss. The next step is to dry it well to prepare it for storage. You can dry it by inserting an absorbent cloth. Lastly, store it in the original plastic insert or in a special toy sack until you're ready to use it again - and with a toy like this, that moment might arrive pretty soon.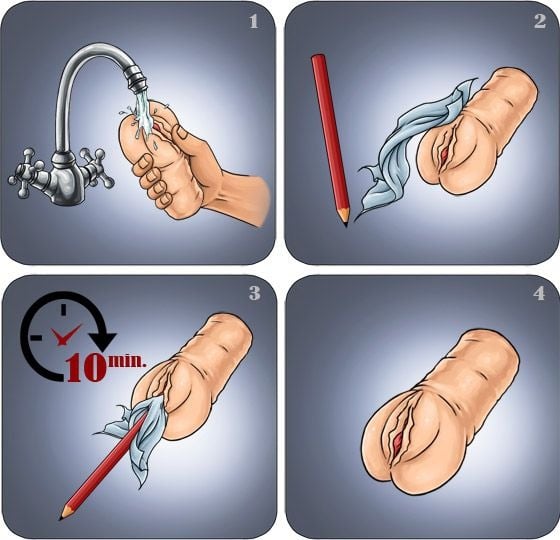 Tomax Lilith Spiral Uterus specifications and measurements
Length: 15.2 cms
Width: 7.1 cms at the front, 6.3 cms at the back
Weight: 340 grams
Manufactured by Tomax Produced in Japan
Additional Information
| | |
| --- | --- |
| Brand | TOMAX |
| Number of holes | 1 |
| Number of layers | 1 |
| Open/Closed | Closed |
| Reusable | Is reusable |
| Bone structure | No |
| Theme | Neutral |
| Tunnel length | 130mm |
| Product weight | 340gram |
The best there is Review by ErE

This was my first Japanese toy and I can say with confidence that this beats all the ones I've used so far. (Posted on 11/14/2020)

Amazing Toy Review by Franc

This is my first onahole and oh boy, i'll never go bak to westrn stuff! (Posted on 10/15/2020)

Quality Review by rayne

Got the soft version and I'm very satisfied.
Easy to clean, needs little lube and of course the stimulation in great.
You can really tell the quality of the materials compared to other stuff. (Posted on 8/16/2020)

The best of many Review by Andrea

Out of around 10 onaholes I own, this is my favorite so far. Get it in soft. (Posted on 7/26/2020)

Soft Version Review by Edwin

Very pleased with the version I choose, Soft.
It met my expectations and more....
Material feels good with almost no smell at all. (Posted on 9/3/2019)