Monster Wet Real
Magic Eyes has combined ultra-real skin and body texture and blew this up to 'monstrous' proportions!
Monster Wet Real
But don't get too scared now! The Monster Wet Real is also known by its Japanes name, 'Gucho Nure Meiki Shin', and this dripping honey pot is so bad that it's good.
We suspect that the designer has been given a free hand.
Because this mutated artificial vagina may look like it belongs to some female monster, but it will give you a gushing climax.
The Monster Wet Real has numerous folds, ridges, ribs, and other flesh-like structures.
This unusually intricate 3D-design will give you a unique out-of-this-world experience.
This onahole gives you a sensation that can best be compared to that of a gushing wet pussy straight out of Tokio's red light disctrict. You'll feel like getting it on with a young slutty girl. The Monster Wet Real comes with a free bottle of "Pussy Juice" lubricant of 120 ml.
The winding bends of the tunnel provide an organic and sensational experience. The almost labyrinthine series of winding bends makes you feel like the monster is devouring you, gobbling on your penis and wanting ever more...
Dual Layer:
The Monster Wet Real is a double layered artificial vagina. The exterior is made out of soft and smooth material that is sensitive to hot and cold temperature like the human skin. The soft material is flexible and feels gorgeous.
Because of this exterior, the onahole is a pleasure to hold.
The inner layer makes the tunnel extra stimulating. This layer is firmer and the material provides extra stimulation.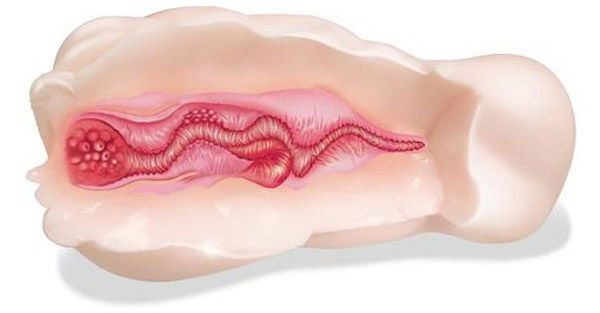 Monster Wet Real / Gucho Nure Meiki Shin Onahole Characteristics:
Length: 185 mm (7.3 ")
Overall Width: 90 mm (3.5 ")
Weight: 620 g (21,9 oz)
Strong Vacuum
Supplied with a free 120 ml bottle of lubricant so that you can get started straight away. This is a thick lubricant, comparable to Nature Lubricant.
With its weight of 620 grams and a length of 18,5 cm this is an artificial vagina that Meiki fans will surely appreciate!
Worth it Review by Jan

if you're looking for a more stimulating and a slightly bigger than average onahole, then this is a good choice, and the included lube bottle (with a rather thick lube) fits very well (if thick lube is your thing) (Posted on 5/28/2020)

Nice different feeling onahole Review by Delta

I've owned various onaholes from realistic feel to engineered stimulation types but this one does a nice job of giving a realistic sensation while still being something unnatural. It lives up to it's name of Monster Real. (Posted on 12/1/2018)

very good onahole Review by iniwini

this onahole is in my opinion a pretty good one . i like that it just feels like it engulfs your junk and sometimes gives the sensation of a tentacle sucking your junk . i'm not all that into fantasy's but it does feel really good . one of my favorites for now (Posted on 3/15/2018)

Best for me Review by O.

I hope this item will be in stock for long.
I've tried Tenga cups, HEPS, and others. But if I needed to pick a favorite, it would be this one. (Posted on 2/25/2016)
You may also be interested in the following product(s):