Anzai Rara OPPAI
Anzai Rara Oppai: real scale tit sex toy
We all love boobs, and Rara Anzai has some of the best around: large but proportionate, soft but not droopy, and perfectly shaped. With this sex toy you can have the perfect imitation of these heavenly tits!
Rara Anzai's J-Cup tits
Rara Anzai is one of Japan's hottest AV stars, and she probably had her breasts to thank for part of that success. Her measurements are listed as 105-58-89 centimeters, which makes it abundantly clear that they are some major assets.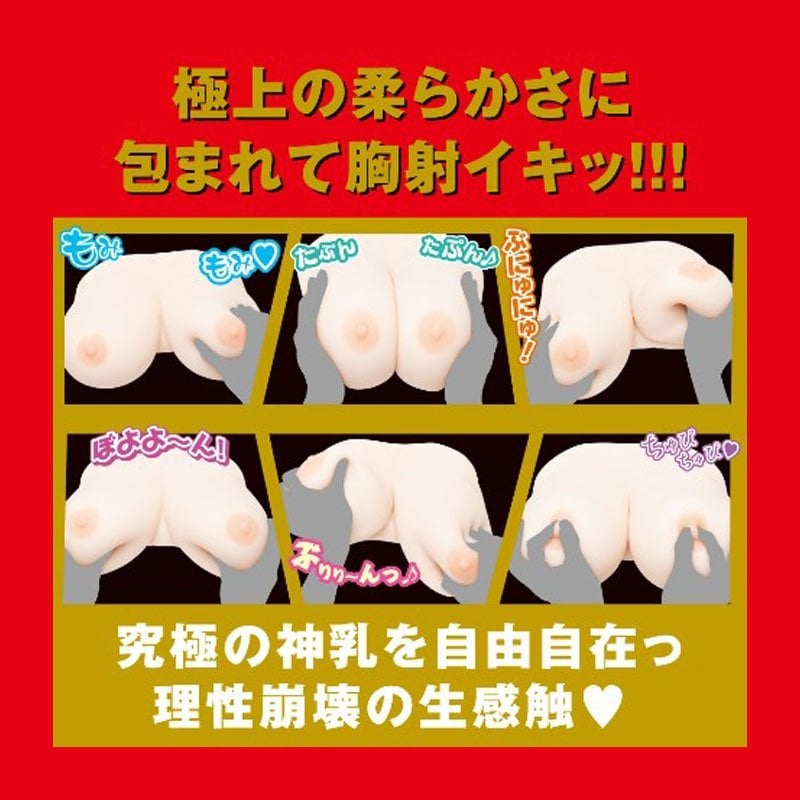 While we can't bring you the whole woman (yet), EXE has done a great job of replicating this part of her: not only have they faithfully copied the shape and size, they have also used a mutli-layer structure to make them feel like the real thing.
The inside of this tit sex toy is filled with a soft, slightly jiggly material. Wrapped around the outside is a material that's a little more durable and feels more like a woman's soft skin. To top it all off, the perky nipple has been made of a material of a slightly different colour for added realism. Because it is poured in rather than painted on you can touch, rub and play with Rara Anzai's nipples to your heart's content.
Anzai Rara Oppai: perfect for Paizuri!
Want to learn some Japanese? "Oppai" means breasts, and "paizuri" means tit sex. Important words to know!
This tit sex has been designed for paizuri: the breasts squeeze together easily and are durable enough to be used this way again and again. The flat base keeps everything in place. You can use your hands to push them together, but you could also use a bikini or a tight tube top. Whatever we choose, we recommend adding some lubricant so you can slide through smoothly and don't have to hold back.
If you've ever fantasized about touching Rara Anzai's boobs, squeezing them or fucking them, look no further!
Rara Anzai Oppai Measurements
Weight:
3100 grams
Width: 32.5 cm
Height (underboob to collarbone): 24 cm
Depth (baseplate to nipple): 10.5 cm
Brand: EXE
Store flat in supplied blister to keep it in shape
Additional Information
| | |
| --- | --- |
| Brand | EXE |
| Number of holes | No |
| Number of layers | 2 |
| Open/Closed | Open |
| Reusable | Is reusable |
| Bone structure | No |
| Theme | Porn |
| Tunnel length | 0mm |
| Product weight | 3100gram |
Great addition if you have plenty of onas Review by M. R.

Ofc those breasts are nothing compared to a masturbator but they offer visual pleasure especially when they jiggle. Grabing them also feels very nice but one must consider that they only enhance the experience.If you only wanna bust a nut your are far better off spending those bucks on different products like onaholes, hipps etc. BUT if you already own plenty of those this is a great addition in your collection. (Posted on 11/11/2022)

There Awesome and BIG ! they feel great Review by CAM

I own a lot of different pair of breast toys, Anzai Rara OPPAI is closest to a natural large breast. (Posted on 5/29/2021)