Succubus Standard Ripple
Succubus 2.0 Standard Ripple
Compact, durable, affordable, beautiful, little smell, what more could you wish for? Great stimulation, of course. Tomax delivers on all points with their Succubus series. Tomax goes for quality over quantity and while they have all of these have been engineered to perfection.
Demonic onahole
This compact masturbator has been named after the succubi, mysterious female demons who show up and tempt you with their body. If you give in you're going to have a great time, but be careful… You might get addicted.
The onahole has a pretty standard shape: a smooth cylinder that weighs around 270 grams and has a detailed pussy on the front, with delicate labia. This is the smallest of Tomax's onaholes so far, but it's still big enough to accommodate most sizes and deliver plenty of stimulation.
The inside of the Tomax Succubus Standard Ripple shows that Tomax doesn't like to overcomplicate things. Dozens of protruding bumps, ridges, folds and side-chambers might look great for a picture, but they are a hassle to clean and you can achieve great stimulation with a much simpler shape. The entrance is nice and tight, closing around you as you push inside. The entire inside is covered in so called "micro-ridges", thin ridges which you don't feel individually but that combine into a texture that feels lifelike because it grabs onto your skin a little. This friction-like effect can be increased or decreased based on how much lubricant you use, which makes it a very versatile onahole. The Succubus has a narrower area in the center, which squeezes down on you a little more tightly than the rest of the onahole.
Succubus or Suck-ubus?
The tunnel itself is only one part of what this demonic succubus has to offer you: it also literally sucks. Thanks to the tunnel's fairly open design, the tight entrance and the closed back, the Tomax Succubus Ripple forms a vacuum very easily. Squeeze out some air before you enter, and every time you pull back this toy will suck you back in. This works best if you add plenty of lubricant to seal the entrance well.
Cleaning your Succubus
Can you picture it, the seductive succubus slowly rising from the hot water, smiling at you while the droplets cling to her curvy body? Unfortunately cleaning this succubus isn't quite that exciting, but it's much easier - and this one actually fits in your sink.
After use, rinse the toy out under the tap, using your fingers to gently spread the opening and let the water flush through. This design is particularly easy to clean thanks to its open tunnel and relatively shallow texture. When everything is clean, shake and squeeze out as much water as you can and then use an absorbent cloth to get rid of the last bit of moisture. Optionally, apply a bit of maintenance powder to the outside to keep it soft and dust-repellent, though with Tomax onaholes you can often skip this step due to the excellent quality of the material. If you want to safely store your onaholes you can use the original packaging or grab a toy sack.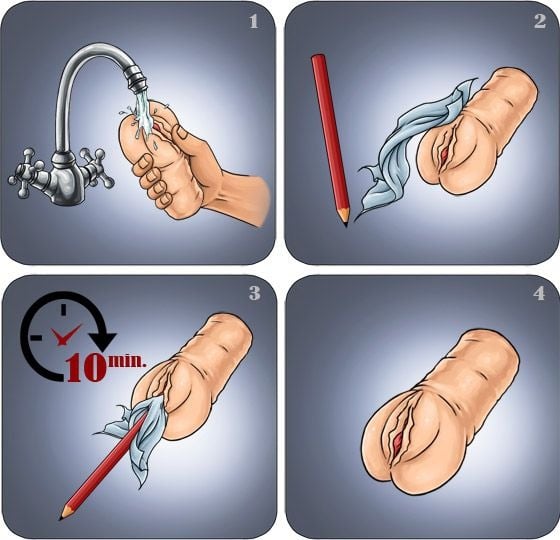 Tomax Succubus 2.0 Standard Ripple Specs
Length: 15 cms Height: 6 cms Weight: 260 grams Manufactured by Tomax Produced in Japan
You may also be interested in the following product(s):