Dolphin
Tomax Dolphin onahole
The design of this onahole is very loosely based on a dolphin, and while we can't tell you how accurate it is we can tell you that it feels incredible!
Onahole with Triple Cervix Structure
The Tomax dolphin has a triple cervix structure, with each tight gateway grabbing onto you and creating an amazing combination of suction and stimulation.
Entryway: lined with subtle, organic lines, the Dolphin has a great start. The tunnel tightens after the entryway, squeezing down on you and forming a tight seal to keep lube in. A massaging bump pushes against you from the top.
First gate: facing slightly down, this first cervix swallows you eagerly. The "lip" on the top gives it a strong, secure grip
Second gate: with slight wrinkles on its surface, this cervix feels a little more stimulating. Just behind it you'll find another stimulating pleasure bump.
Third gate: this final cervix has more flexible walls, allowing it to slide back and forth easily across the tip of your penis
Womb: at the very back, a small chamber awaits you. Covered with organic texture and with a third massaging bump, this area feels tantalizing - and it also helps create the vacuum!
Vacuum suction
As if the amazing design of the Dolphin wasn't stimulating enough, it has an extra feature: you can create a mild vacuum suction which will suck you back in after every thrust. To do this, squeeze out all air (especially from the end chamber) before penetrating the onahole. The tight area just after the entrance will form a seal against your skin, keeping the air from rushing back in. This works best if you apply lube liberally!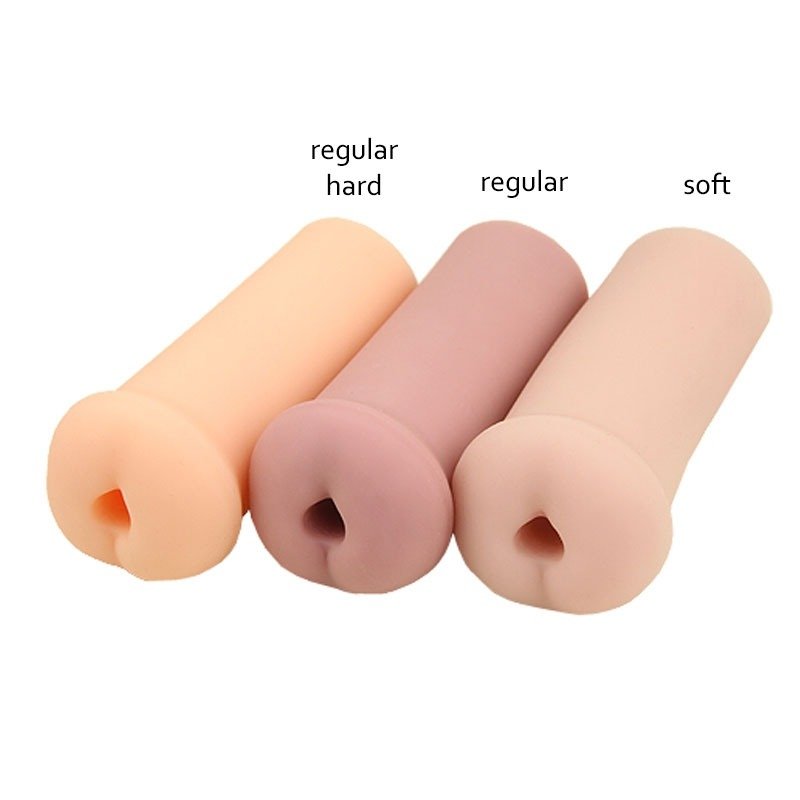 Tomax's signature: three available materials
Like all Tomax onaholes, the Dolphin is available in several different materials. This allows you to get the type that's perfect for your personal preferences.
Soft: this luxurious material feels soft and pillowy, shaping itself to you perfectly like a warm embrace. It is the most elastic option. Because the material is so soft the texture feels a bit less clear, however. Great for mild stimulation and long sessions.
Regular: regular is still softer than most onaholes from other brands. The internal structure is more apparent here, and the grip of the gates becomes tighter.
Regular hard: the firmest material for the Dolphin. Here all the little details like the organic ridges will be clearest, and the overall experience the most stimulating.
By combining the Tomax Dolphin with different personal lubricants you can change the experience: runnier lubes make the experience more intense, while thick, gel-like lubes mellow everything out a little.
Getting the most out of your Tomax Dolphin
If you want to use the Tomax Dolphin again and again -as you undoubtedly will- you have to take good care of it. It is important to always use water-based lubricant, as other types might damage the material. If you want, you can then use a sex toy warmer to raise the onahole's temperature and make it feel more like a real pussy.
After use, rinse the onahole out thoroughly with lukewarm water, making sure you flush out all the lube and fluids. Then, dry it well. Check out our pocket pussy cleaning page for more detailed instructions and some helpful products!
Tomax Dolphin Onahole specifications:
Weight: 370 grams
Total length: 16.5 cms
Total height: 6-7 cms
Tunnel length: 13.2 cms
Tunnel width: 0.4-1.6 cms
Brand: Tomax Japan
Additional Information
| | |
| --- | --- |
| Brand | TOMAX |
| Number of holes | 1 |
| Number of layers | 1 |
| Open/Closed | Closed |
| Reusable | Is reusable |
| Bone structure | No |
| Theme | Neutral |
| Tunnel length | 132mm |
| Product weight | 370gram |
A decent first onahole, with a GOD TIER lube sample Review by Josto

If you're looking for a first onahole at an affordable price, this is it. At that point you probably know it but this toy is special: 3 cervix. The sensation is really nice and it feels rewarding to go through the first, second gates. The tunnel is quite long so that's good.

"Insomnia" made by Tomax is a name I won't forget, this is by far the best lube I've ever tried. It is really thin so it doesn't attenuate the texture and the sensations, unlike other thicker lubes. The downside is that it dries more quickly but this isn't a problem with tight onaholes with a tight entrance like this one.
10mL was all I needed to get addicted. (Posted on 9/25/2022)